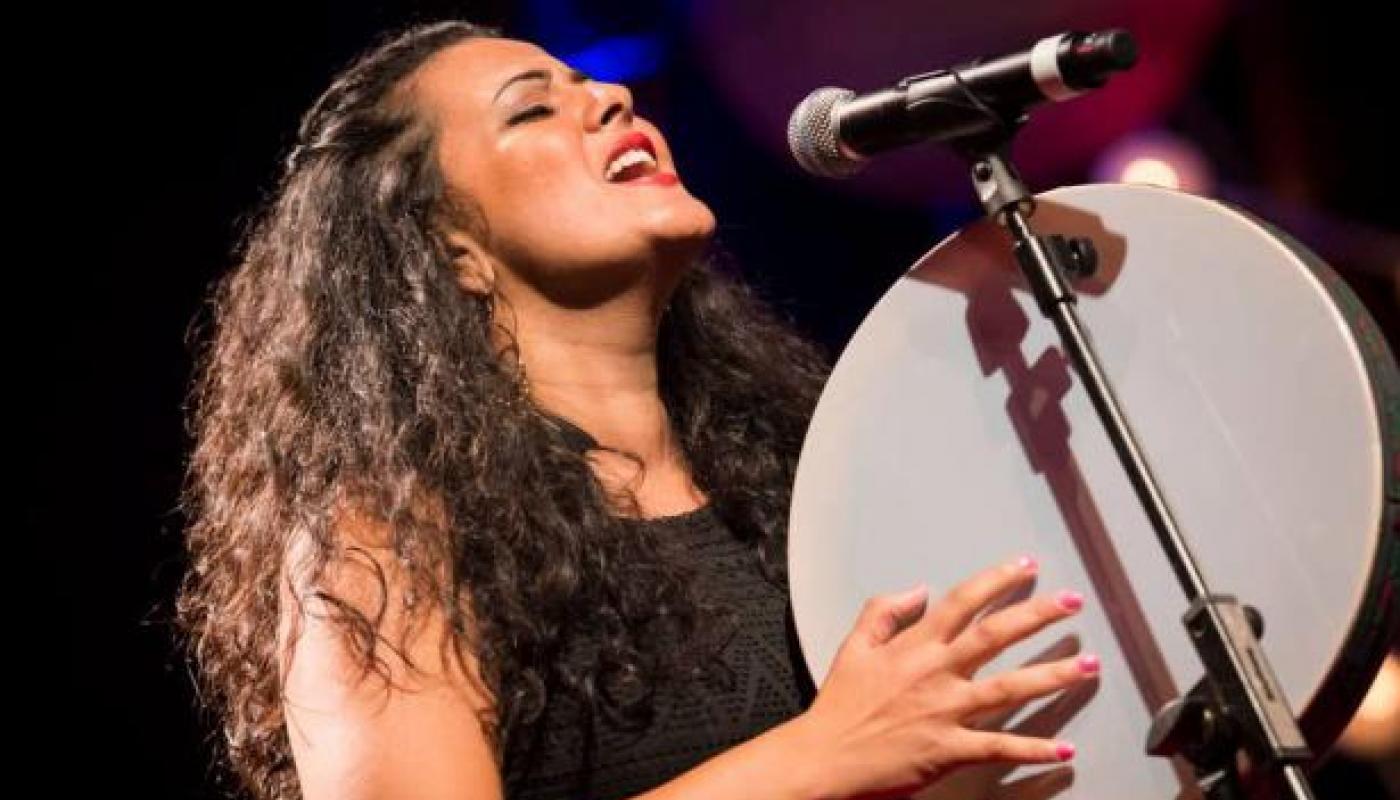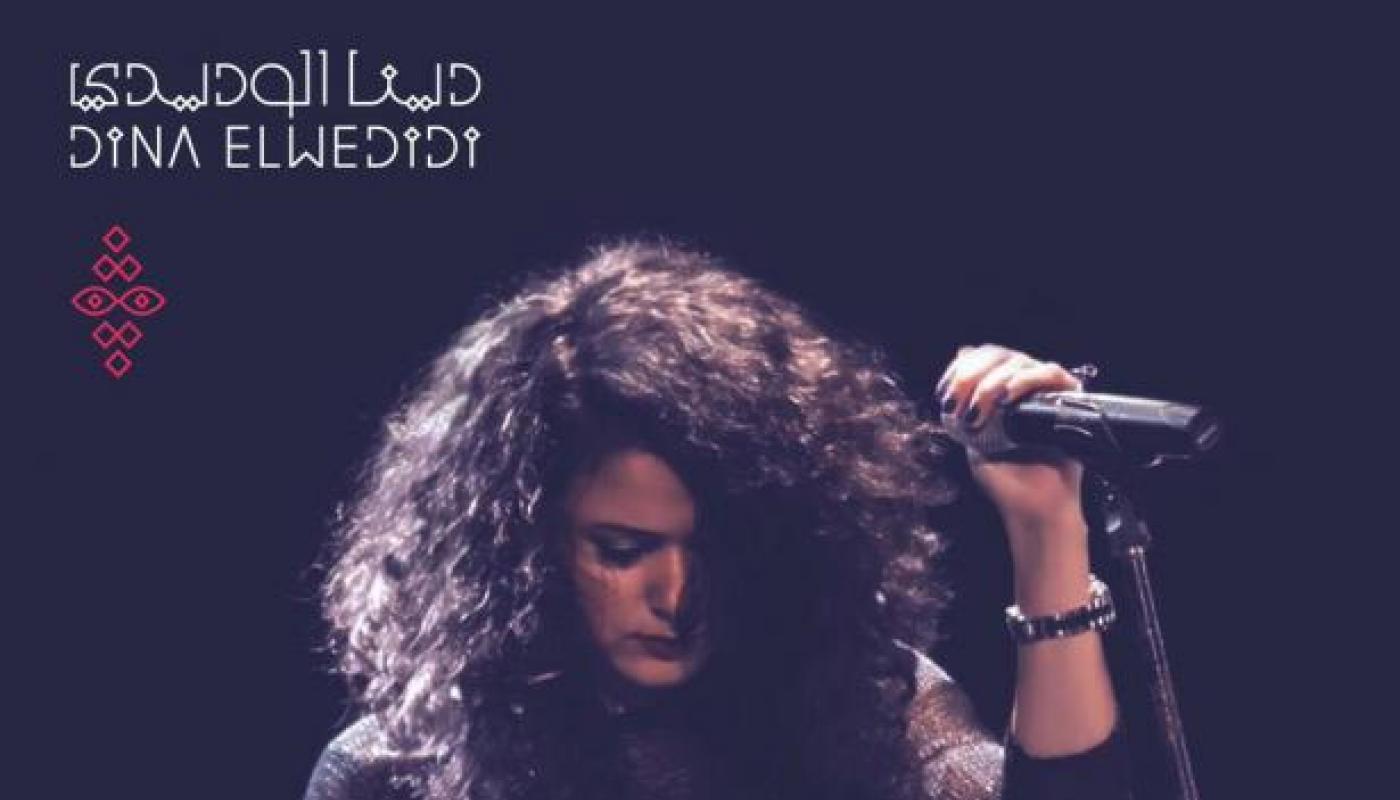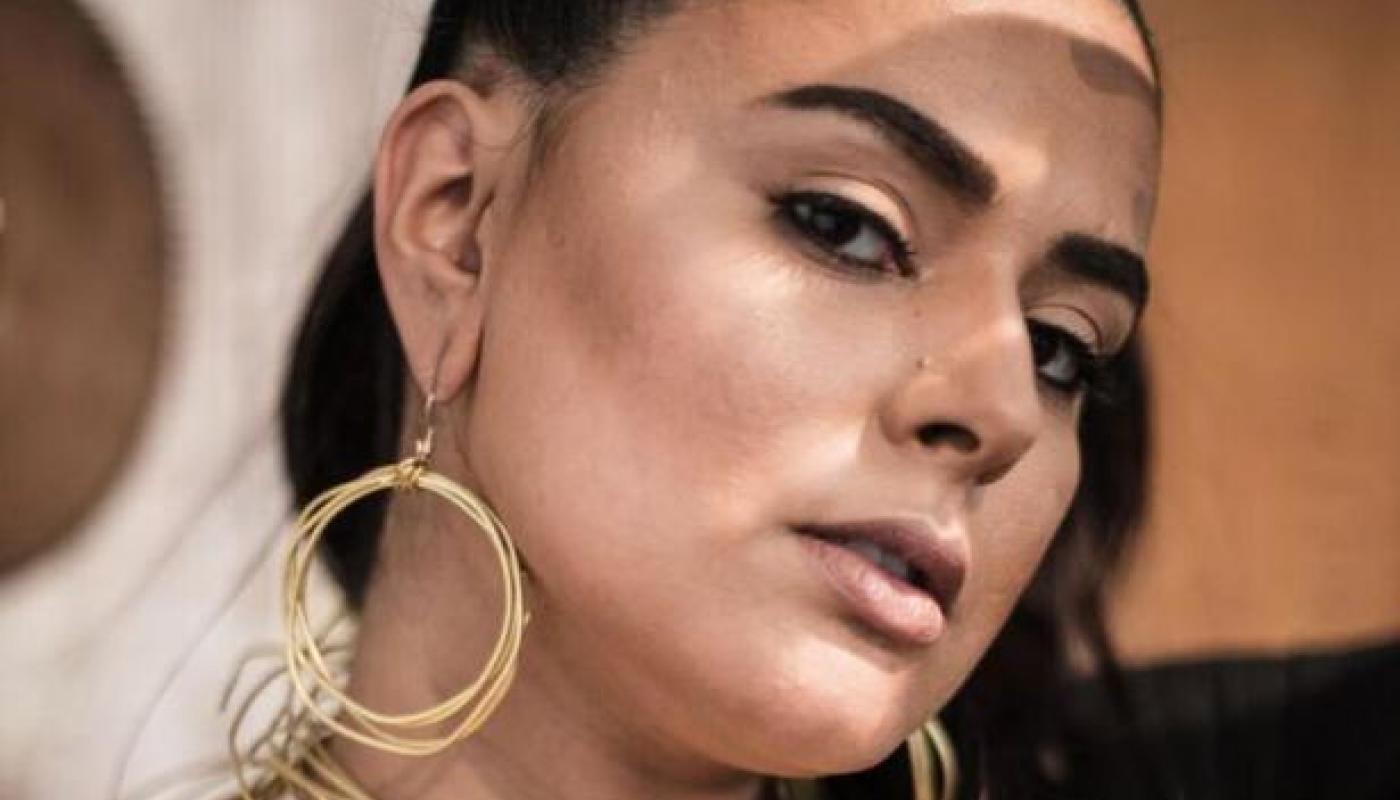 Dina Elwedidi
A sophisticated and compelling musical innovator of Egyptian heritage and contemporary identity.
Dina Elwedidi channels the heritage and contemporary identity of Cairo to deliver "transcendent performances." (Al-Ahram) A sophisticated musical innovator, her richly ornamented and detailed compositions, generous arrangements, bell-clear voice, and charismatic stage presence have established her as a global cultural force.
"Dina is a huge talent. Her voice is captivating and irresistible. There is a fierce personal-political thread through her music that opens a space for a future otherwise unable to be born." (Peter Sellars)
With sophisticated musical hybridity, "Elwedidi's songs reflect different temperaments and styles, from jazz to folk and underground rock, a combination of instruments and sounds that can't be labeled under one category. She is shaping a new musical genre that has emerged in the wake of the Tahrir Square Revolution." (Euro News)
with center stage
AVAILABLE  September-October 2018
TRAVELERS  9 (7 musicians, sound engineer, U.S. company manager)
VENUE  Large clubs, concert halls, amphitheaters, festival stages; indoors or out. Excellent sound system and backline required.
background
The Voice of Ardor: Dina Elwedidi's Incisive Songs and Incandescent Performance
Sometimes an artist comes out of the blue and resonates globally. Singer Dina Elwedidi is one of those voices. Establishing herself as a bandleader, songwriter, instrumentalist, and stunning singer, she is building a career based on innovation and challenge.
"I believe I have the freedom to talk about anything in my music," says Elwedidi. "When I want to sing about something, I do. The reality is that 'the street' talks about many things, and I'm inspired by the people on the street."
Elwedidi links traditional motifs and ideas to build layered works of contemporary hybridity. In form, content, and expression, she creatively tracks Egypt's storied past and contemporary circumstances. Her original songs draw on folklore, rituals, and early 20th-century popular music, as well as global ideas and exploration. With a sophisticated sense for admixture and contrast, backed by guitar, bass, accordion, drums, ney, and keys, "Elwedidi's songs reflect different temperaments and styles, from jazz to folk and underground rock, a combination of instruments and sounds that can't be labeled under one category." (Euro News)
U.S. Tour in 2018
Dina Elwedidi and her band join four other ensembles from Egypt and Ukraine that will make independent tours of the U.S. from July-December in 2018 as part of Center Stage, a cultural exchange program that invites performing artists from abroad to the United States to perform, meet, and share their experiences with communities around the country. Her fall 2018 tour is being scheduled now.
Called "transcendent" by the Egyptian press (Al-AhRam), Elwedidi's prowess and intensity on stage is backed by some of Egypt's best young musicians. She has toured on her own in Europe and the U.S., and toured with, written for, and recorded with the multi-national supergroup that forms the Nile Project. She was mentored and toured with international icon Gilberto Gil as a Rolex protege. The cumulative impact is propelling Egypt's modern music scene into international prominence.
"Dina is a huge talent. Her voice is captivating and irresistible," explains theater director and festival curator Peter Sellars, who invited Elwedidi for the 2016 Ojai Festival. "There is a fierce personal-political thread through her music that opens a space for a future otherwise unable to be born."
Elwedidi began spinning this thread early on, in her own striking way. As a child, she constantly made up little ditties and songs though she never really thought much of it. She earned her university degree in Persian and Turkish studies, and worked as an interpreter at the Turkish Embassy in Cairo. Then she auditioned for and joined El Warsha, a theater group led by Maged Soliman that incorporated songs into its performances.
There she learned about music from Upper Egypt, from the Cairo of a century ago. "When I came to him, I could barely carry a tune," she recalls. "He taught us traditional songs, comic monologues from the '20s and '30s, Arab classical music. We also talked about the context, the way people are living in Upper Egypt, for example. I spent three years with El Warsha, figuring out how to tell stories, how to sing, how to move on stage." Her skill shines through on songs like "Ardor of Love," in which Elwedidi incorporates cheeky theatrical moments and homages to cheeky early 20th-century tunes, layered with the ornate, twirling keyboards of contemporary Egyptian pop.
Elwedidi began to think of herself as a musician, as a potential songwriter. "I started to follow the music scene," remembers Elwedidi. "I'd go to every concert I could, I was curious about everything that was happening." She took workshops by Grammy-winning artist Fathy Salama, whose approach prodded all participants to start composing melodies and writing lyrics, and with Palestinian instrumentalist-songwriter, Kamilya Jubran. Elwedidi began working on her own original pieces. A producer and musician friend, violinist Nancy Munir, urged her to start her own band.
She picked up on singing styles and unusual folk instruments, on jazz savvy and pop bounce, melding them with seemingly effortless glee into single tracks. She wove new rhythms into her songs, "rhythms that don't usually appear in Egyptian music," she explains. The sounds and lives around her found their ways into her work, and she found her bold, nimble voice.
The project became an underground hit, then quickly gathered critical and popular strength at home and abroad. Elwedidi drew the attention of the Rolex Mentors and Proteges Arts Initiative, and Brazilian icon Gilberto Gil took her under his wing. "I traveled with him, watched him on stage and backstage," Elwedidi says. "Eventually we performed together. He gave me a lot of support and advice about Turning Back, my first album," singing a cameo on one track.
"After I finished my mentorship, I asked if I could compose a song for him." Next, Elwedidi tapped a guitarist she met in Bahia at Carnival. "The track, 'The Night,' was just the three of us. Gil loved it. He started to write his own lyrics for it. I traveled to Brazil to record it in Gil's studio."
Elwedidi's songs on Turning Back album take a striking perspective on Egypt's musical worlds. She harnesses the potent, buzzy drone of the iarghul, a rare reed instrument from Upper Egypt Elwedidi learned to play. In "Circles," a stunning statement about battling depression, she turned to a Cairene group of women who still perform the zār, a ritual associated with restoring mental balance through song. "It's a practice that is disappearing," notes El Wedidi. "I asked them to collaborate with me, and they were open to do that. They were my mentors. They got us into the trance."
The work she did with Gil and the Nile Project, and the songs captured on her first album engage, directly and indirectly, in social and political commentary through a personal lens, and Elwedidi is intensifying her focus. "I have always picked lyrics that I love, that move me and reach the soul," she reflects. "Recently, I've been drawn to lyrics written about personal experiences that speak to problems and ideas I have also dealt with in my own life." As Elwedidi continues to explore the intersections -- of the personal and political, of home and the other, of Arabic and African musics, she is inviting us to join her in new spaces, spaces open to all.
About Center Stage
Center Stage is a public diplomacy initiative of the U.S. Department of State's Bureau of Educational and Cultural Affairs, administered by the New England Foundation for the Arts. From June-December 2018, Center Stage will tour five ensembles from Egypt and Ukraine in the U.S. These are Dina Elwedidi (Giza, Egypt), Kurbasy (Lviv, Ukraine), Mohamed Abozekry & Karkadé (Cairo, Egypt), Teatr-Pralnia with CCA Dakh (Kyiv, Ukraine), and Youssra El Hawary (Cairo, Egypt).
Now in its fourth season, by the end of 2018, 29 performing arts ensembles from nine nations -- Algeria, Egypt, Haiti, Indonesia, Morocco, Pakistan, Tanzania, Ukraine, and Vietnam -- will have toured from coast to coast, hosted by colleges and universities, festivals, music clubs, and cultural centers. Each tour includes residencies in large cities and small towns, and a range of activities from performances, workshops, and discussions, to artist-to-artist exchanges, masterclasses, and community gatherings. Center Stage artists engage with audiences onstage and online sharing their work with audiences in the U.S. and friends and fans at home to build mutual understanding through shared cultures and values.
Center Stage is made possible in cooperation with the U.S. Regional Arts Organizations, and with support from the Doris Duke Foundation for Islamic Art, and the Trust for Mutual Understanding. General management is provided by Lisa Booth Management, Inc. 
Press
audio clips