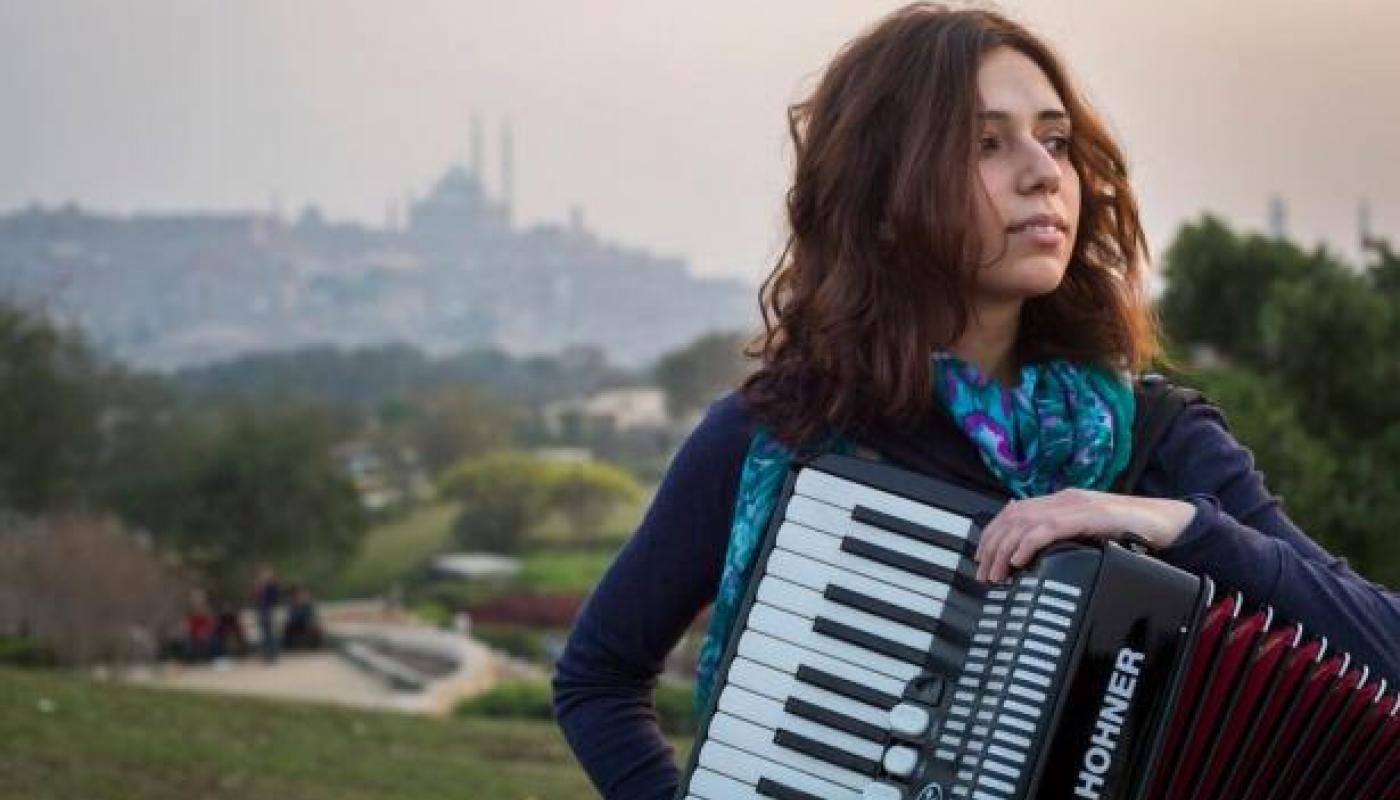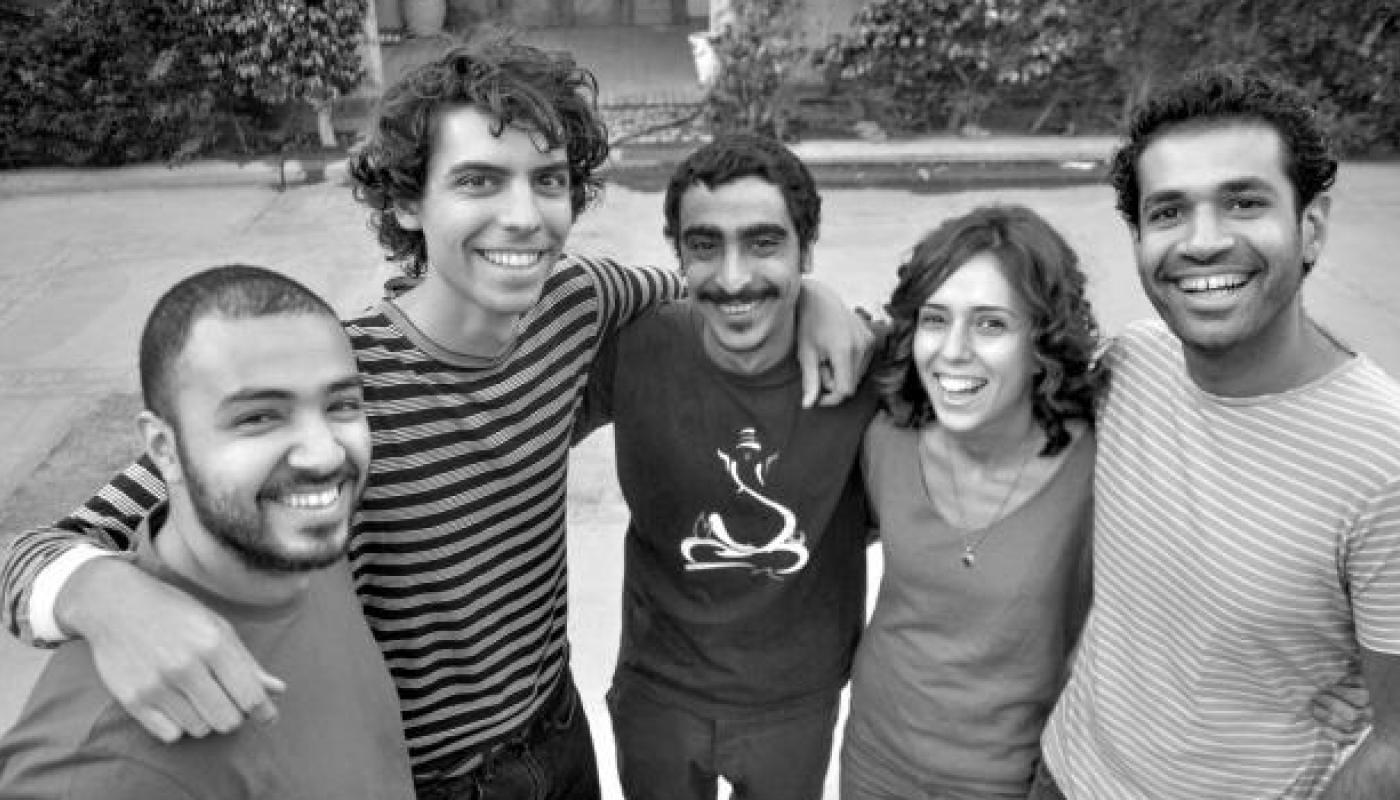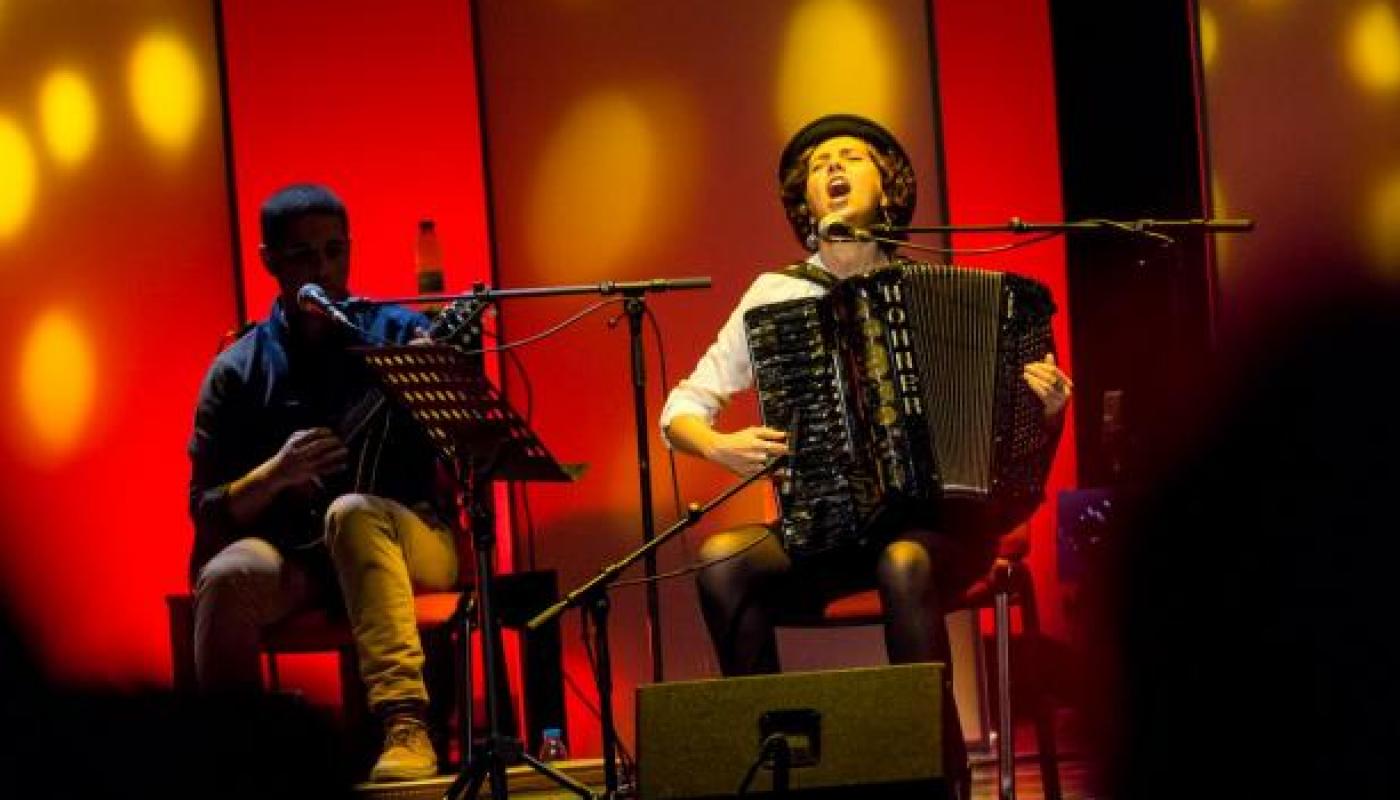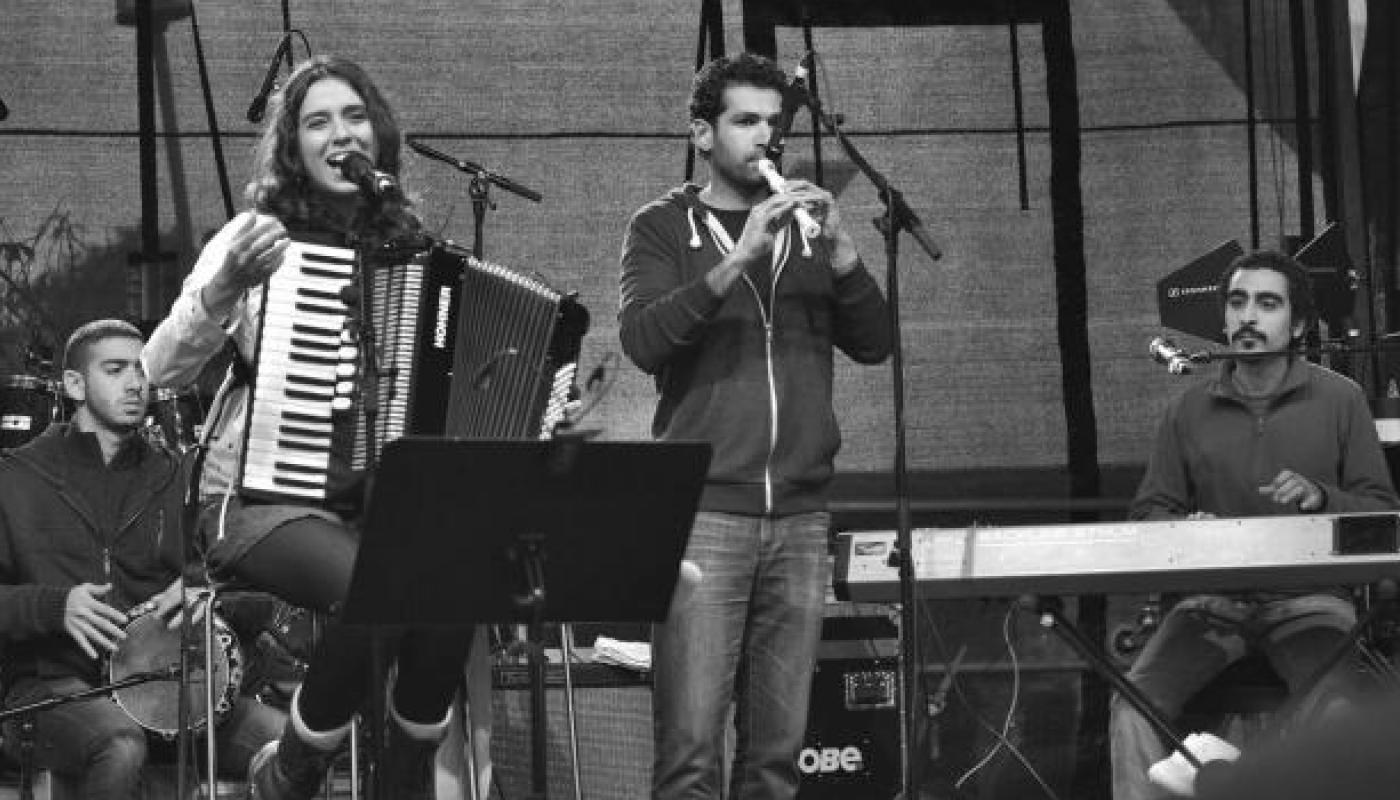 Youssra El Hawary
A Musical bellwether of everyday life, capturing the stories of Cairo and the charged alchemy of the Mediterranean basin.
Youssra El Hawary's socially-aware, personal, and original music innovates as much in content as it does in style. In the half-decade since she became a slyly defiant sensation in the aftermath of the Egyptian revolution, El Hawary continues to be a bellwether of everyday life. With charismatic charm, her lithe compositions capture the stories of Cairo, and the charged alchemy of the Mediterranean basin that fuels her distinctive and soulful sound.
"Perfect, easy magic. I'm totally hooked on music by this folkie-ish, indie-ish, chanson-ish singer/songwriter from Egypt armed not with a guitar, but ... an accordion." (NPR's All Songs Considered)
US DEBUT with center stage
AVAILABLE  September-October 2018
TRAVELERS  8 (6 musicians, sound engineer, U.S. company manager)
VENUE  Indoors or out; concert halls, festival stages, and clubs. Excellent quality sound system to enhance acoustic instruments and vocals; some backline required.
background
Imagine the Sound: Youssra El Hawary's Inventive, Cosmopolitan Songs of Cairo Life
In 2012, Egyptian singer-songwriter and bandleader Youssra El Hawary took a satirical poem penned by a cartoonist friend about Cairo's walls, literal and figurative. She put it to a melody and with her accordion, surreptitiously made a video at the barrier erected at the entrance to Tahrir Square. "El Soor (The Wall)" went viral, and became an anthem of the Egyptian Revolution.
El Hawary's voice resonated. People around the world watching events unfold and looking for ways to understand them, discovered El Hawary, too.  "Perfect, easy magic," said NPR's All Songs Considered. "I'm totally hooked on music by this folkie-ish, indie-ish, chanson-ish singer/songwriter from Egypt armed not with a guitar, but ... an accordion."
Now a fixture of Egypt's independent music scene, El Hawary and her five-piece band meld the sounds of Cairo's underground with quirky acoustic charm, led by the sway and swagger of El Hawary's accordion. Her songs entwine French chanson, indie rock, and jazz to underscore an idiosyncratic artistic world. Performed with playful charisma, her compositions are bellwethers of everyday life in Cairo, and the charged alchemy of the Mediterranean basin that fuels her distinctive and soulful sound.
U.S. Debut in 2018
Youssra El Hawary joins four other ensembles from Egypt and Ukraine that will make independent tours of the U.S. from July-December in 2018 as part of Center Stage, a cultural exchange program that invites performing artists from abroad to the United States to perform, meet, and share their experiences with communities around the country. Her summer 2018 tour, now in formation, will mark her U.S. debut.
El Hawary is part of a community of independent performers and writers who are socially motivated, community activists; a community with a distinguished lineage in Egypt. She got her start as a performer in Salam Yousry's theater group El-Tamye. They made and produced music to back up Egypt's outspoken musical legend Sheikh Imam, known for his songs chronicling the lives of the working class and poor.
"My first connections to an audience started with these songs, which are very rebellious," explains El Hawary. "They talk about political and social things that are similar to what's happening now. Even before the revolution, I didn't feel I was singing about something in the past. It fits our daily life, and it was very inspiring to know this."
When she began writing her own music, these experiences shaping theatrical narratives in song became a core approach to her own art making. El Hawary and a group of friends began holding regular collaboration sessions they dubbed the Choir Project, where people of all walks of life could gather and write songs together about everyday topics of concern. "I think everywhere and anytime of life, there is this movement of art that maybe isn't as famous as the mainstream. This indie or underground stream has always been there, the people who make music the way they want, saying what they want. With the true feelings and events they want to describe."
El Hawary began to experiment on her own. Schooled in general music studies and piano as a child, she searched for an instrument suited to playing on the streets. Things came together when she stumbled across her old accordion one day, the one she had played during morning assemblies at school. "It was a little model. I played around with it," she recalls. "I loved it."
The instrument's natural brashness fit the times and the ideas El Hawary wanted to share."It's loud and can be rich without any other instruments. It's the instrument of the streets, of traveling. It has this character," she continues. She moved to France to study at the National and International Centre of Music and Accordion founded by prominent musician Jacques Mornet.
El Hawary's leap into creating music came at a crucial moment for Egypt, as Tahrir Square filled with demonstrators during the Arab Spring in 2011. In this context, "El Soor" went from a sly, earthy critique of social stratification and defiance, to a call to tear down the walls erected by the government to stymie protesters.
Following her initial success, El Hawary began to imagine new directions. After a few solo shows, she invited a good pianist friend, the classically trained Shadi El Hosseiny, to play a song for one concert, then brought in a few additional players. When "El Soor" won a youth voices contest sponsored by the anti-corruption organization Fair Play, the organizers invited her to play several concerts in Brazil and asked El Hawary how big her band was. "I didn't have a band," she laughs. "I began to think what kind of band I might want."
The answer led El Hawary to instruments like the mandolin, which, like the accordion, is a rare addition to Egyptian bands. "We kept trying until we reached a sound we really liked," she says. The band's lineup now also includes melodica and keyboards, a bass guitar, mandola, and a harmonica. "There's no name for the kind of ensemble we have." It may not have a name, but with El Hawary's  first album due to be released later this year, the group's distinctive, welcoming sound will soon be open to audiences of all kinds.
About Center Stage
Center Stage is a public diplomacy initiative of the U.S. Department of State's Bureau of Educational and Cultural Affairs, administered by the New England Foundation for the Arts. From June - December 2018, Center Stage will tour five ensembles from Egypt and Ukraine in the U.S. These are Dina Elwedidi (Giza, Egypt), Kurbasy (Lviv, Ukraine), Mohamed Abozekry & Karkadé (Cairo, Egypt), Teatr-Pralnia with CCA Dakh (Kyiv, Ukraine), and Youssra El Hawary (Cairo, Egypt).
Now in its fourth season, by the end of 2018, 29 performing arts ensembles from nine nations -- Algeria, Egypt, Haiti, Indonesia, Morocco, Pakistan, Tanzania, Ukraine, and Vietnam -- will have toured from coast to coast, hosted by colleges and universities, festivals, music clubs, and cultural centers. Each tour includes residencies in large cities and small towns, and a range of activities from performances, workshops, and discussions, to artist-to-artist exchanges, masterclasses, and community gatherings. Center Stage artists engage with audiences onstage and online sharing their work with audiences in the U.S. and friends and fans at home to build mutual understanding through shared cultures and values.
Center Stage is made possible in cooperation with the U.S. Regional Arts Organizations, and with support from the Doris Duke Foundation for Islamic Art, and the Trust for Mutual Understanding. General management is provided by Lisa Booth Management, Inc.
press
Audio Clips 
Youssra's new album, "No'oum Nasyeen"
Other clips