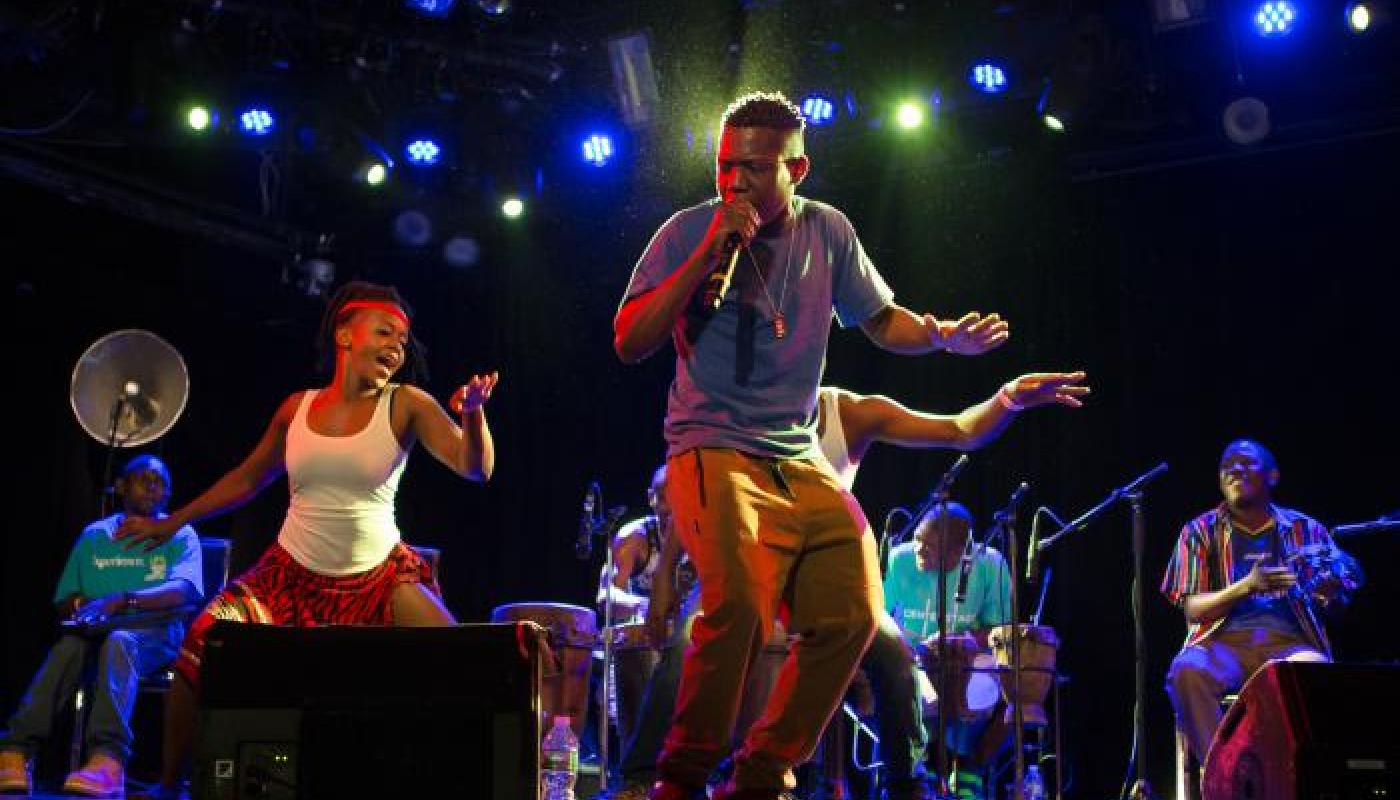 For Presenters
Center Stage introduces Americans to artists of high artistic quality from nations and cultures we too seldom have access to, and supports presenting organizations, increasing your capacity to host international work.
Through performances, workshops, discussions, artist jams, and community gatherings, Center Stage ensembles engage with audiences and share their experiences globally onstage, offstage and online.
Each ensemble's independent month-long tour travels to four to seven communities around the country, and generally begins in Washington, DC, with a performance on The Kennedy Center's Millennium Stage, broadcast live via webcast.
Exchange is Key
Minimum half-week and maximum full week residences (generally no single performance engagements).
Residency activities may include hosted meals, sightseeing, jam sessions with local artists, and attending performances, as well as master classes, workshops, and student and public performances.
Dynamic marketing, promotion, and social media campaigns draw artists, host presenters, community members, fans, and audiences together to boost access, outreach, and visibility.
Extensive press coverage and online engagement invite many more into the worldwide conversation. For press inquiries, contact Ben Michaels: ben@rockpaperscissors.biz, 812.339.1195 x204
What center stage provides
As General Manager, Lisa Booth Management, Inc. provides tour scheduling, residency planning, artist care, logistics, production and backline coordination, on-tour staff, and 24/7 tour oversight.
Excellent marketing, public relations, and contextual materials complement and boost international, national and local efforts.
Center Stage underwrites and manages international and domestic travel, visas and federal and state tax requirements.
Ensembles travel with a U.S.-based company manager (who serves as translator when needed) and production support.
Presentation Fees
Fees for groups from Egypt and Ukraine: $20,000 per week; $11,000 for a half-week residency. Host presenters also provide venues, technical, box office and front of the house services for performances and activities; local coordinating costs; local marketing and promotion; and artist hospitality (receptions, sightseeing, etc.)
contact
Lisa Booth Management, Inc
Lisa Booth, President, & Deirdre Valente, Vice-President
212.921.2114
artslbmi@msn.com 
past presenters 
*Presented more than one Center Stage ensemble
Academy of Music – Northampton, MA
Akron International Friendship & University of Akron – Akron, OH
Alabama Asian Cultures Foundation & Samford University – Birmingham, AL
American Dance Festival – Durham, NC
AMP Concerts – Albuquerque, NM*
Ann Arbor Summer Festival – Ann Arbor, MI
Arts Brookfield – New York, NY
Asia Society – New York, NY*
Asia Society Texas Center – Houston, TX
The Back Room – Berkeley, CA
Baryshnikov Arts Center – New York, NY
Bay Chamber Concerts – Rockport, ME
Boom Arts - Portland, OR
Boothbay Opera House – Boothbay Harbor, ME
Bossa Bistro/Multiflora Productions – Washington, DC*
Boston University, World Music Fest - Boston, MA
Brooklyn Academy of Music – Brooklyn, NY
Buckman Performing and Fine Arts Center – Memphis, TN*
Bucknell University, Weis Center for the Performing Arts – Lewisburg, PA*
Bumbershoot Festival – Seattle, WA
The Capitol Theatre – Yakima, WA
Cathedral of St. John the Divine - New York, NY
Cedar Cultural Center – Minneapolis, MN
Celebrity Series Boston/World Music CRASHarts – Boston & Cambridge, MA
Central College – Pella, IA
City Center, Fall for Dance – New York, NY
Coker College – Hartsville, SC
College of Saint Benedict & Saint John's University – St. Joseph, MN
Colorado Mountain College – Breckenridge, CO
Connecticut College, On Stage – New London, CT*
The Dance Hall - Kittery, ME
Dance Place – Washington, DC*
Dancing in the Streets & Casita Maria Center for the Arts and Education – The Bronx, NY
Dartmouth College, Hopkins Center for the Arts – Hanover, NH
Denmark Arts Center – Denmark, ME
Duke University, Duke Performances – Durham, NC
Earshot Jazz Festival – Seattle, WA
Everett: Company, Stage, and School – Providence, RI
FirstWorks – Providence, RI*
Flynn Center for the Performing Arts – Burlington, VT*
Friars Club – New York, NY
¡Globalquerque! – Albuquerque, NM*
The Grammy Museum – Los Angeles, CA
Great Plains Regional Puppet Festival – West Liberty, IA
Grinnell College – Grinnell, IA
Hambridge Creative Hive/Colony Square – Atlanta, GA
Helena Presents/Myrna Loy Center for the Performing and Media Arts – Helena, MT
Hibernian Hall – Roxbury, MA
Hill Center at the Old Naval Hospital - Washington, DC
Howard University – Washington, DC*
Huntington Arts Council – Huntington, NY*
Indiana University – Bloomington, IN
Indo-American Association of Houston – Houston, TX
Inner-City Muslim Action Network – Chicago, IL
Intercultural Journeys - Philadelphia, PA
International Festival of Arts & Ideas – New Haven, CT
Irving Arts Center – Irving, TX
Johnson County Community College – Overland Park, KS
Joshua Tree Music Festival – Joshua Tree, CA*
Juniata College, Halbritter Center for the Performing Arts – Huntingdon, PA
Kelly-Strayhorn Theater – Pittsburgh, PA
The John F. Kennedy Center for the Performing Arts – Washington, DC*
Lafayette College, Williams Center for the Arts – Easton, PA
La MaMa ETC – New York, NY
(Le) Poisson Rouge/Ariz, Inc. – New York, NY*
Lebanon Opera House – Lebanon, NH
Lincoln Center for the Performing Arts – New York City, NY*
Madison World Music Festival – Madison, WI*
The Markaz/Pico Union Project – Los Angeles, CA
Massachusetts College of Liberal Arts –North Adams, MA*
Monkeyhouse Dance – Somerville, MA
North Carolina State University, NCSU Live – Raleigh, NC
Old Town School of Folk Music – Chicago, IL*
Outside the Box Festival – Boston, MA
Pinkerton Academy, Stockbridge Theatre – Derry, NH
Pittsburgh Cultural Trust, International Festival of Firsts – Pittsburgh, PA
Portland Performing Arts Festival/One Longfellow Square – Portland, ME
Portland Ovations – Portland, ME*
REDCAT – Los Angeles, CA
The Raymond F. Kravis Center for the Performing Arts – West Palm Beach, FL*
Reggae on the River Festival – Garberville, CA
Richmond Folk Festival – Richmond, VA
River to River Festival (Lower Manhattan Cultural Council) – New York, NY
Rockingham Arts and Museum Project – Bellows Falls, VT
Rockwood Music Hall – New York, NY
Roots Cultural Center – Providence, RI
Roulette/Robert Browning Assoc. – New York, NY
Sandywoods Center for the Arts – Tiverton, RI
Savannah Music Festival – Savannah, GA*
Scottsdale Center for the Performing Arts – Scottsdale, AZ
Sheldon Theatre – Red Wing, MN
The Shrine – New York, NY
Silvermine Arts Center – New Canaan, CT
Small Town Concert Series – Chester, CT
Smith's Olde Bar – Atlanta, GA
Sonoma State University, Green Music Center – Rohnert Park, CA
South Miami-Dade Cultural Arts Center – Miami, FL*
Storefront Theater – Lyons, NE
Touchstone Theatre – Bethlehem, PA
Tricklock Company & University of New Mexico – Albuquerque, NM
Tropicalia/Multiflora Productions – Washington, DC*
University Musical Society – Ann Arbor, MI
University of California, ArtPower! – San Diego, CA*
University of California, Mondavi Center for the Performing Arts – Davis, CA
University of California, Santa Barbara Arts and Lectures – Santa Barbara, CA
University of Connecticut, Jorgensen Center for the Performing Arts – Storrs, CT
University of Dayton – Dayton, OH
University of Denver, Lamont School of Music – Denver, CO
University of Florida Performing Arts – Gainesville, FL*
University of Houston/Rajput Media – Houston, TX
University of Iowa, Hancher Auditorium – Iowa City, IA*
University of Nebraska, Lied Center for the Performing Arts – Lincoln, NE
University of New Hampshire – Durham, NH
University of North Carolina, Carolina Performing Arts – Chapel Hill, NC*
University of North Carolina – Wilmington, NC
University of Richmond, Modlin Center – Richmond, VA *
University of St. Joseph – West Hartford, CT*
University of Washington, Meany Center for the Performing Arts – Seattle, WA
Upright Citizens Brigade – New York, NY
Virginia Tech Center for the Arts – Blacksburg, VA*
Washington University, Edison Theater – St. Louis, MO
Wellesley College – Wellesley, MA
Wesleyan University, Center for the Arts – Middletown, CT
West Claremont Center for Music and the Arts – Claremont, NH
Wobeon – Austin, TX*
WoodSongs Old Time Radio Hour – Lexington, KY
World Music Festival Chicago – Chicago, IL
Yerba Buena Center for the Arts – San Francisco, CA