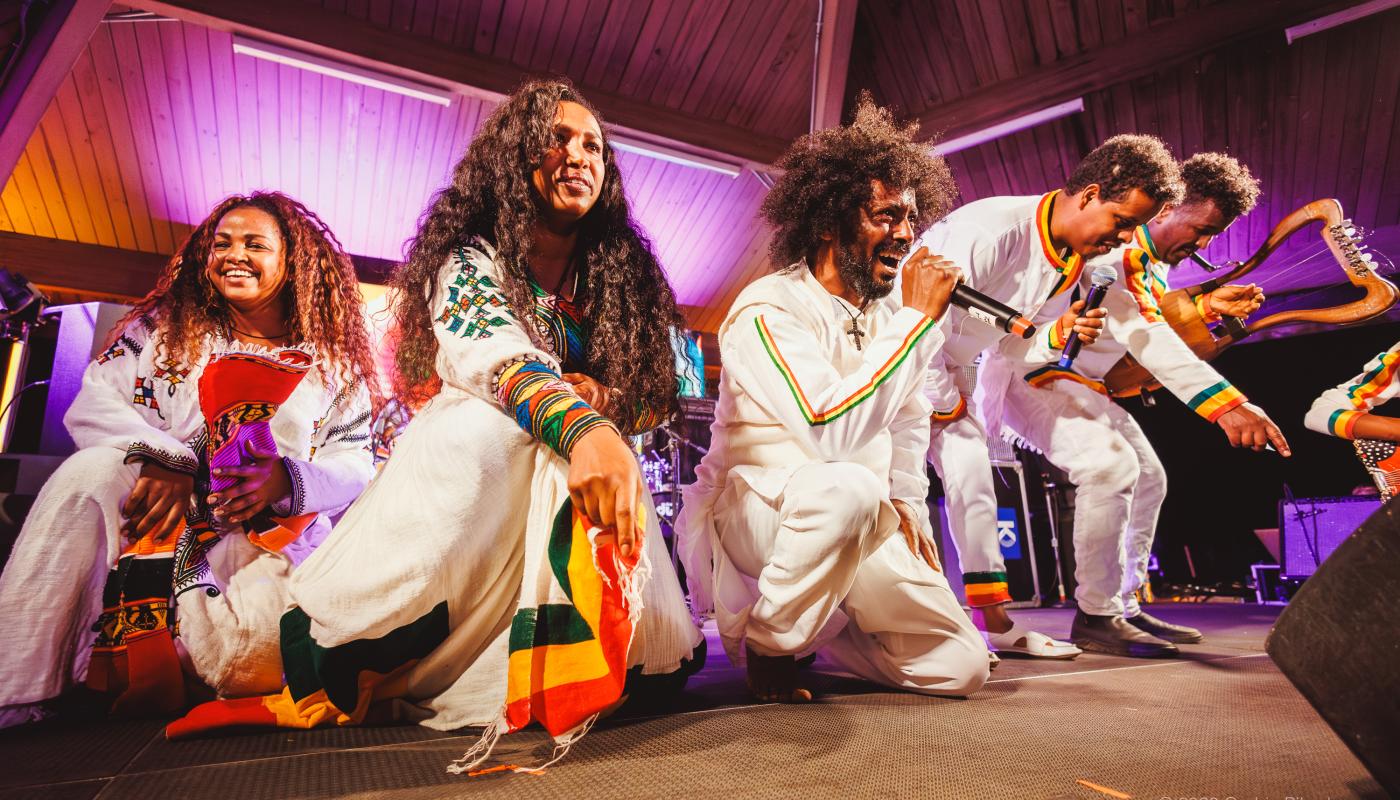 About
Transcend borders. Build understanding. Embrace diversity. 
Center Stage is among the most successful programs to bring contemporary international performing artists into direct contact with people across a wide range of U.S. communities and to share these experiences globally. 
Center Stage is a public diplomacy initiative of the U.S. Department of State's Bureau of Educational and Cultural Affairs, administered by the New England Foundation for the Arts, with general management by Lisa Booth Management, Inc.
Since 2012, the program has welcomed important new voices into our national cultural dialogue, enlarging our world, and sharing diverse, global perspectives directly with communities in the U.S., and via real-time virtual interactions, with fans and allies abroad.
To date, Center Stage has toured 307 artists in 47 music, dance, and theater ensembles from coast to coast, hosted by colleges and universities, festivals, music clubs, and cultural centers. 34 of these ensembles made their U.S. debuts with Center Stage. 
Each independent, month-long tour includes residencies in large cities and small towns, and a range of activities from performances, workshops, and discussions, to artist-to-artist exchanges, master classes, and community gatherings.
Center Stage identifies, prepares, and tours young, excellent, contemporary professional performing arts groups from abroad (generally from countries and cultures under-represented in the U.S.) to professional and diverse American performing arts venues, and under the same conditions, and with the same expectations for engagement as the many other world-class performing arts groups that populate American stages.
Artists deepen engagement in communities on tour through cultural, social, and civic activities. Center Stage amplifies these experiences in the U.S. and in the artists' home countries through dynamic and social and traditional media components that include direct reporting by professional journalists from Center Stage countries.
The program's significant impacts, and the sustained relationships it fosters, serve professional artists, journalists and other cultural leaders, participating embassies and their in-country constituents, and American audiences, students, professionals, and community members.
Center Stage has been made possible in cooperation with the U.S. Regional Arts Organizations, and with support from the Asian Cultural Council, Doris Duke Foundation for Islamic Art, Robert Sterling Clark Foundation, Luce Foundation, and the Trust for Mutual Understanding. Additional funding has been provided by the Embassies in Buenos Aires, Argentina; Yerevan, Armenia; Cairo, Egypt; Rabat, Morocco; and Islamabad, Pakistan. General management is provided by Lisa Booth Management, Inc.
Keep up with Center Stage on Facebook, X (Twitter), Instagram, and at CenterStageUS.org.
Touring Contact & Information
Deirdre Valente
Lisa Booth Management, Inc.
Tel +1 (212) 921-2114 artslbmi@msn.com  
General Program Information
Adrienne Petrillo
Senior Program Director, New England Foundation for the Arts
Tel: +1 (617) 951-0010 apetrillo@nefa.org