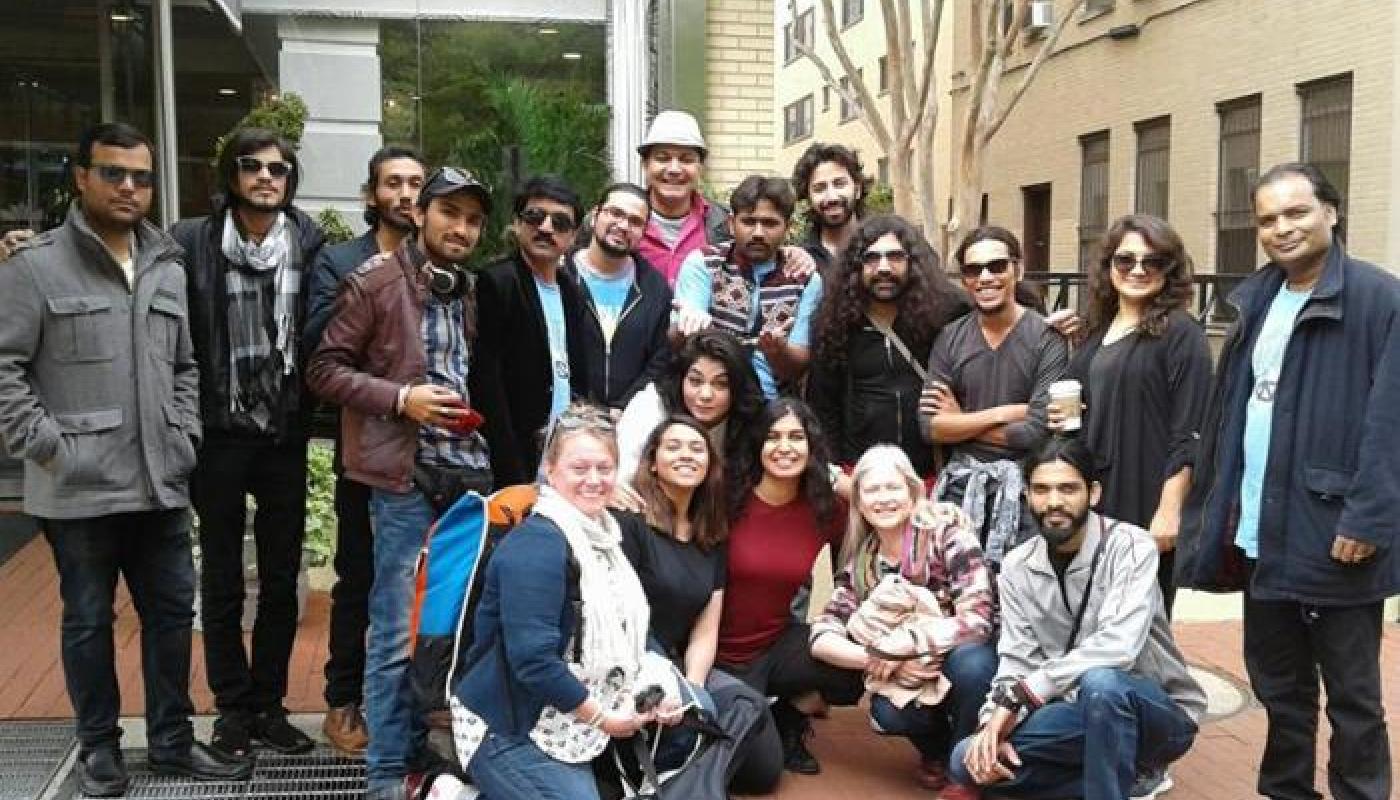 About
Center Stage is a among the most successful programs to bring contemporary international performing artists into direct contact with people across a wide range of American communities, and to share these experiences globally.
Center Stage is a public diplomacy initiative of the U.S. Department of State's Bureau of Educational and Cultural Affairs, administered by the New England Foundation for the Arts, with general management by Lisa Booth Management, Inc.
Since 2012, the program has welcomed important new voices into our national cultural dialogue, enlarging our world, and sharing diverse, global perspectives directly with communities in the U.S., and via real time virtual interactions, with fans and allies abroad.
To date, 29 music, dance, and theater ensembles have toured from coast to coast, hosted by colleges and universities, festivals, music clubs, and cultural centers. Each independent, month-long tour includes residencies in large cities and small towns, and a range of activities from performances, workshops, and discussions, to artist-to-artist exchanges, master classes, and community gatherings.
artist selection
NOMINATIONS ARE CURRENTLY CLOSED
COUNTRIES
The U.S. Department of State working with NEFA identifies the participating countries. U.S. Embassies may also independently participate.

Season 4 (2018): Egypt & Ukraine 
Season 3 (2016-2017):  Algeria, Pakistan, Tanzania
Season 2 (2014):  Morocco, Pakistan, Vietnam 
Season 1 (2012):  Haiti, Indonesia, Pakistan 
SELECTION PROCESS
New England Foundation for the Arts and Lisa Booth Management administer the selection process. 
Artists are identified during an open nominations period, and through advance trips to each country. 
Nominations may be submitted by presenters, artists and their representatives, U.S. Embassy personnel, regional arts organizations, state arts agencies, and individuals in the U.S. and abroad knowledgeable about performing arts ensembles in the identified countries. Artists interested in participating may submit a nomination on behalf of their own ensemble.
All nominations are reviewed by a panel of readers with knowledge of the performing arts and culture in these specific countries.  A list of candidates for consideration is identified by Center Stage's panel of artistic advisors.
A delegation travels to each country to meet with potential ensembles and cultural leaders. Travelers include presenters and artists led by representatives from NEFA and LBMI and facilitated by the U.S. Embassies.  Travelers also conduct workshops, meet with the media, and, in general, seek to learn firsthand about the cultural context of each country.
Selections are made by the New England Foundation for the Arts in consultation with Lisa Booth Management, Inc. with final approval from the Bureau of Educational and Cultural Affairs at the U.S. Department of State or a host Embassy.
SELECTION CRITERIA
Participating performing arts ensembles must:
Demonstrate high artistic quality and accomplishment.  
Have an interest in engaging with U.S. communities, including youth, through public and in-school performances, workshops, discussions, artist-to-artist exchanges, and social events.
Be comprised of two to nine ensemble members (artists and staff) who are citizens and residents of the selected countries.
Have previous touring experience but have rarely been seen in the U.S.
Have an ability to communicate electronically via email and Skype in English.
Have an interest and agree to actively share these experiences through traditional press outreach and social media channels.
Other factors influencing selection include artist availability, artistic discipline (dance, theater, music and multi-media), mix and diversity of programming, and logistical considerations.
More on Center Stage
Center Stage identifies, prepares, and tours young, excellent, contemporary professional performing arts groups from abroad (generally from countries and cultures under-represented in the U.S.) to professional and diverse American performing arts venues, and under the same conditions, and with the same expectations for engagement as the many other world-class performing arts groups that populate American stages.
Artists deepen engagement in communities on tour through cultural, social, and civic activities. Center Stage amplifies these experiences in the U.S. and in the artists' home countries through dynamic and social and traditional media components that include direct reporting by professional journalists from Center Stage countries.
The program's significant impacts, and the sustained relationships it fosters, serve professional artists, journalists and other cultural leaders, participating embassies and their in-country constituents, and American audiences, students, professionals, and community members.
Center Stage has been made possible in cooperation with the U.S. Regional Arts Organizations, and with support from the Asian Cultural Council, Doris Duke Foundation for Islamic Art, Robert Sterling Clark Foundation, Luce Foundation, U.S. Embassy Islamabad, and the Trust for Mutual Understanding. General management is provided by Lisa Booth Management, Inc.
From 2012 to 2018, four seasons of Center Stage
Hosted 189 artists in 29 ensembles (21 made their U.S. debuts) from nine countries: Algeria, Egypt, Haiti, Indonesia, Morocco, Pakistan, Tanzania, Ukraine, and Vietnam
Visited 100 communities in 35 states and Washington, DC over 836 days
Booked 285 performances -- indoors and out, ticketed & free
Arranged 718 educational, community, and artist-to-artist activities
Traveled 114,000 cumulative tour miles
Connected with 141,000+ U.S. audience members, students, and peer artists
Hosted 8 journalists from Egypt, Morocco, Pakistan, and Ukraine to report on these experiences
Garnered tens of millions global media impressions (online and print)
Engaged millions more people around the globe through social media and online content
Keep up with Center Stage on Facebook and on Twitter and at www.centerstageUS.org.
Touring Contact & Information
Lisa Booth & Deirdre Valente
Lisa Booth Management, Inc.
Tel +1 (212) 921-2114 artslbmi@msn.com  
General Program Information
Adrienne Petrillo
Program Director, New England Foundation for the Arts
Tel: +1 (617) 951-0010 apetrillo@nefa.org
Loading...