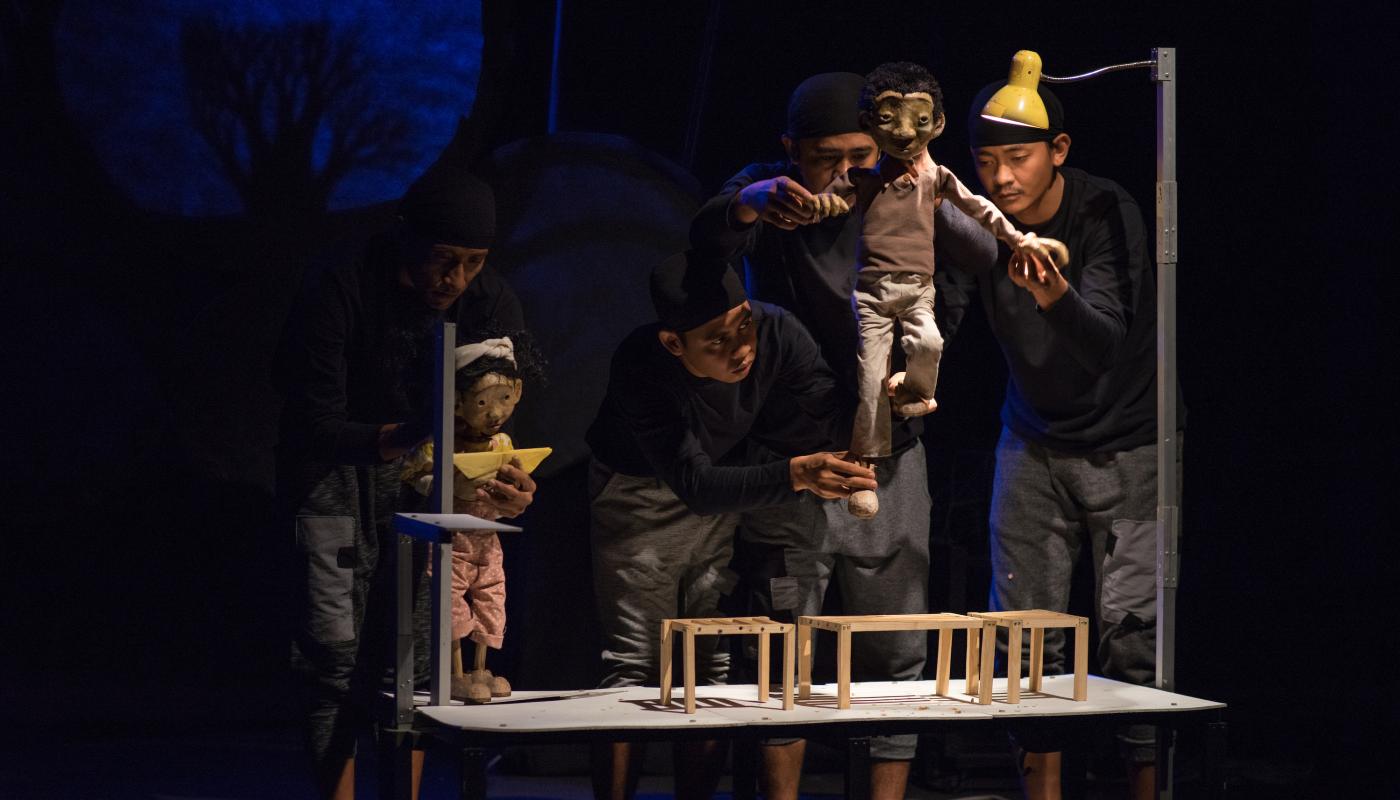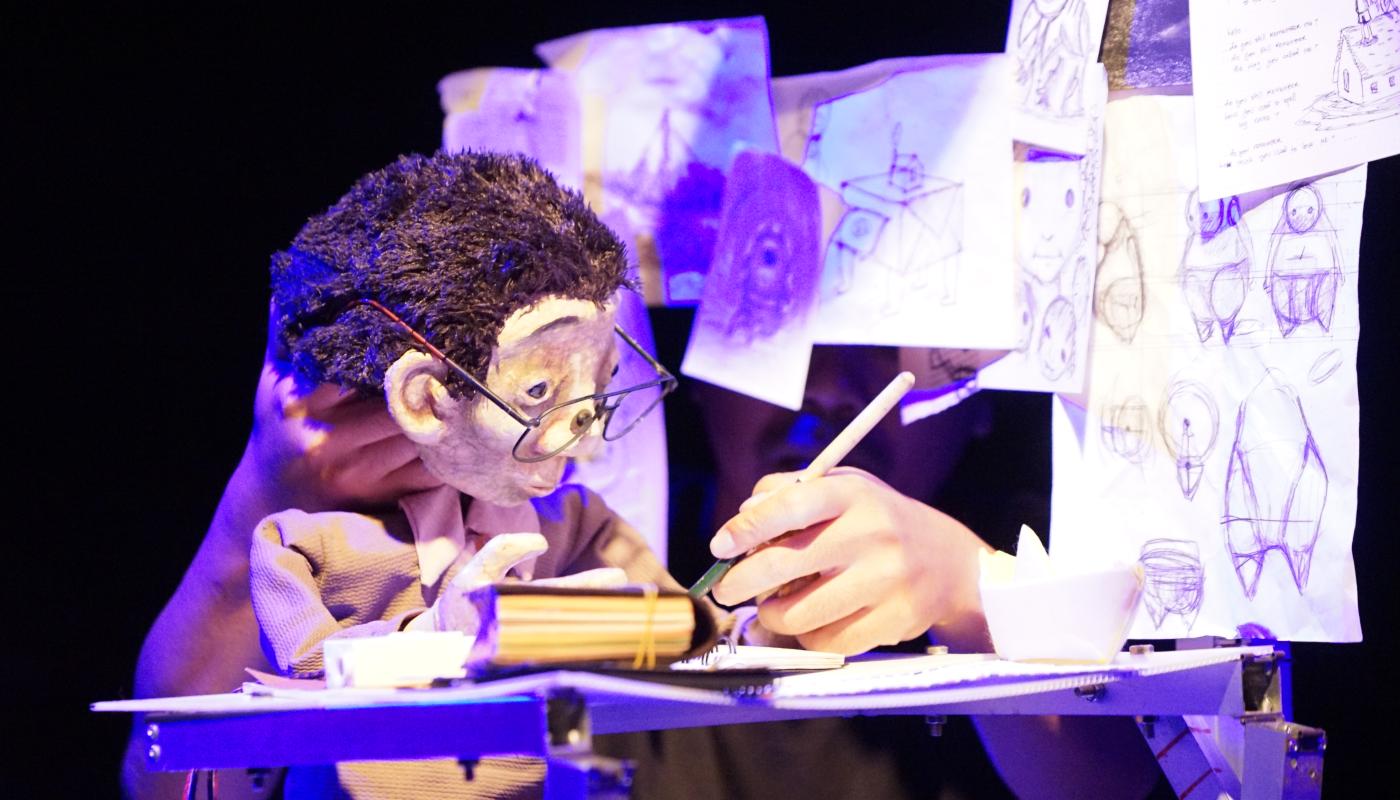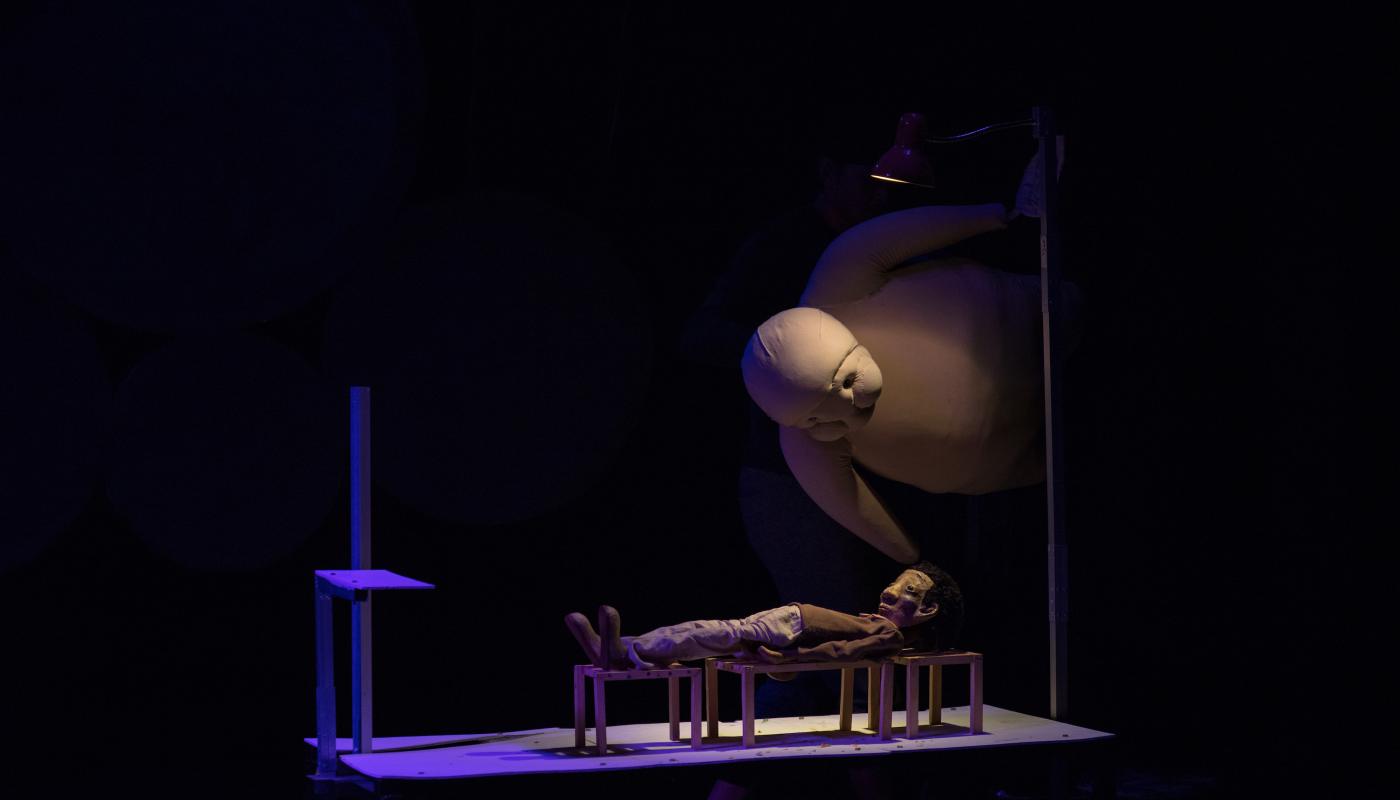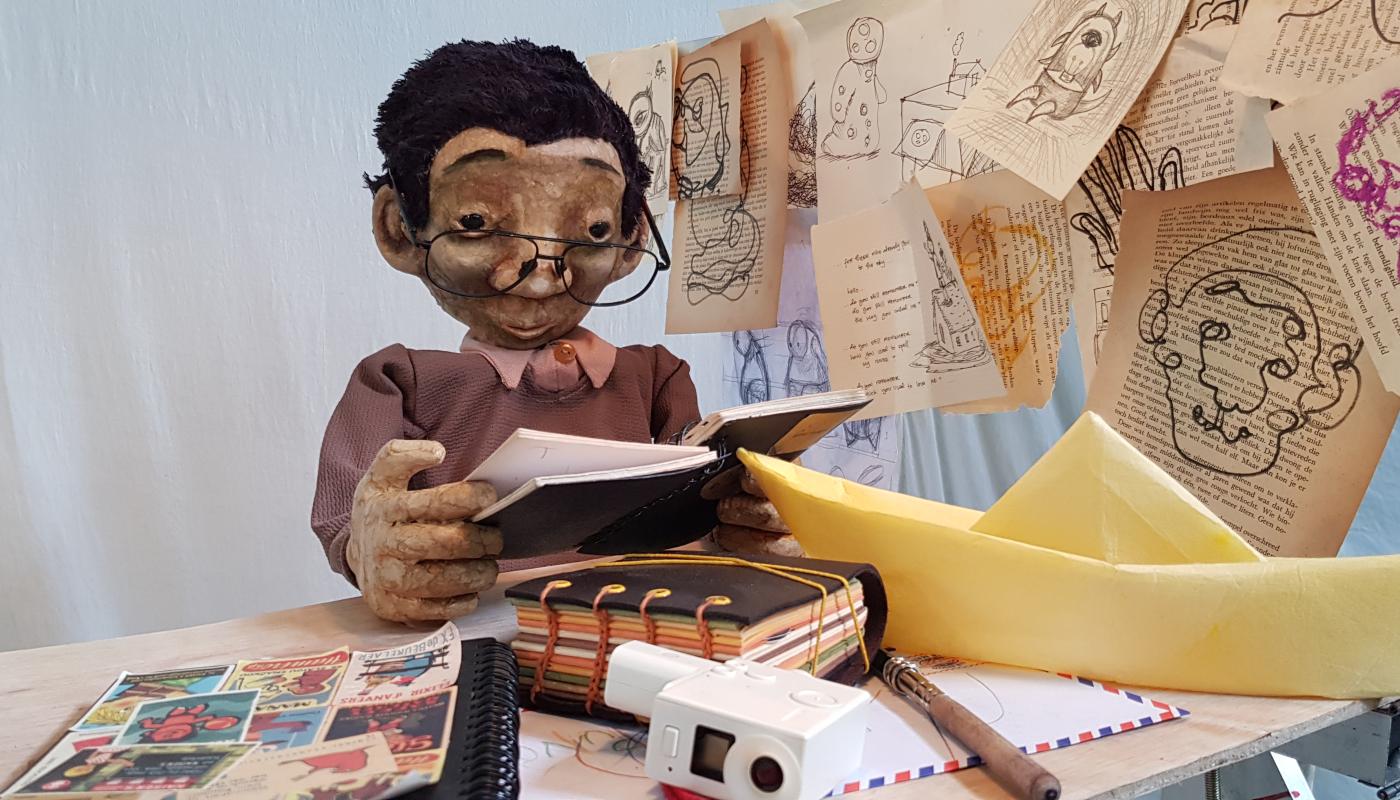 Papermoon Puppet Theatre
Yogyakarta
Season 8: 2025
Season 1: 2012
Available September-October 2025
Compelling, bold, and aware, Indonesia's Papermoon Puppet Theatre has transformed puppetry the way graphic novels changed comics. 
How do we experience loss? How can we hold and appreciate what has been left to us? Puno: Letters from the Sky is a story of Tala, a young girl who is coping with her father's passing and learning about life and death. 
"Papermoon breaks through cultural barriers that usually separate us from one another, such as differences in language, nation, history, politics, gender and so on. Words can often fail. With its universal touchstones and emotional, beautiful articulation, Puno and Tala's story of separation and grief ultimately joins every human being in a shared space of love, memory, and longing."  - Geleran.id 
Papermoon Puppet Theatre was founded in 2006 by illustrator, writer, and theatre performer Maria (Ria) Tri Sulistyani and visual artist Iwan Effendi. Based in Yogyakarta, Indonesia, in a country with world-renowned puppetry traditions, the expert artists of Papermoon Puppet Theatre extend this form with their mixed-media productions that tell stories about the choices, values, circumstances, and conflicts of everyday life. "Our stories are personal and focus on individuals. From there we can see the bigger issues." - Ria Sulistyani 
Since their U.S. debut with Center Stage in 2012, Papermoon has shared their work around the globe, created a residency compound in Yogyakarta to host collaborating and visiting artists, and continued to produce Pesta Boneka, a community-based festival for international puppet makers, started in 2008. 
Puno (Letters to the Sky)
50-minutes; non-verbal puppet performance and art installation
For children and adults; age 7+  
On Tour: September-October 2025
Half-week and week-long residencies only 
Travelers
11 on tour: Cast of 5
Venues
Black box or intimate proscenium stages seating 100-300 people (steep audience rake required). Optimal play space: 20' wide x 20' deep and 20' to lighting batten. Black marley, soft goods to enclose the performance space required. Audio playback.
Brilliant, engaging and enthusiastic artists in residence at our campus/community for four days - what a treat! Loved the performance, loved the teaching, loved the company.

 

KATHRYN MAGUET, EXECUTIVE DIRECTOR OF WEIS CENTER, BUCKNELL UNIVERSITY
2012 u.s. debut tour overview
The Kennedy Center - Washington, DC
Williams Center for the Arts, Lafayette College - Easton, PA
Halbritter Center for the Performing Arts, Juniata College -Huntingdon, PA
Weis Center for the Performing Arts, Bucknell University - Lewisbury, PA
Great Plains Regional Puppet Festival - West Liberty, IA
FirstWorks - Providence, RI
Asia Society - New York, NY
2012 program notes
Papermoon Puppet Theatre
Yogyakarta, Indonesia
Maria Tri Sulistyani & Iwan Effendi, Artistic Directors
On tour as part of Center Stage
in
Mwathirika
Maria Tri Sulistyani, Director
Iwan Effendi, Artistic Designer and Puppet Engineer
Octo Cornelius, Artistic Engineer
Anton Fajri, Beni Sanjaya, Puppet and Set Construction
Yennu Ariendra, Music Director and Sound Designer
Banjar Tri Andaru, Lighting Designer
Doni Maulistya, Video Artist
Gemailla Gea Geriantiana, Retno Intiani, Costume Designers
Puppeteers
Amanda Mita, Maria Tri Sulistyani, Anton Fajri, 
Beni Sanjaya,
Octo Cornelius, Iwan Effendi
Indonesia Production 
Wulang Sunu, Suryo Hapsoro
Center Stage Staff
Company Manager & Production Liaison Sarah Sidman
Technical & Production Supervisor Robert W. Henderson, Jr.
MWATHIRIKA was made possible with an Empowering Woman Artist 2010-2011 grant, supported by Kelola Foundation/Yayasan Kelola (Jakarta), HIVOS and FORD Foundation.
About the company
In a country renowned for its puppetry traditions, Papermoon Puppet Theatre is a young, contemporary standout. The company was founded in 2006 by Maria Tri Sulistyani (an illustrator, writer, and former actor) and is now co-directed by Iwan Effendi (a visual artist who likes to tell stories).  Based in Yogyakarta, Java, Papermoon draws on a variety of Indonesian and other performing arts forms and techniques to create its mixed-media works. Not content to create productions for the theatrical stage, Papermoon also stages site-specific performances in markets, trains, town squares, art galleries, and other public spaces. It launched an antique and found objects shop in Jogja earlier this year. It regularly holds puppetry workshops for and with artists, community groups, adults and children.  Visit www.papermoonpuppet.com
Papermoon Puppet Theatre is making its USA debut with Mwathirika under the auspices of Center Stage, a cultural exchange and public diplomacy program initiated by the U.S. Department of State. From September 4 – October 2, 2012, the company is participating in residencies, exchange activities and presenting performances in Washington DC, Easton PA, Huntingdon PA, Lewisburg PA, West Liberty IA, Providence RI and New York City.   
About Mwathirika
The 1965 attempted coup against Indonesian leader, Sukarno, and the turbulent aftermath when thousands of Indonesians were jailed and murdered, was made famous by Christopher Koch's book The Year of Living Dangerously and the Peter Weir film of the same name. With Mwathirika, Papermoon's multi-media puppet play seeks the emotional truth behind the public events -- to recover the personal stories of those lost, and to recall the lost history of their nation.
Mwathirika (which means 'victim' in Swahili) is set in a specific time and place, but its undercurrent is the mass violence that was perpetrated, experienced, and witnessed around the globe throughout the 20th century. 
"Though our work is based on family stories, the things that these stories are about have happened around the world," reflects Papermoon's artistic co-director and founder Maria Tri Sulistyani. "We want to share 'Mwathirika' with Americans because we want all of us to understand, so it will never happen again. Anywhere in the world."
The production flowed from Papermoon's co-director Iwan Effendi's longtime interest in Indonesia during the mid-1960s, when anti-communist agitation under then President Sukarno led to murder, prison, and broken families for millions of Indonesians. Effendi's grandfather was imprisoned for thirteen years without trial. Though general historical accounts address this period through dates and numbers, few people discussed their harrowing personal experiences in the immediate aftermath of the atrocities.  Personal memoirs began to be published in the late 1990s, but discussions of the tragedy -- at home, in schools, in communities, and among artists and intellectuals are still often isolated, rare occurrences.
About Center Stage
Diplomacy doesn't just happen in conference rooms or at embassies. It can burst out in classrooms and studios, on town greens and beside historic landmarks, in coffee shops and arts centers, moving from person to person, between artist and arts lover. From June – December 2012, 10 different contemporary performing arts ensembles from Haiti, Indonesia and Pakistan are making independent month-long tours in the USA as part of Center Stage. Residencies include performances, workshops, discussions, people-to-people exchanges, and community gatherings. This public-private partnership is the largest public diplomacy effort to bring foreign artists to American stages in recent history.
press