Taking A Looking Back at Center Stage's First Round: Part 5
Feb 19, 2013
Taking A Looking Back at Center Stage's First Round: Part 5
In Mid-September 2012, Ti-Coca & Wanga-Nègès arrived in Washington, D.C. from Port-Au-Prince, Haiti. This group of internationally renowned troubadours lit up every festival, school, and jam session they attended with their unique, high energy music.
After kicking off their tour in Washington, D.C., on the Kennedy Center Millennium Stage (watch the performance here) the group headed to Albuquerque, New Mexico, to participate in ¡Globalquerque!, "New Mexico's Annual Celebration of World Music." In addition to performing, they also enjoyed dinner hosted by a local Haitian couple, attended GlobalQik! Dance Party at the National Hispanic Cultural Council (alongside Center Stage ensemble Zeb & Haniya) and played at jam sessions.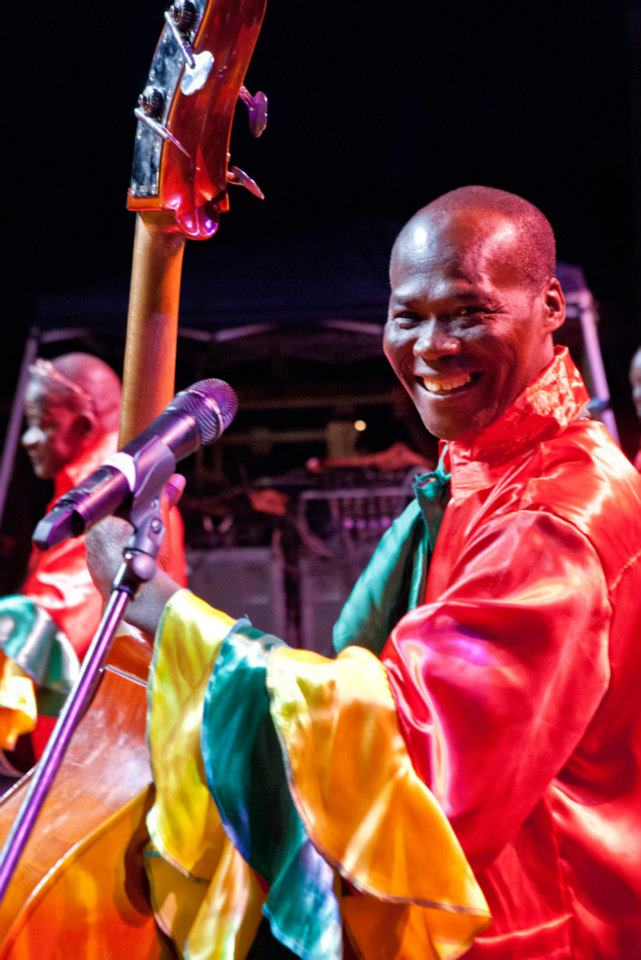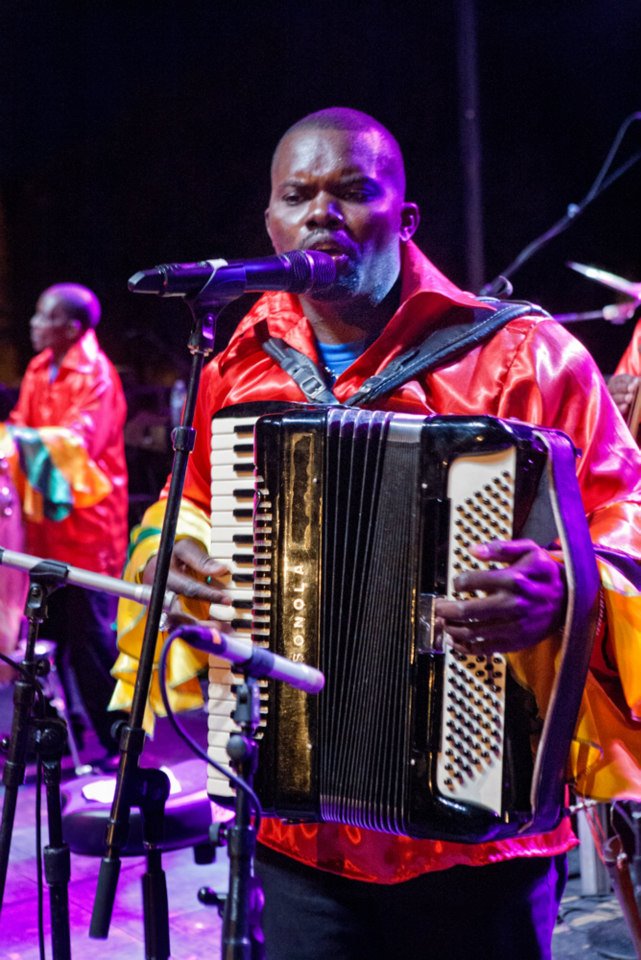 Photo Credits: Alan Mitchell
Neal Copperman, a producer of ¡Globalquerque!, remarked, "Our community got to enjoy a spirited and joyful performance in a style that was new and different than anything they had experienced before."
Passing through Denver, the group arrive in Iowa where they spent several weeks visiting a few different communities. Starting in Pella, Iowa at Central College, they attended workshops with the Acting French and World Music classes, performed for 7th and 8th grade students at a local school and on Center College's Outdoor Stage, and attended homecoming activites like the annual "Lemming Race," where students dress up in unique costumes and run across the college grounds to jump into the campus pond.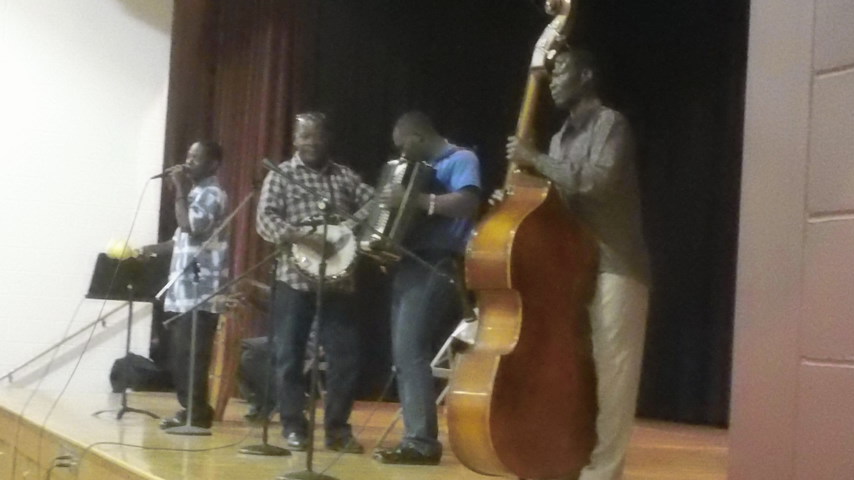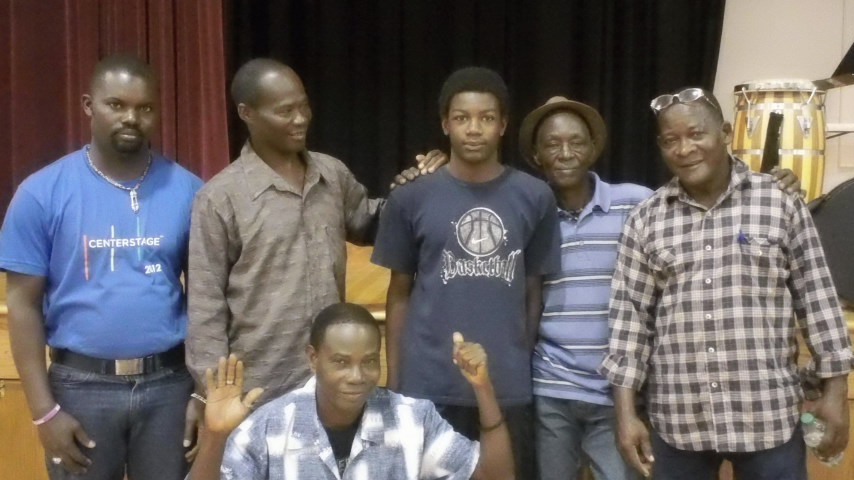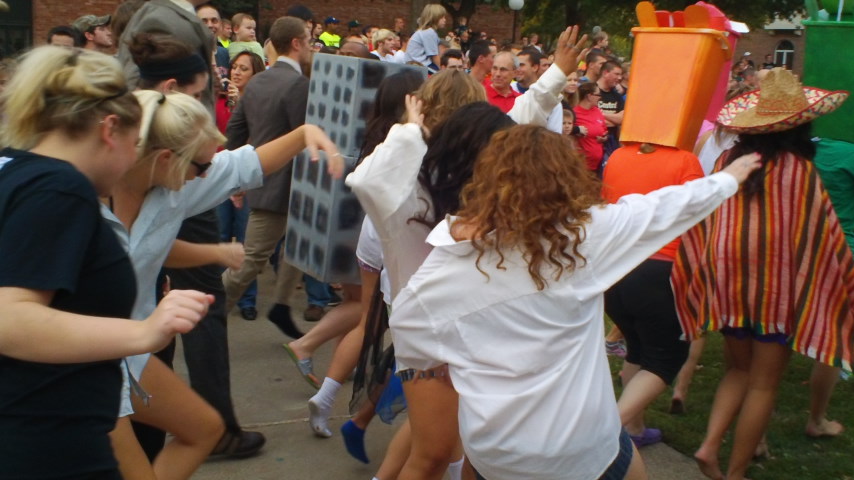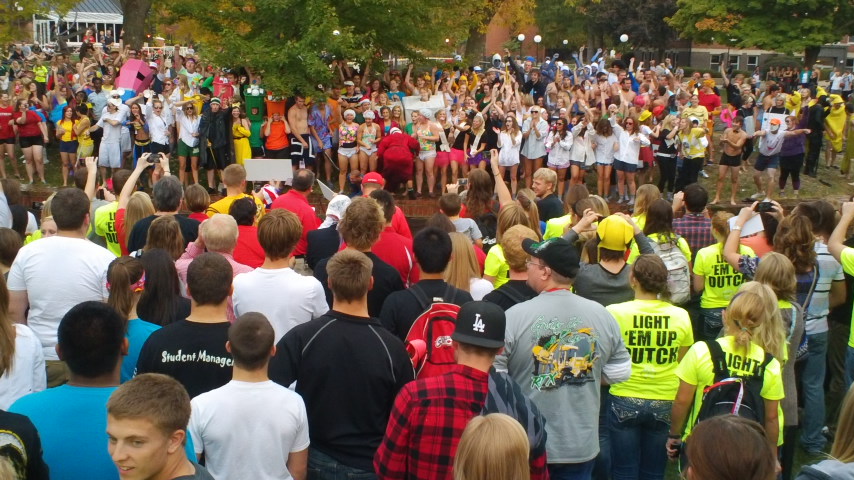 The University of Iowa in Iowa City was up next. Ti-Coca & Wanga-Nègès performed and attended a potluck at the local Zion Lutheran Church, held workshops in the Music of Latin America and Global Studies classes, and performed at the Farmer's Market, local elementary school, and Hancher Auditorium.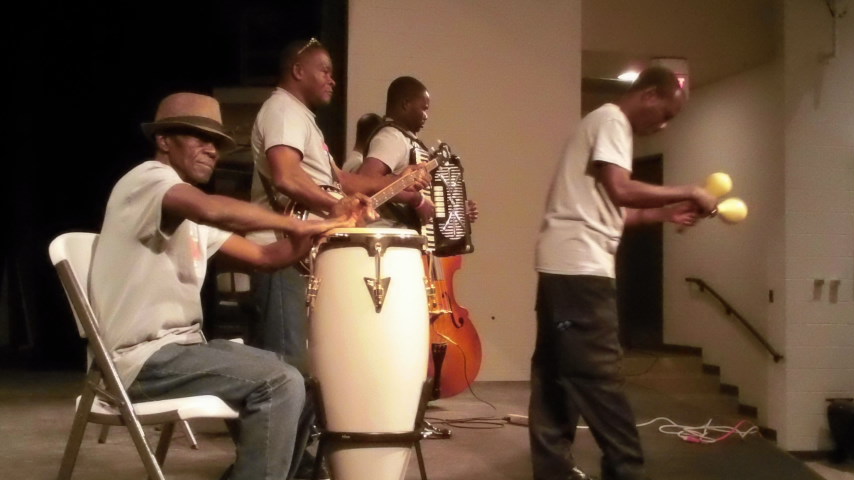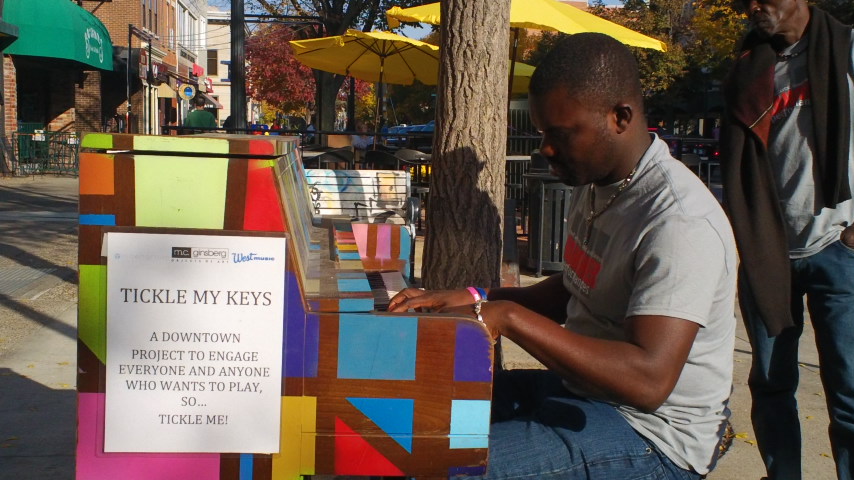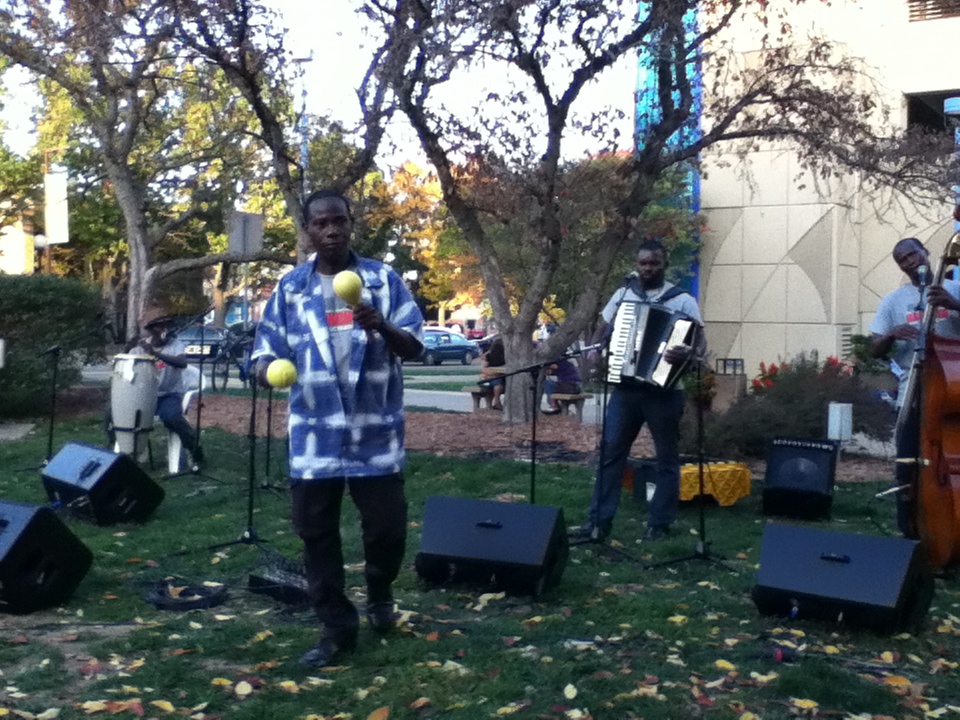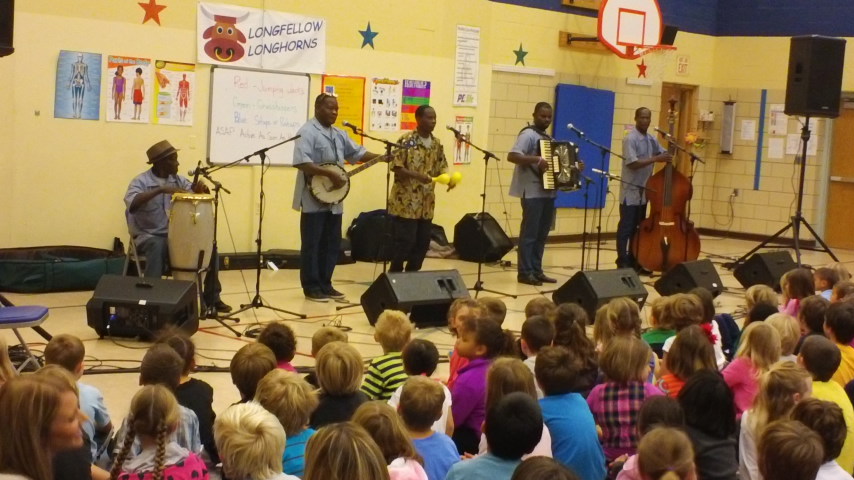 Jacob Yarrow, Programming Director at University of Iowa Hancher Auditorium, had this to say when reflecting on Ti-Coca's time in Iowa City,
"We often find it challening to present artists from other countries because our audience is hesitant to come to things that are unfamiliar to them. Framing this as cultural exchange/diplomacy was a very effective strategy in convincing people to engage in the project... Our community responded with excitement and interest. The participants in every activity were engaged and enthusiastic about their encounter with the band."
An hour away, Grinnell College was their last Iowa stop. Ti-Coca really got some local flavor here when they participated in a Fireman's Breakfast at the Grinnell Firehouse, attended an Appalachian Strings concert, and saw a museum exhibit of Civil War era drawings at Faulconer Gallery at Grinnell College. They also held workshops with several college classes, participated in a jam session with Too Many Strings Band for local 4th graders, and performed at Grinnell's Herrick Chapel.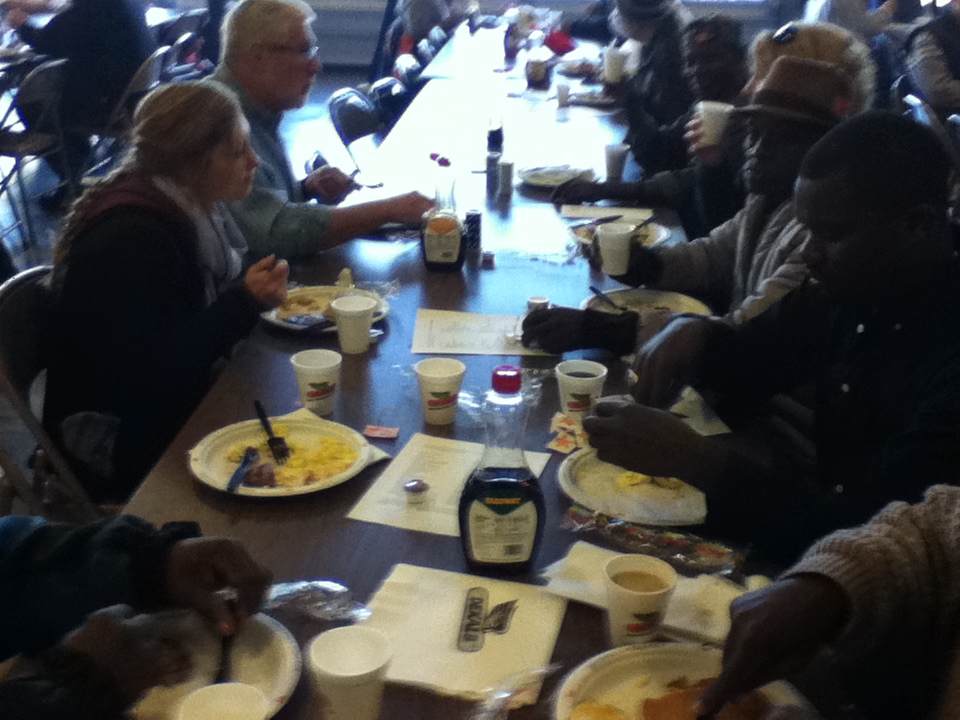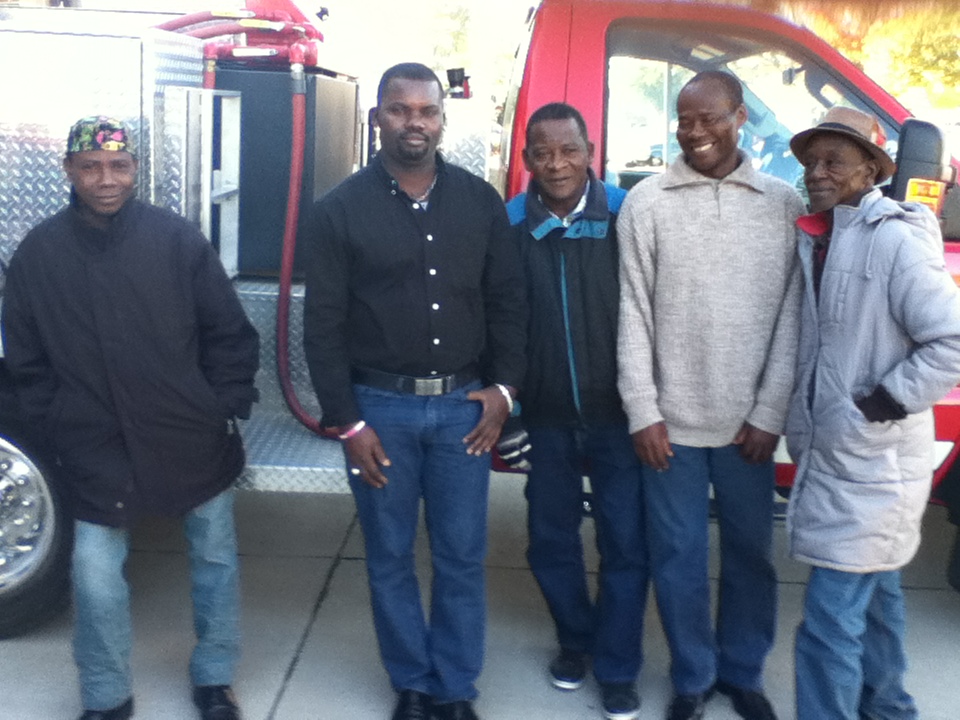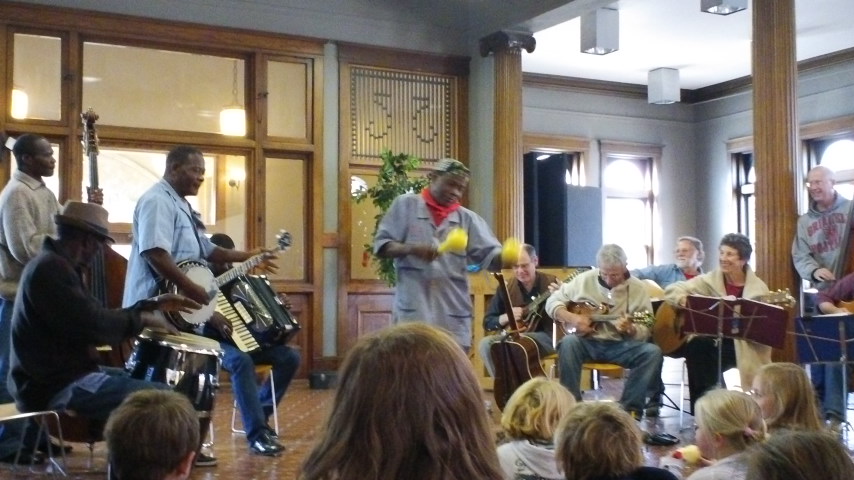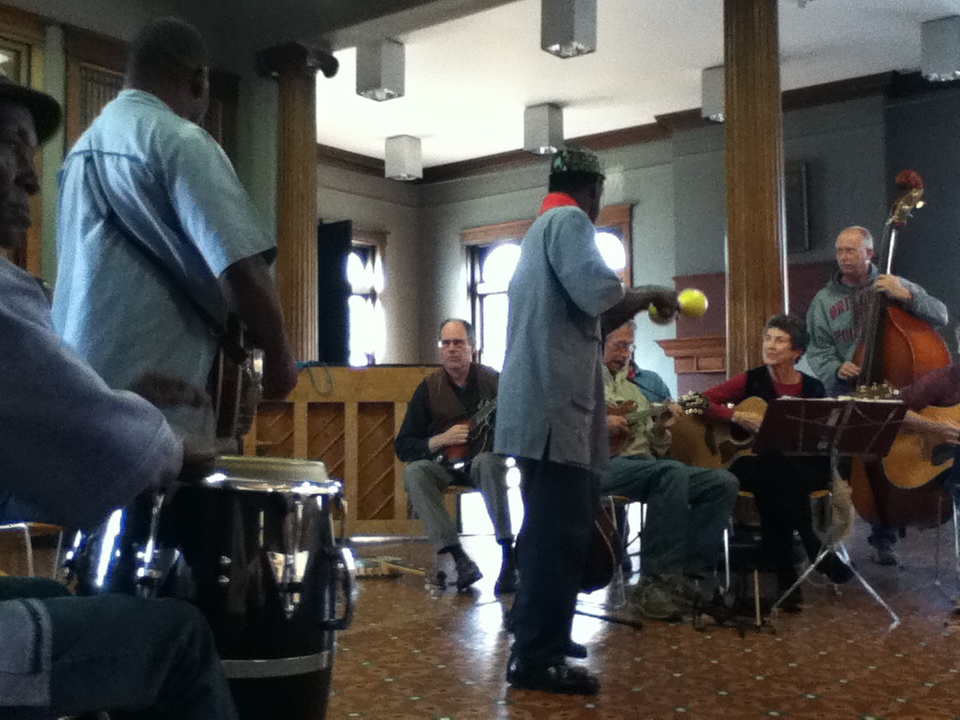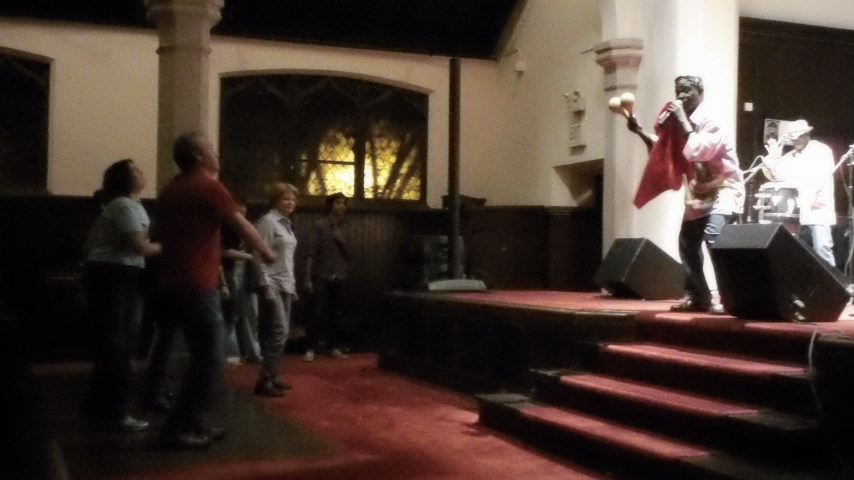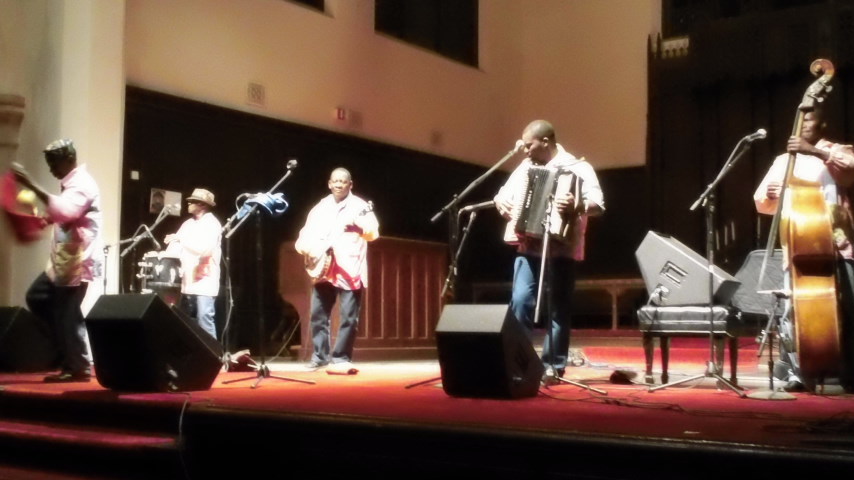 Moving to the East Coast for their last stop before returning to Haiti, the band performed several times at the Richmond Folk Festival in Virginia. But before hitting up the stages for festival, Ti-Coca & Wanga-Nègès played a lively show for local elementary school students.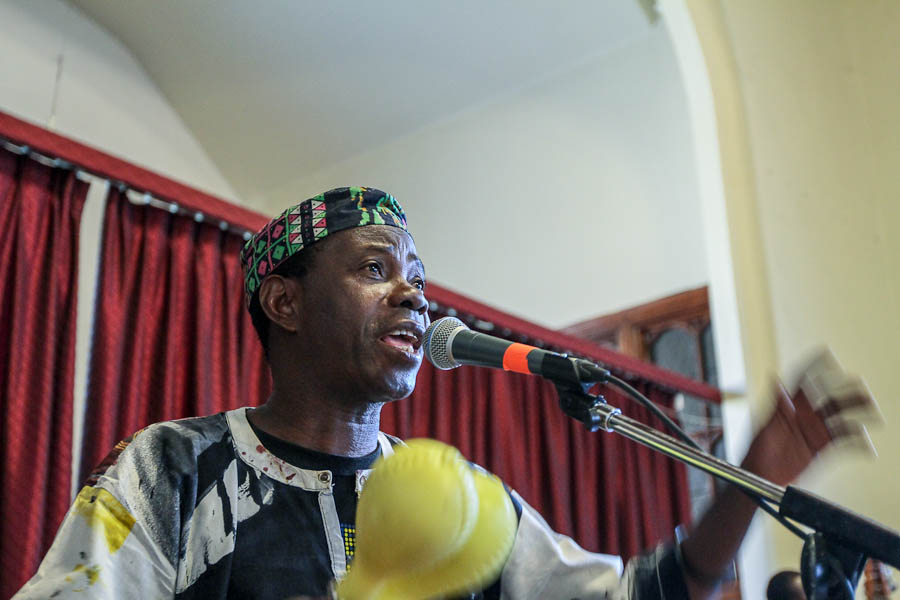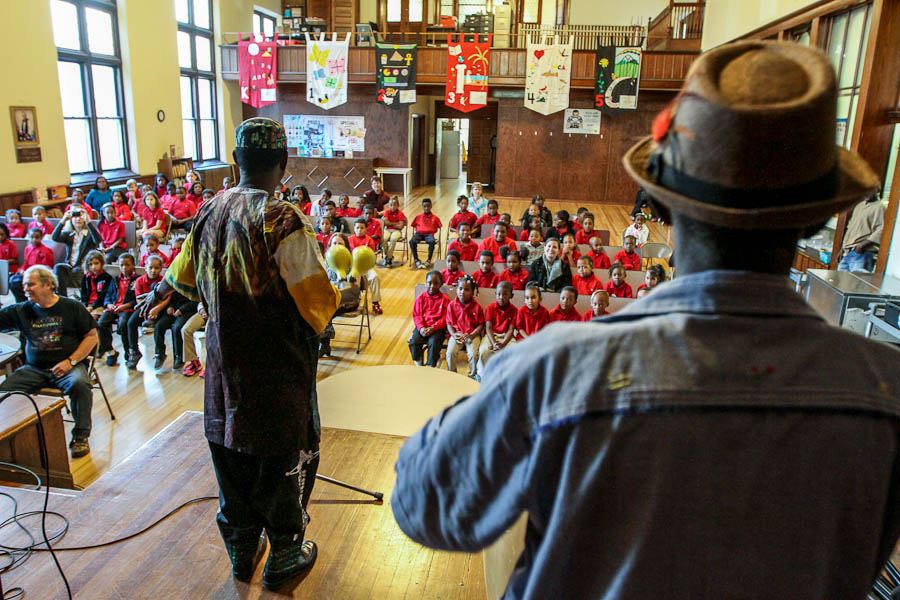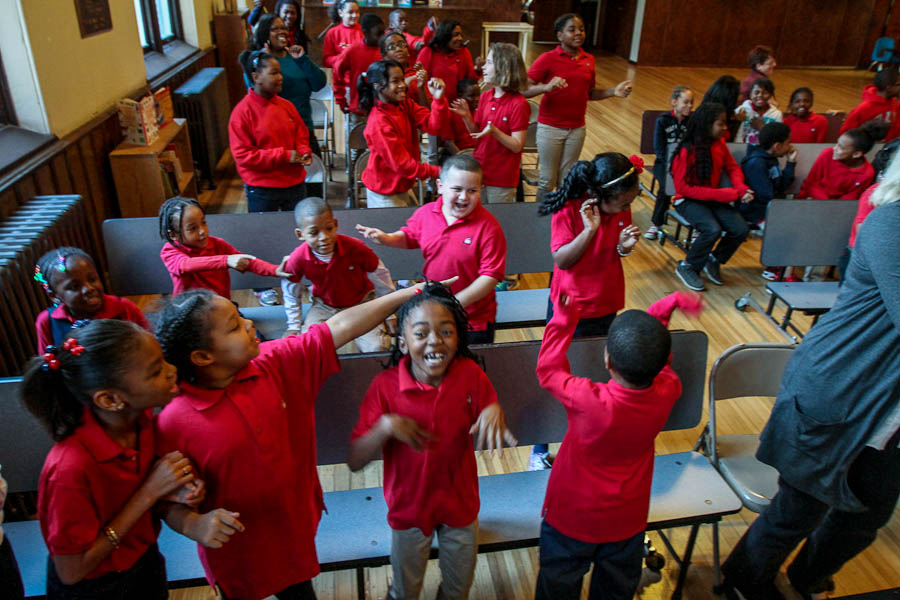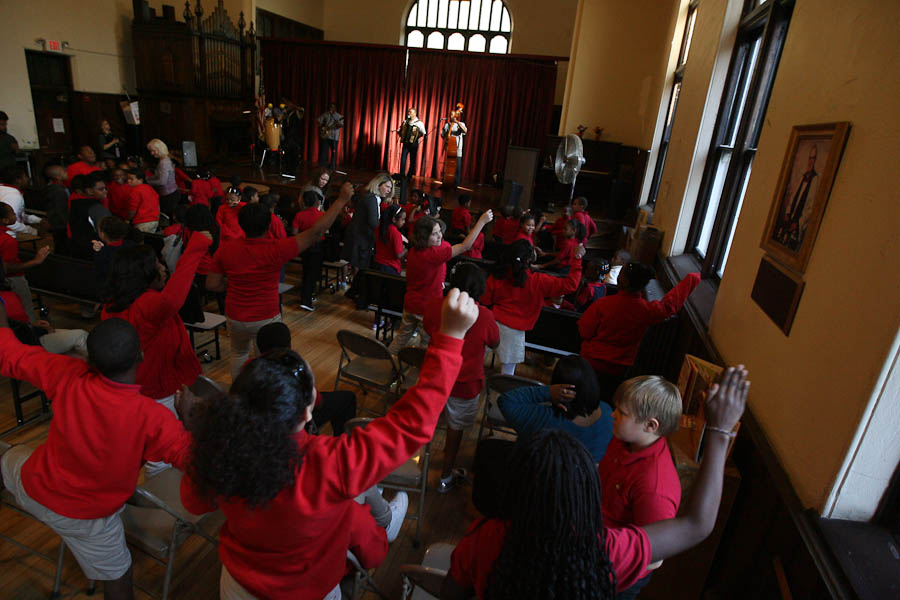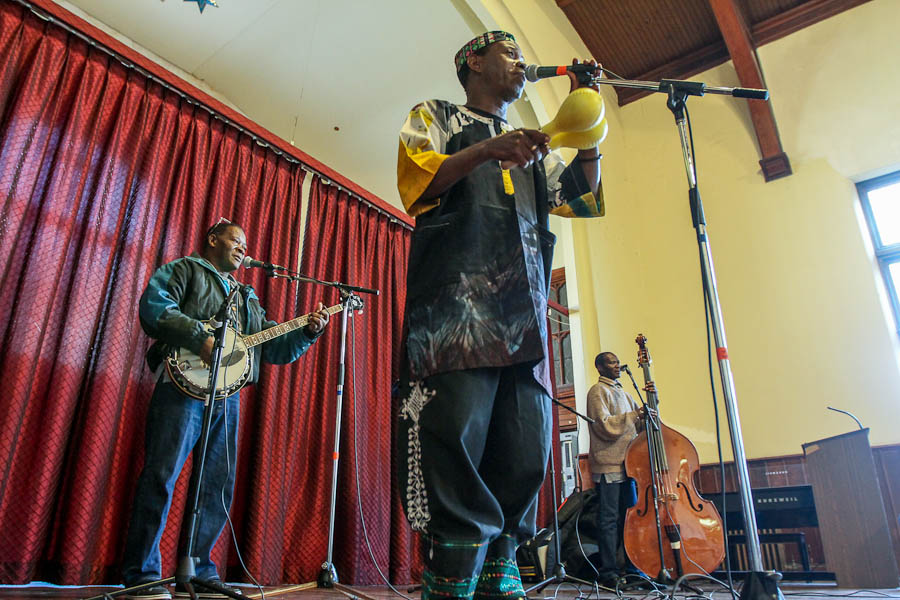 Photo Credits: Skip Rowland Photography, Inc.
Before heading back to Haiti after touring the U.S. with Center Stage, Ti-Coca reflected on the importance of artist to artist exchange and what it meant to them,
"We made meaningful connections with audiences after all of our performances, and we exchanged contact information. We especially enjoyed meeting so many other artists at the festivals we played... Doing jam sessions with other artists was great - we got to learn how other types of musicians play and make music. Seeing other groups play at the festivals was inspiring. Observing artists' professionalism and how they work was helpful, and now we can appy it for ourselves."
Thank you to Ti-Coca & Wanga-Nègès for bringing your unique sound to the U.S.! We look forward to sharing news of their future work.
Check back for our "Look Back" at Compagnie de Danse Jean-Rene Delsoin coming next!
All photos courtesy of Mario LaMothe and NEFA unless otherwise noted.