The Journey of Cachitas Now! Across the USA: Cumbia, Noise, and Pride
Jul 18, 2023
The Journey of Cachitas Now! Across the USA: Cumbia, Noise, and Pride
Discover the unforgettable North American adventure of the Argentine cumbia band on their tour during Pride Month
When Cachitas Now! received the news that they would embark on a tour this June, performing at festivals, open house concerts, and cultural centers in cities like Ohio, Baltimore, Washington, New York, Pittsburgh, Maryland, and Vermont, their initial reaction was one of disbelief. Accessing the North American festival market poses a significant challenge for an Argentine cumbia band, a tropical music genre that has gained popularity among the working class in Latin America. This is especially true for a niche and emerging group that explores LGBTQ+ identities and challenges conventional gender roles. "For us, the journey is an open door to new possibilities," states Guadalupe Mambrin (octapad).
But cumbia takes you everywhere. From Gobernador Costa to Buenos Aires City, from Esquel to La Plata, from Berisso to New York, and from Tucumán to Norway. These are just some of the life paths of Cachitas Now!, an Argentine dissident cumbia band. Calling them a dissident cumbia band is just a way to put it. If you ask them, the ensemble prefers to identify as a collective of diverse identities that composes, produces, and sings cumbia. Their lyrics speak about their own LGBT+ experiences in Argentina and the cultural crisis their identities face in the country.
For all these reasons, Cachitas Now! was selected by the cultural diplomacy initiative Center Stage to embark on this tour across the United States. "When we were interviewed, we explained why it was necessary for us to be chosen for this tour. We made it clear that, in addition to being a dissident cumbia band, we are also educators who bring tropical rhythms as our banner to many spaces. We also work on Educación Sexual Integral (ESI) in schools." explains Melisa Lobos (lead vocalist). I also went through a selection process. My task is this: to witness what happens, observe everything, and write about it.
First stop: Dayton (OH), Building Community On The Road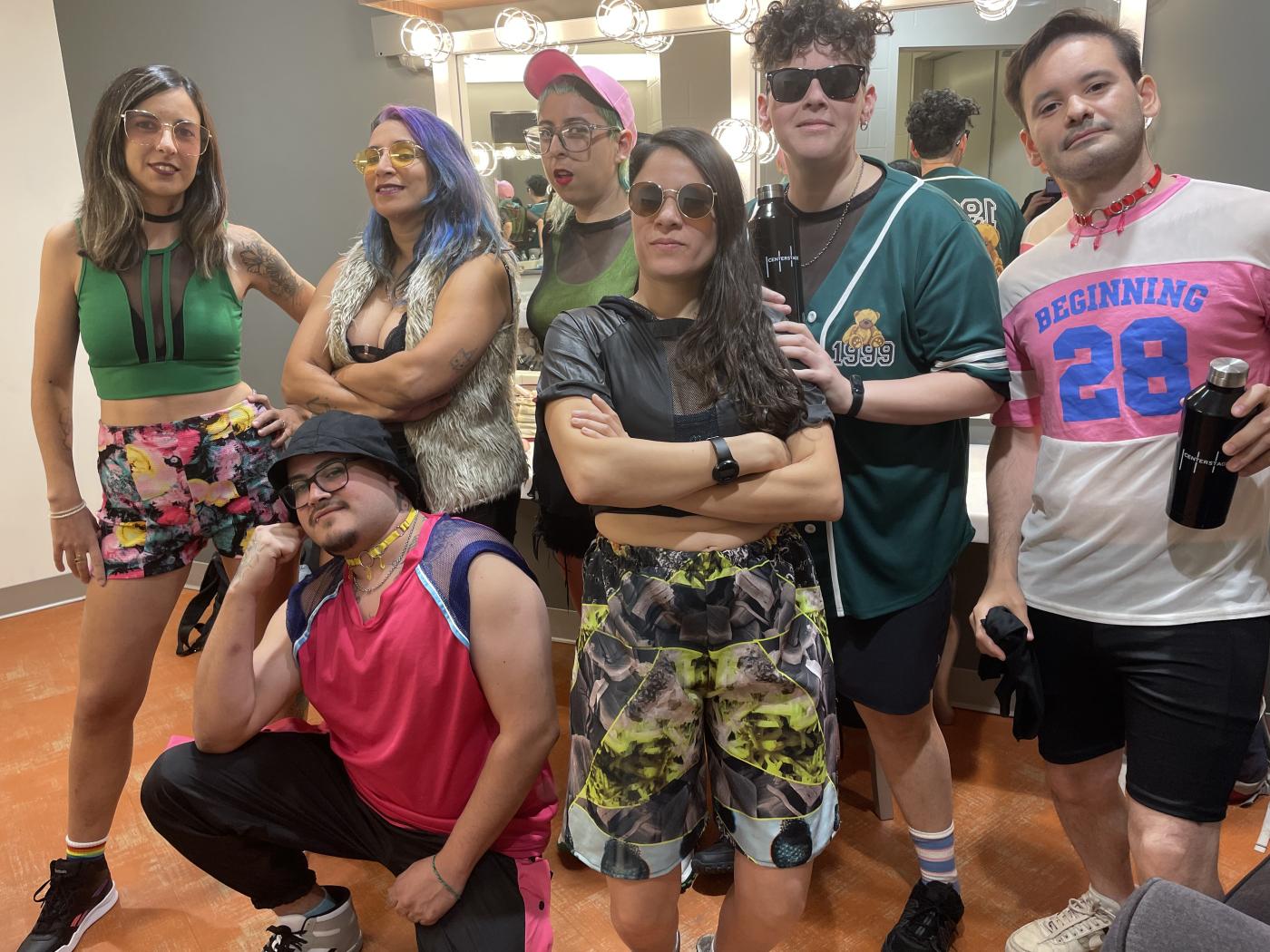 Dayton is a small city in the southwest of Ohio, United States. Paradoxically, it is also the largest city in Montgomery County and has a growing LGBT community, an organization called the Greater Dayton LGBTQ+ Center that provides comprehensive services to sexual and gender minorities in the Dayton and Miami Valley area. Perhaps that's why this was Cachitas Now!'s first stop on their tour.
The decision to schedule the tour in June was no coincidence. In the United States and many parts of the world, this month is celebrated as LGBT+ Pride Month, commemorating the Stonewall uprising. Remember that the goal of Center Stage is for invited bands from other countries to contribute to current cultural debates, including LGBTQ+ issues, inclusion, and gender equality. And according to the President of Greater Dayton, the only way to combat the advancement of anti-trans and anti-gender measures in the United States is to have allies.
"Having a band like Cachitas here is very important for exchanging experiences of diversity and inclusion in different countries. It's incredible to see how, despite the distances and differences, there are similar situations that we, as a community, go through. For example, it's much more difficult to make ourselves visible in smaller cities than in big cities," explains Lattimore. In this context, Cachitas Now! took the stage at Levitt Pavilion, a free open-access event that takes place in a park in the middle of the city of Dayton, and sang their message: in Spanish, playing cumbia, and with pride.
"It's important for us to open the doors to bands from around the world and promote cultural exchange. In the end, although different, music from all over the world speaks a common language. Dayton has a large LGBTQ+ community, and it's good to enrich ourselves with the experiences of bands from other places, listen to what they have to say, see how LGBTQ+ issues are experienced here and there," concludes Lisa Wagner, Executive Director of Levitt Pavilion in Dayton.
Second Stop: Pittsburgh (PA), The Three Rivers Arts Festival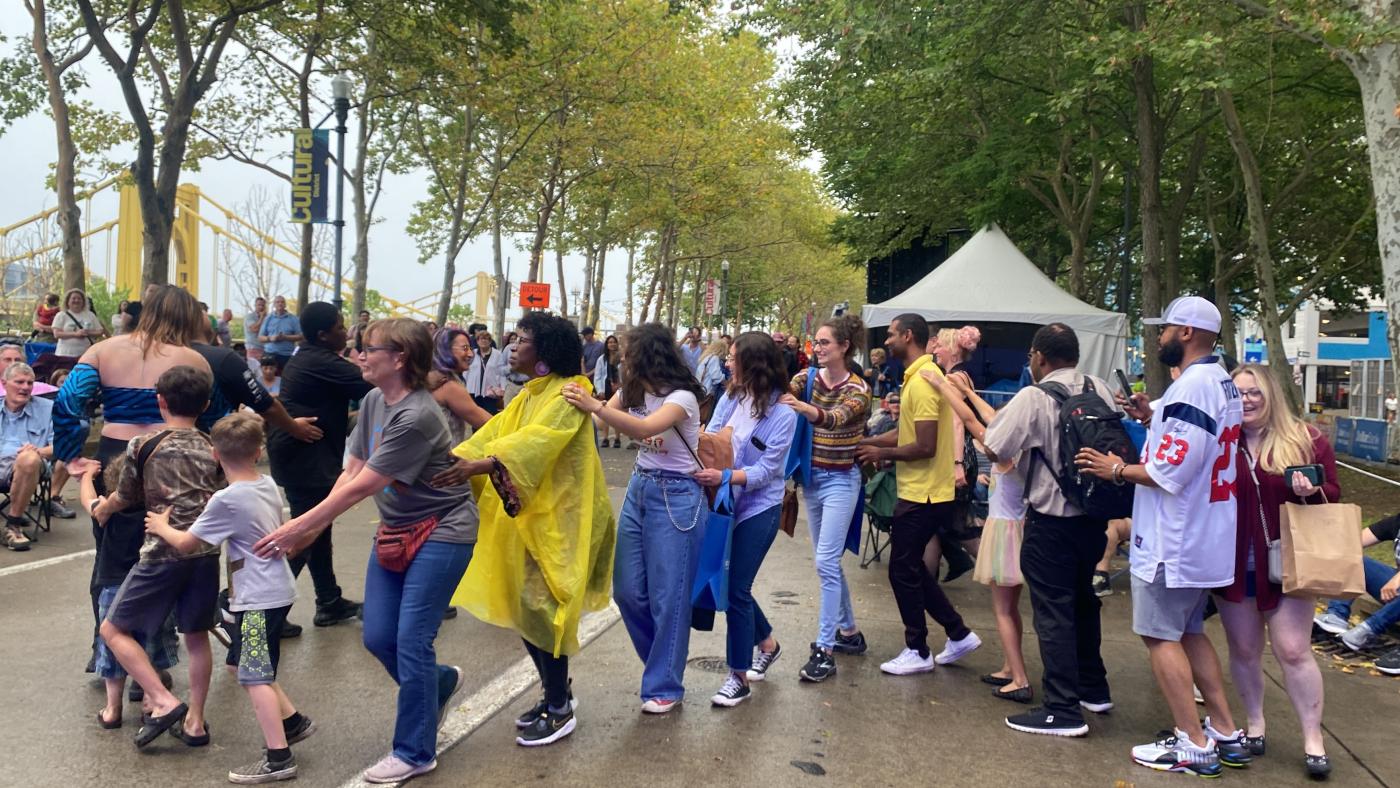 I never thought I would visit Pittsburgh. In the map constructed by narratives about the United States, Pennsylvania seems like a faraway place, removed from tourist circuits, only brought into the spotlight for being the birthplace of Taylor Swift. Aside from that, we know very little about this place. It is only here that we learn that it's called "the Steel City" due to the numerous steel companies it has had throughout its history, as well as "the City of Bridges" because of the 446 bridges that connect the different neighborhoods of the city.
It doesn't take long for us to grasp this fact. Every time we leave our lodging, we have to cross the Birmingham Bridge that spans the Monongahela River. We are here for the Three Rivers Arts Festival, a celebration of the arts in downtown Pittsburgh with world-class, multi-disciplinary performing and visual arts attractions. The name is due to the intersection of three major rivers in the city: the Monongahela, the Ohio River, and the Allegheny River.
Cachitas is a bit apprehensive. They don't know what the audience in Pittsburgh is like, if they know cumbia, if anyone will dare to come out and dance. Dayton was an almost familiar stop, full of hospitable people who made us feel at home. Here, everything is new. The band arrives at the festival with expectations. It's raining, but a little water won't stop them. They step onto the stage with confidence. On the other side of the Fort Duquesne Bridge, the PNC Park, the stadium of the Pittsburgh Pirates, stands imposingly. On the stage, in front of an expectant audience, the cumbia starts playing. Melisa invites everyone to dance, and before they can even believe it, "the little train dance" is happening once again.
Third Stop: New York (NY), The City That Never Sleeps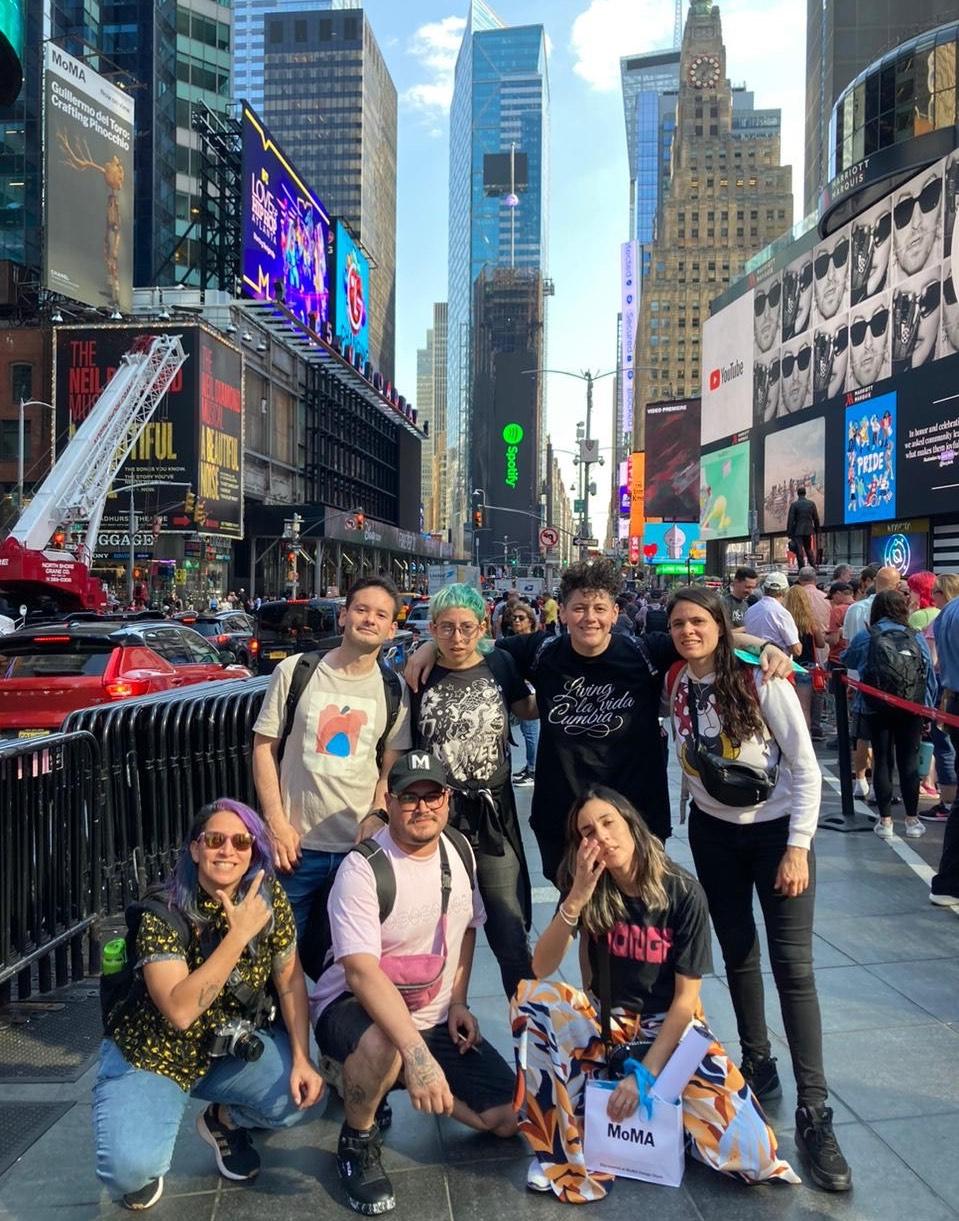 "Arriving in New York has that certain something," murmurs Aketzali Vázquez as we cross the Hudson River through the Holland Tunnel, bridging New Jersey to the vibrant heart of New York City. This time, we had to rent a slightly bigger van. We traveled with seven musicians, a sound engineer, their instruments, suitcases, backpacks, and materas. Aketzali serves as the tour manager, overseeing the logistics of this entire adventure. "It's different to travel with a group that is on such a massive tour for the first time, experiencing everything with fresh eyes," she says about Cachitas Now! Both of us are on this journey thanks to the band, but for different reasons.
For Cachitas Now!, this city represents an open door to everything they have ever dreamed of. "It's a unique possibility; we don't know what can unfold here," says Guadalupe Mambrin. The band agrees: they don't know exactly what, but something will change after this journey. As we approach the city center, surrounded by towering skyscrapers, a playlist filled with songs that evoke the countless images we have been taught about New York starts playing. Excitement fills the air as the group cheers and sings along. "I feel like I'm stepping onto the set of a movie," says Matías Rodríguez (timbales). His eyes are wide open, desperate to take in everything.
"Do people dance to cumbia in the United States?" I ask a stranger in a bar, struggling with my rustic English. It's an infallible test. "Cumbia?" she repeats. I tell her about Cachitas Now! and their upcoming shows at Zuccotti Park and Grace Plaza. I explain that cumbia is a Latin American music genre, deeply rooted in the working class and highly significant in Argentina. "Oh, no, I don't think so," she replies. It seems hard to believe. According to the Hispanic Federation, the Latinx community living solely in New York amounts to 3.6 million people, comprising 6.6% of the total Hispanic population in the United States. How can it be that they haven't heard of Colombian, Mexican, or Argentine cumbia? But when Cachitas Now! takes the stage in New York, reality seems to shift. Their shows take place in public spaces, in two historic places of the city, with free admission and under the open sky. The güiro invites everyone to dance, and no one can resist. People sway, chant lyrics, and request encore after encore.
Now we bid farewell to this city, uncertain if we will ever see it again. It's a romantic, almost dramatic farewell. We agree: though our time in New York was short, the experience was overwhelming. Cachitas Now! sums it up as: much, everything, all the time. "I couldn't get used to it", says Tomás (guitar player and singer). His feet ache; it's summer here, and he walked more than twenty kilometers under the scorching sun. He's tired. We all are. We know what New York has given us, but we still don't know what it has taken away.
Fourth Stop: Washington (DC), Cumbia for Everybody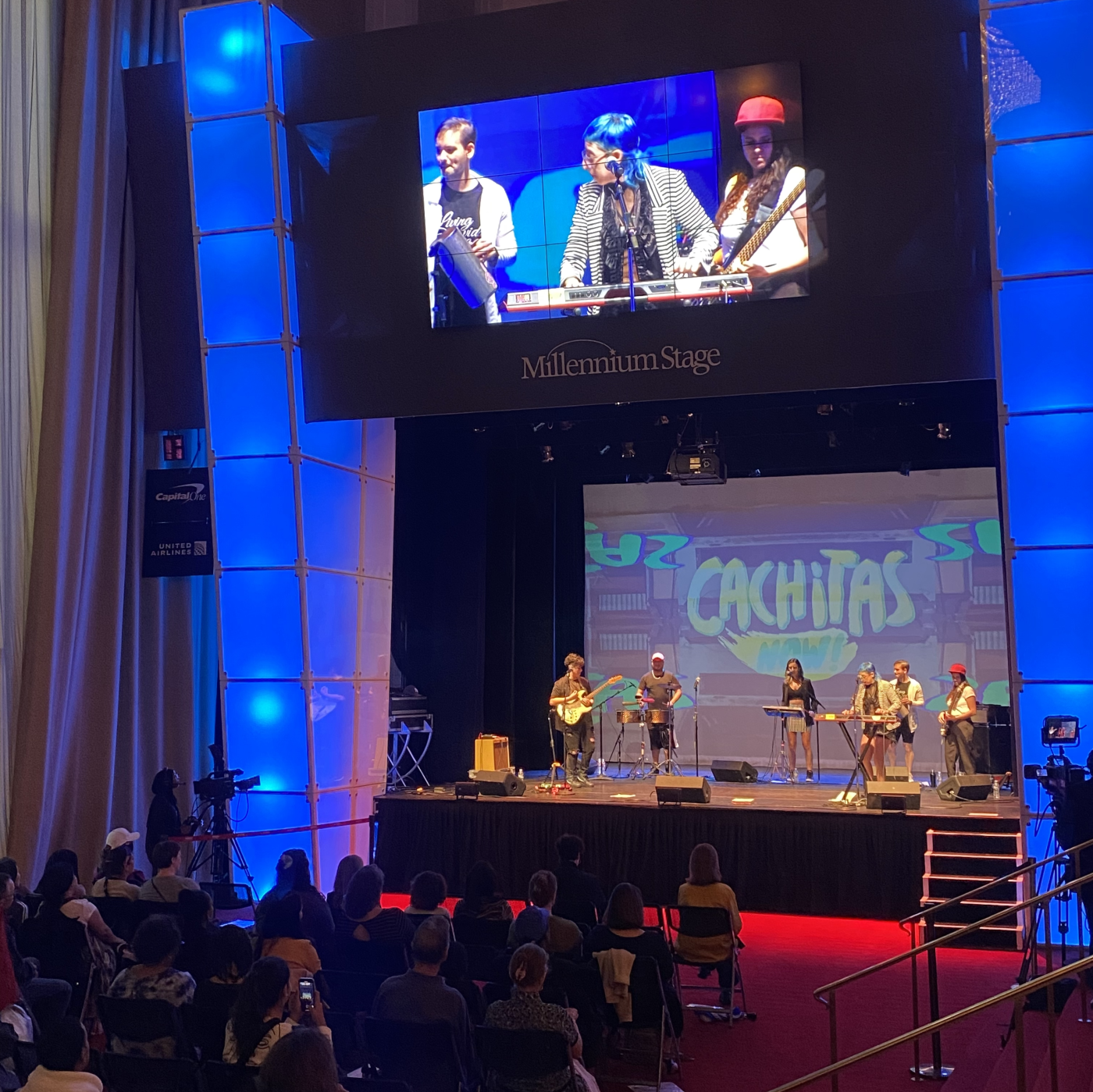 "In Argentina, we don't say Happy Pride, because for us, there's nothing happy about it. It's a moment of struggle, visibility, going out to demand and defend our rights." Noelia Sinkunas (keyboardist and vocalist) speaks in front of a packed auditorium at the Kennedy Center, the National Cultural Center of the United States located in Washington, D.C. The audience listens attentively. If there's one thing we've discovered coming here, it's that even though not everyone speaks it, almost everyone understands Spanish. Outside, the rain stops, and through the window, a rainbow can be glimpsed. Not even the weather can resist those first words: summer has begun, and this continues to be Pride month in the USA.
Cachitas Now! finds themselves in a cultural center that was founded shortly after the assassination of John F. Kennedy to recognize the former president's dedication to promoting performing arts in the United States. Artists they admire and others they will never get to know have graced these same stages. In the political capital of the United States, not far from the White House and the Pentagon, the band takes the stage, marking their territory. This is what they know how to do, and this is what they came here to do: cumbia. "We come from Argentina," emphasizes Melisa Lobos, "and in Argentina, cumbia is danced." Her words are enchantments: she barely finishes saying this, and people are already rising from their seats, moving towards the stage, and starting to sway along.
One Last Stop: Baltimore (MD), Cachitas Now! and Then!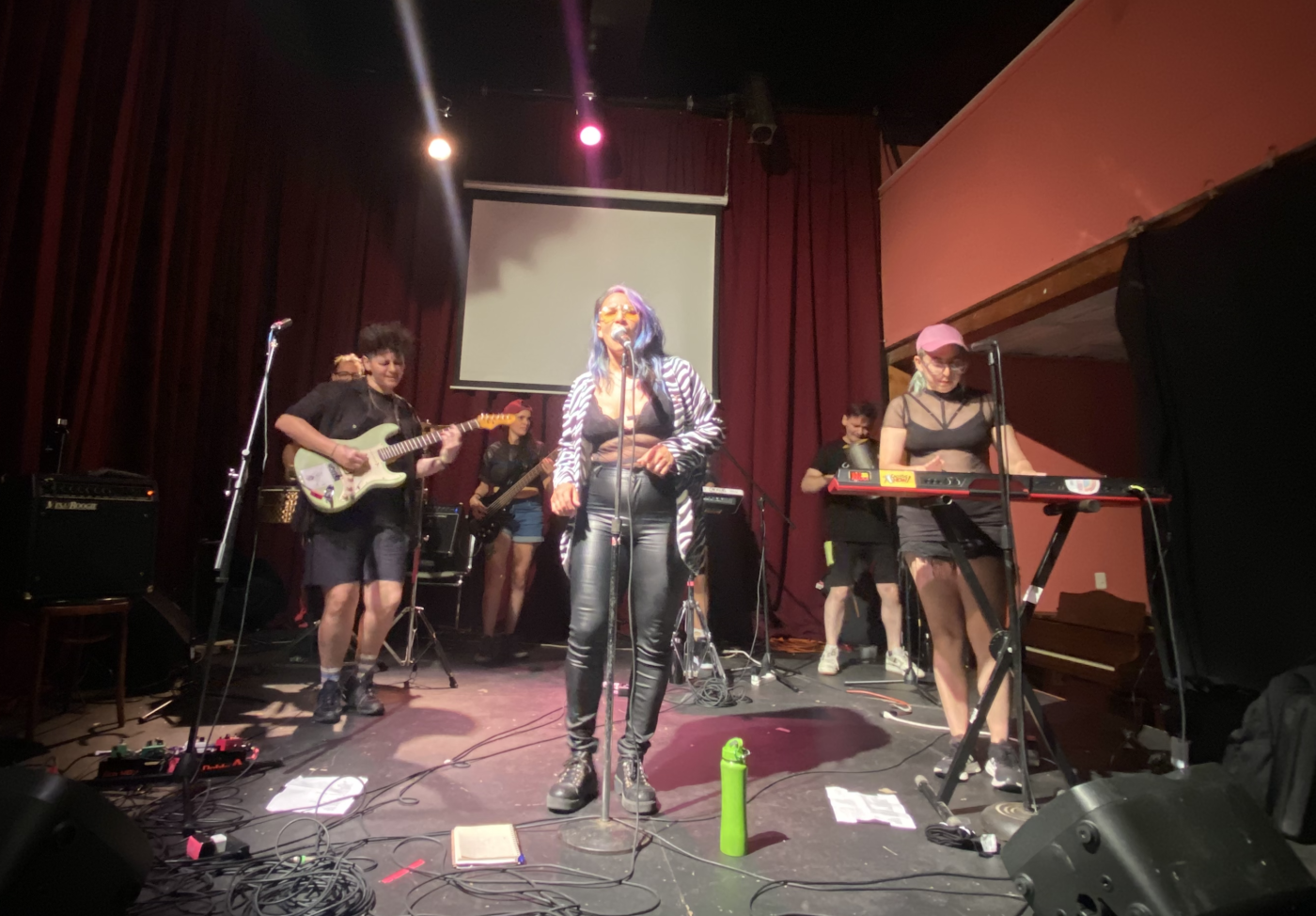 Near Washington, there is a place that bears no resemblance to the American capital. It is Baltimore, the most populous city in the state of Maryland. The journey takes us less than an hour. Aketzali is behind the wheel. "I don't know Baltimore," she says, "but the place we're going to seems really cool."
She's talking about Le Mondo Arts, a cultural center founded in 2014, organized by and for artists. The show is scheduled for 8 p.m., a nighttime hour for the United States. This is the kind of environment where Cachitas Now! feels most comfortable: in a cultural center, at night, with an open bar, and playing for a young audience. Ray Winder opens the show, and after Cachitas Now!'s performance, DJ Planet closes the night.
"It's very important to have you here," says a boy who approaches where we are sitting. The show just ended, and they offered us a slightly cold beer, like the night. The boy sits with us. I dare to ask, "Why do you think it's important?" The boy hesitates. He takes out a notebook and starts drawing. "I opened up my relationship a while ago," he comments. "And recently, I was with a guy for the first time. I feel very comfortable in queer spaces, I feel very comfortable here, with all of you." Then he shows the drawing: it's Melo's (the bass player) sneaker. A fleeting keepsake that will remain with him, along with the confession of tonight.
"Meeting people and talking to individuals I wouldn't otherwise engage with is what I enjoy most about this trip," Jonás (güira) tells me. "It's not always as easy as it is now, where everyone voluntarily comes up to share their story with us." Guadalupe ponders for a moment. "I have a lot of gratitude for the people who received our music in this way," she says. "We were able to break, even if just for a moment, the cultural and language barriers by dancing and having fun together, no matter where we found ourselves."