Center Stage 2014 Kicks Off with Poor Rich Boy
May 09, 2014
Center Stage 2014 Kicks Off with Poor Rich Boy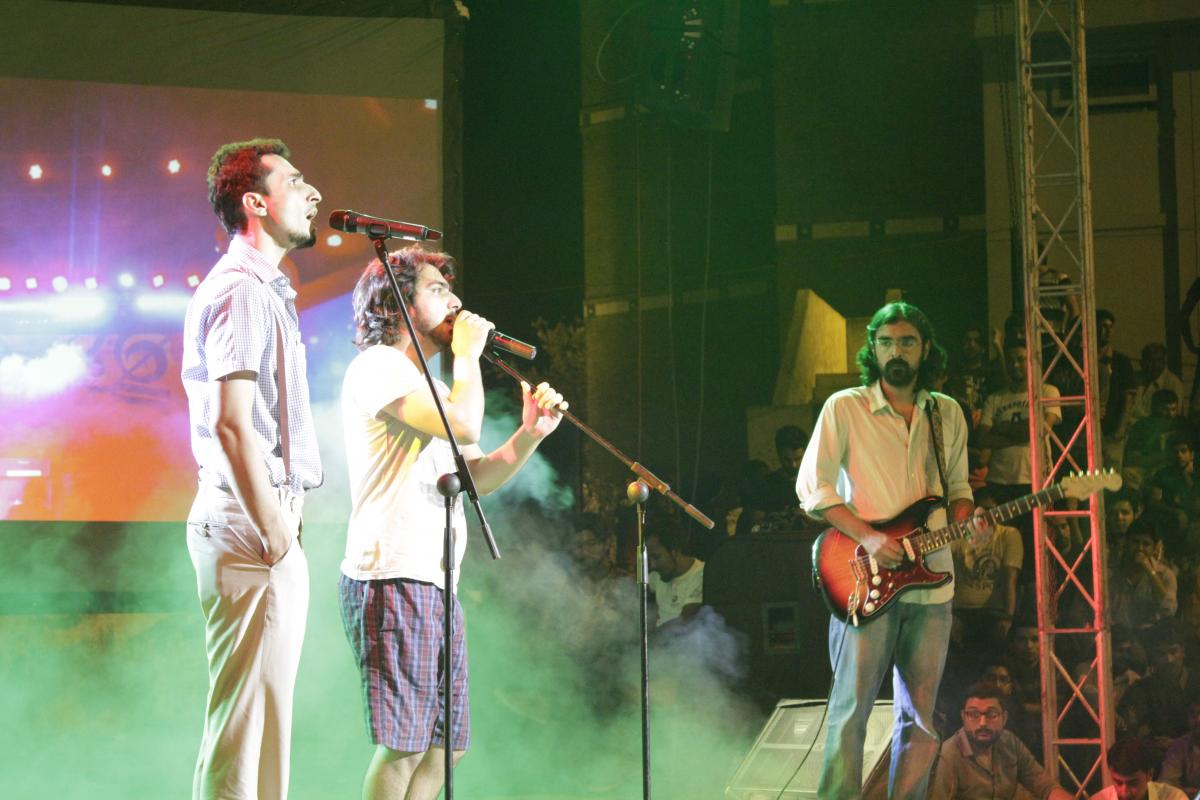 Center StageSM is getting ready to get out on the road. Poor Rich Boy's June tour dates are up on our Events page. We hope to see you at one or two around town!
We are gearing up for the Fall 2014 tours -- look for calendar announcements over the summer and see tour overviews below. Here's a list of all the Kennedy Center Millennium Stage dates in Washington, DC.
Poor Rich Boy -  June 3
Hoba Hoba Spirit - September 9
Ribab Fusion & Khumariyaan - September 16
Tri Minh's Quartet - September 23
Fleur d'Orange - October 7
Arabesque - October 29 
All performances begin at 6:00pm and will be live streamed on the Kennedy Center website.
Bookmark the Center Stage Events page, like us on Facebook, and follow us on Twitter for the most up to date news.
Now in its second season, Center Stage introduces performing artists from abroad to American communities. Seven acclaimed contemporary dance and music ensembles from Morocco, Pakistan, and Vietnam will perform, interact, and begin meaningful dialogues with Americans from June through November 2014. Artists touring as part of Center Stage will help build mutual understanding via cultural expressions and people to people exchanges.
From coast to coast, many performances and off-stage activities are free and open to the public.
HOBA HOBA SPIRIT (August 30 - September 27) joins us in time for one of Labor Day weekend's finest festivals, Bumbershoot, before hitting the road. Available dates for this Morocc'n Roll powerhouse, September 11 - 15. Contact Lisa Booth Management, Inc. for additional information.
KHUMARIYAAN (September 13 - October 17) brings their hyper-folk New Grass from Peshawar to communities across the country. October 5 - 7 have just opened up. Give Lisa Booth Management, Inc. a call if you're interested.
RIBAB FUSION (September 13 - October 13) Moroccan funk spreads throughout the land from DC to Florida and from Rhode Island to California. Tour fully booked.
TRI MINH'S QUARTET (September 20 - October 16) The more we hear, the more we're looking forward to this extraordinary quartet and the new sounds from Hanoi they are bringing our way. October 9 - 11 open; contact Lisa Booth Management, Inc. for additional info.
FLEUR D'ORANGE (September 28 - October 26) Choreographer Hind Benali premieres IDENTITY, commissioned in part by Center Stage, and shares her work on stage and off during her fully booked month-long tour.
ARABESQUE (October 17 - November 16) Wait until you experience the closing image of The Mist. Week-long residencies from coast to coast are fully booked. 


GENERAL MANAGEMENT & SCHEDULING:
Lisa Booth Management, Inc.
Lisa Booth & Deirdre Valente
212.921.2114
artslbmi@msn.com

PRESS:
Rock Paper Scissors
Ron Kadish
812.339.1195
ron@rockpaperscissors.biz


Center Stage is a public diplomacy initiative of the U.S. Department of State's Bureau of Educational and Cultural Affairs. It is administered by the New England Foundation for the Arts in cooperation with the U.S. Regional Arts Organizations, and supported by the Robert Sterling Clark Foundation and the Asian Cultural Council. General management for Center Stage is provided by Lisa Booth Management, Inc.
Photo of Poor Rich Boy at Music Mela courtesy of USEFP