Indonesia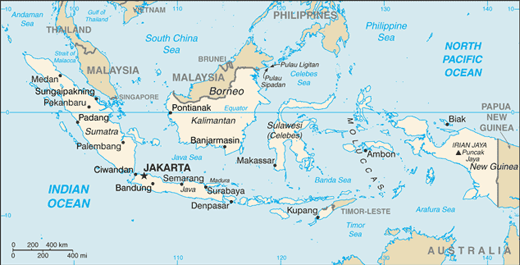 Map courtesy of travel.state.gov
Indonesia is the world's most populous nation and home to the world's largest Muslim-majority population. But its rich culture and history are syncretic, and deeply informed by multiple traditions - of languages, cuisines, artistic practices, and spiritual impulses. Some of the world's most important and magnificent Buddhist and Hindu monuments are located here.
Jakarta (Java), Indonesia's capital, is like many other urban centers around the world - a dynamic, sophisticated, heavily populated modern metropolis with access to a wide range of goods and services. 
Jogykarta and Solo (Central Java) are Indonesia's "sister cities" and heirs of the Mataram kindgom that was split in 1755. Artistic traditions refind over centuries and nourished by the royal courts there continue to be deeply important cultural currents. Many of Indonesia's contemporary visual and performing artists are based here. Prambanan, described by many as one of the most beautiful Hindu temples in the world, and Borobudur, one of the world's largest Buddhist temples, are located within an easy drive. 
Padang is the largest city in Sumatra. Located on this island's western coast, Padang has been a prominent trading port since the 16th century. The city and its inhabitants were severely impacted by a September 2009 earthquake centered 50 miles off the coast. The offices of Nan Jombang were destroyed, but they have been rebuilt (in part with the helf from the Australian performing arts community and government).