Mohamed Abozekry & Karkadé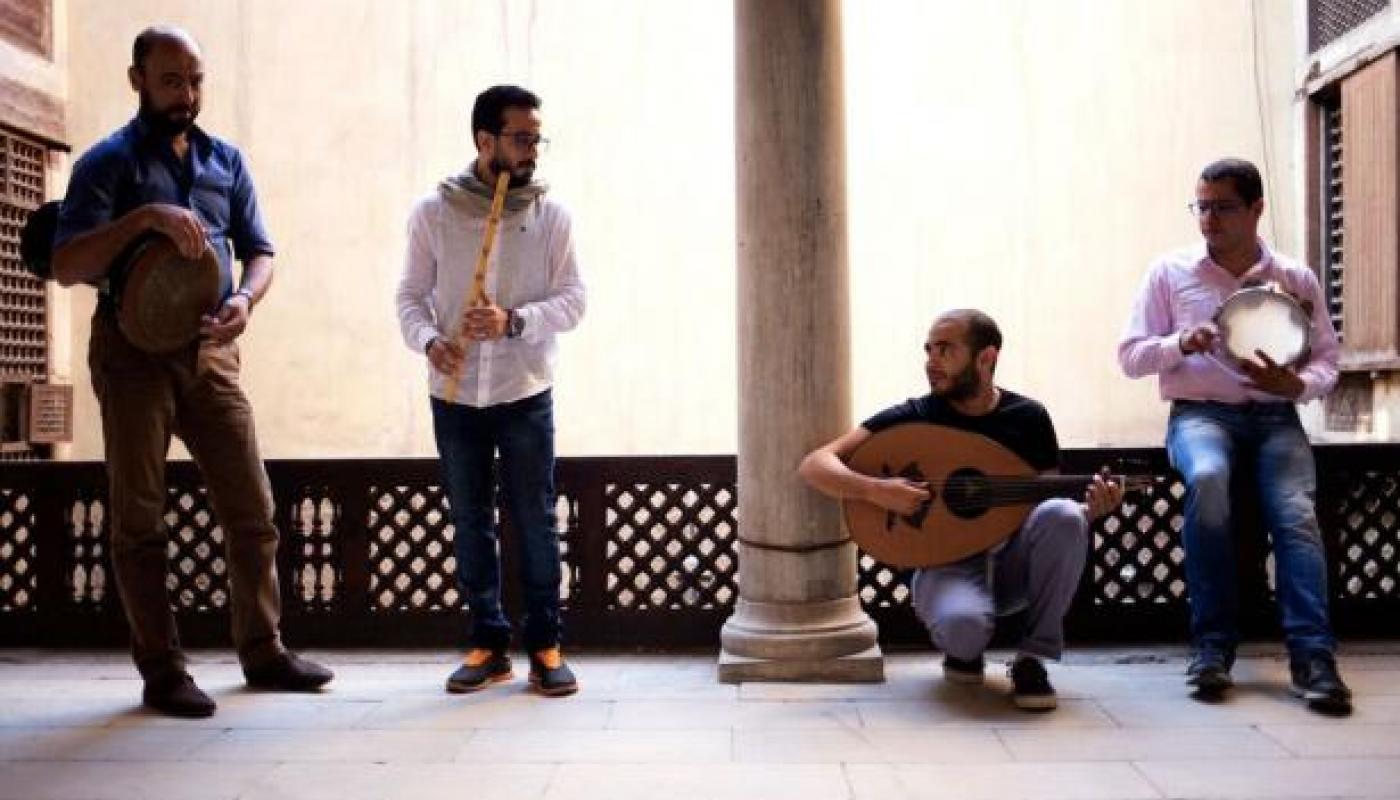 Mohamed Abozekry & Karkadé
Virtuoso oud prodigy convenes Egypt's popular and classical music traditions, Sufi calls, and secular poetry with a new instrumental project.
Mohamed Abozekry has that rare gift of combining limitless virtuosity with an unbridled imagination. An oud master still in his mid-twenties, Abozerky's ambitions – to musically interpret the world around him and de-exoticize his instrument – mark him as a polymath of forms. "I never move backwards, but in a circular motion and return to the place I started with more experience."
With Karkadé, Abozekry evokes the hibiscus tea found everywhere in Cairo, and the eponymous French café at which this project was born. He convenes Egypt's popular and classical music traditions, her Sufi calls, and secular poetry, to musically describe a path to an Arab world at peace with its history and turned towards the future. 
Abozekry "has a stunning command of his instrument, as well as an open ear for other forms." (PASTE MAGAZINE)
U.S. DEBUT with center stage
AVAILABLE  September 2018
TRAVELERS  6 (5 instrumentalists, U.S. company manager)
VENUE  Listening rooms, concert halls, and recital spaces with excellent acoustics;
sound reinforcement may be required depending on venue size. 
background
Ever-flowering Oud: Mohamed Abozekry and Karkadé Convene Egypt's Popular and Classical Music to Cultivate New Sound for Cherished Arab Forms
The oud is often compared to the lute, but can outpace it in muscular firmness, in nimble and evocative tone. Cairo's Mohamed Abozekry pushes the oud to maximum expressiveness, leading his Arab chamber quintet project Karkadé with virtuosic swagger and improvisatory spirit.
Sharing a name with the fragrant hibiscus tea often enjoyed in Egypt, Karkadé weaves sinuous and aching violin lines, rippling percussion, and delicately potent nay (vertical flute) into Abozekry's confident playing to evoke the near-forgotten Egyptian music of the early 20th century. Paste enthused that he "has a stunning command of his instrument, as well as an open ear for other forms."
U.S. Debut Tour in 2018
Abozekry brings Karkadé to the U.S. for the first time, joining four other ensembles from Egypt and Ukraine that will make independent tours of the U.S. from July-December in 2018 as part of Center Stage, a cultural exchange program that invites performing artists from abroad to the United States to perform, meet, and share their experiences with communities around the country. The group's planned summer-fall 2018 tour is being routed now.
Raised in a family full of amateur players, Abozekry was an oud wunderkind, an upstart maestro performing on television shows several times a week. He was a top student at Cairo's Arabic Oud House, a musical institution founded by oud virtuoso Naseem Shamma that launched the careers of numerous talented players.
But his status as whiz kid chafed. "There are a lot of child prodigies. They disappear after their burst of fame," says Abozekry. "I wanted to learn something else."
Determined to find a way forward, in 2009 Abozekry pursued a degree in musicology at the University of Lyons (France), and dove into a different set of traditions, studying Western classical theory, jazz, blues, and other forms from around the globe. Driven by the resonances and variances between these bodies of musical knowledge, he fused the jagged edges into a polychrome, hard-driving jazz project, Heejaz. Over the following years he also embarked on a schedule of solo and collaborative projects that took him around the globe.
Yet homesickness often haunted Abozekry, despite his expanding success and growing international reputation. Not far from Lyons, he found a small haven called Karkadé. He was befriended by the restaurant's owner, a fellow Egyptian and a progressive political exile. "We'd sit long into the night listening to recordings of old sufi music," Abozekry recalls. The elder emigre became a father figure to the young music student; in return Abozekry dedicated his new project to him.
The experiences in France urged Abozekry to dig into the golden age of Egyptian music -- of the 1920s-50s -- before commercial studio recordings and through-composed songs came to dominate. He found a little-remembered world of improvisation, interplay, and sounds derived from Egypt's many regional styles. He wanted to recapture the same essence in original pieces.  
He returned to Cairo and was thrilled by the underground scene, but disappointed to find very few musicians played the brilliantly textured older styles he had come to love. "The commercial scene today has absorbed the overwhelming majority of skilled musicians of the past few generations," explains Abozekry. "There are fewer and fewer resources for culture, especially for traditional culture. There are also next to no new creations based on this heritage."
Undeterred, he connected with riq (tambourine) player Hany Bedair, a good friend he had first met back at the Arabic Oud House. Together, they sought out musicians able and willing to join a new group with a different approach to performing. In addition to the more common strings, woodwinds, and percussion, Abozekry longed for a boost of bass that fit the typical instrumentation of an early 20th-century Egyptian ensemble.
"We invited a deholla player to join us," says Abozekry. "Deholla is the Egyptian variation of the darbouka, made of clay. It's bigger, more bassy and used in traditional sufi and folklore music. These styles got that bass sound via percussion, the duff (frame drum) or deholla."
The group revived a key element of earlier styles: group improvisation. "We decided to play completely freely, with improvisation built in," Abozekry notes. "Every concert is completely different now. If you listen to recordings from the 20s and 30s, it's there; improvisation is a big part of interaction. And no version is ever the same." He draws parallels with jazz structures and rock solos, both of which he had incorporated into other projects like Heejaz. "I never move backwards, but in a circular motion and return to the place I started with more experience."
His bandmates were mildly skeptical at first, but they stuck with him. After a series of concerts in Egypt and the EU, culminating in a show in Paris, however, Abozekry saw his fellow musicians' transformation. "Lofty, our violinist, came up to me after the show and say that it meant so much to him, to be able to play this way," recalls Abozekry. "We don't have the occasions to be free on stage and show what we can do, what we love to do. It was very moving."
Abozekry intends to see the oud stand on its own and take a substantial role in other musical styles. His current studio project pairs oud with Fender Rhodes and rock trio, though the spirit of exploration and renewal runs through all his work, from film scores, to his contributions to the groundbreaking international collaborative endeavor The Nile Project, to Karkadé's tradition-based pieces.
"The oud has character as an instrument and doesn't have to be stuck in any one style," he opines. "For me, it's natural that we can find ourselves in a lot of styles. Whatever the culture. We don't have to be active in only one kind of music, and we don't have to stick to that 'exotic oud' stereotype. It works the same way for both musicians and for the audience."
About Center Stage
Center Stage is a public diplomacy initiative of the U.S. Department of State's Bureau of Educational and Cultural Affairs, administered by the New England Foundation for the Arts. From June - December 2018, Center Stage will tour five ensembles from Egypt and Ukraine in the U.S. These are Dina Elwedidi (Giza, Egypt), Kurbasy (Lviv, Ukraine), Mohamed Abozekry & Karkadé (Cairo, Egypt), Teatr-Pralnia with CCA Dakh (Kyiv, Ukraine), and Youssra El Hawary (Cairo, Egypt).
Now in its fourth season, by the end of 2018, 29 performing arts ensembles from nine nations -- Algeria, Egypt, Haiti, Indonesia, Morocco, Pakistan, Tanzania, Ukraine, and Vietnam -- will have toured from coast to coast, hosted by colleges and universities, festivals, music clubs, and cultural centers. Each tour includes residencies in large cities and small towns, and a range of activities from performances, workshops, and discussions, to artist-to-artist exchanges, masterclasses, and community gatherings. Center Stage artists engage with audiences onstage and online sharing their work with audiences in the U.S. and friends and fans at home to build mutual understanding through shared cultures and values.
Center Stage is made possible in cooperation with the U.S. Regional Arts Organizations, and with support from the Doris Duke Foundation for Islamic Art, and the Trust for Mutual Understanding. General management is provided by Lisa Booth Management, Inc. 
Press
 audio