Haiti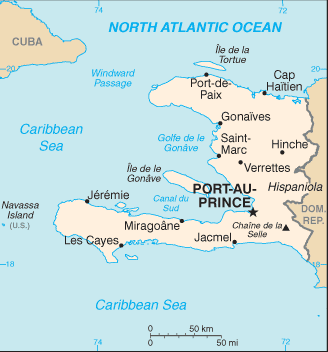 Map courtesy of travel.state.gov
Haiti was the first independent nation in Latin America and the first black-led republic in the world when it gained independence as part of a successful slave revolution in 1804. Despite having common cultural links with its Hispano-Caribbean neighbors, Haiti is the only predominantly Francophone independent nation in the Americas.
Haiti's culture and history are the results of a rich mix of interactions, ideas, beliefs, and creative impulses that have persisted despite pervasive poverty, political instability and the effects of disasters such as the 2010 earthquake that devastated the capital city of Port-au-Prince. 
Michael Martelly, a charismatic pioneer of nouvelle generation kompa - a hard-driving dance music style sung in Creole - won Haiti's presidential election run-off in May 2011. Analysts attribute his 60% run-off win in part to his celebrity status amount Haiti's young population (median age is 21) and a confident and savvy media campaign. 
All aspects of Haiti's infrastructure - communications, transportation, power, education, health care, policing - are limited and stressful. Half a million of Haiti's citizens remain displaced after the 2010 earthquake; many live in largely inadequate, overcrowded and often unsafe tent cities. Roads are still severely damaged and only half of the rubble has been removed. But Martelly told CNN in January of 2012, "It's not about having the magic stick and making the problem disappear in one day. If you plant a tree today, in order to enjoy the shadow, you have to wait five years. So changing Haiti is going to take time and healing the wounds is going to take time." Read the rest of that article here.