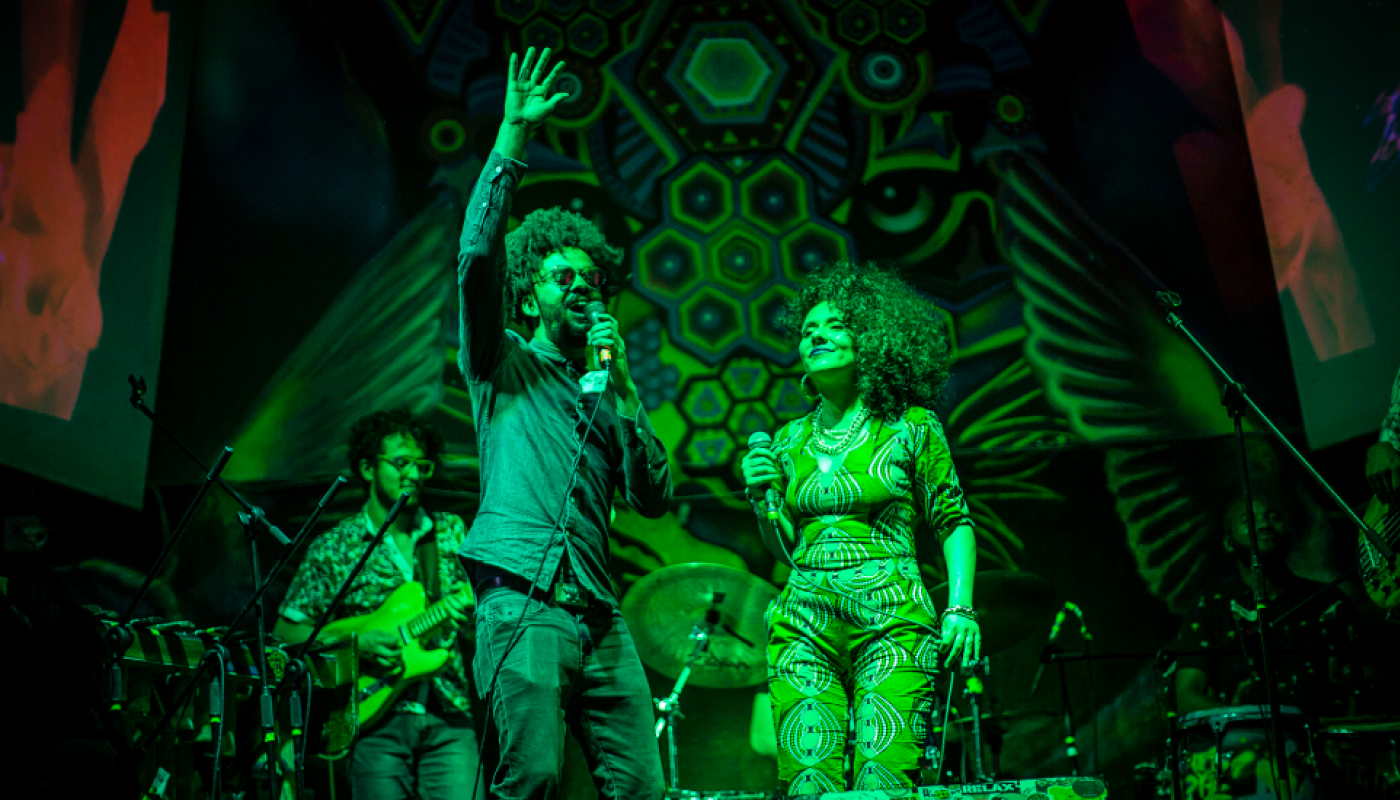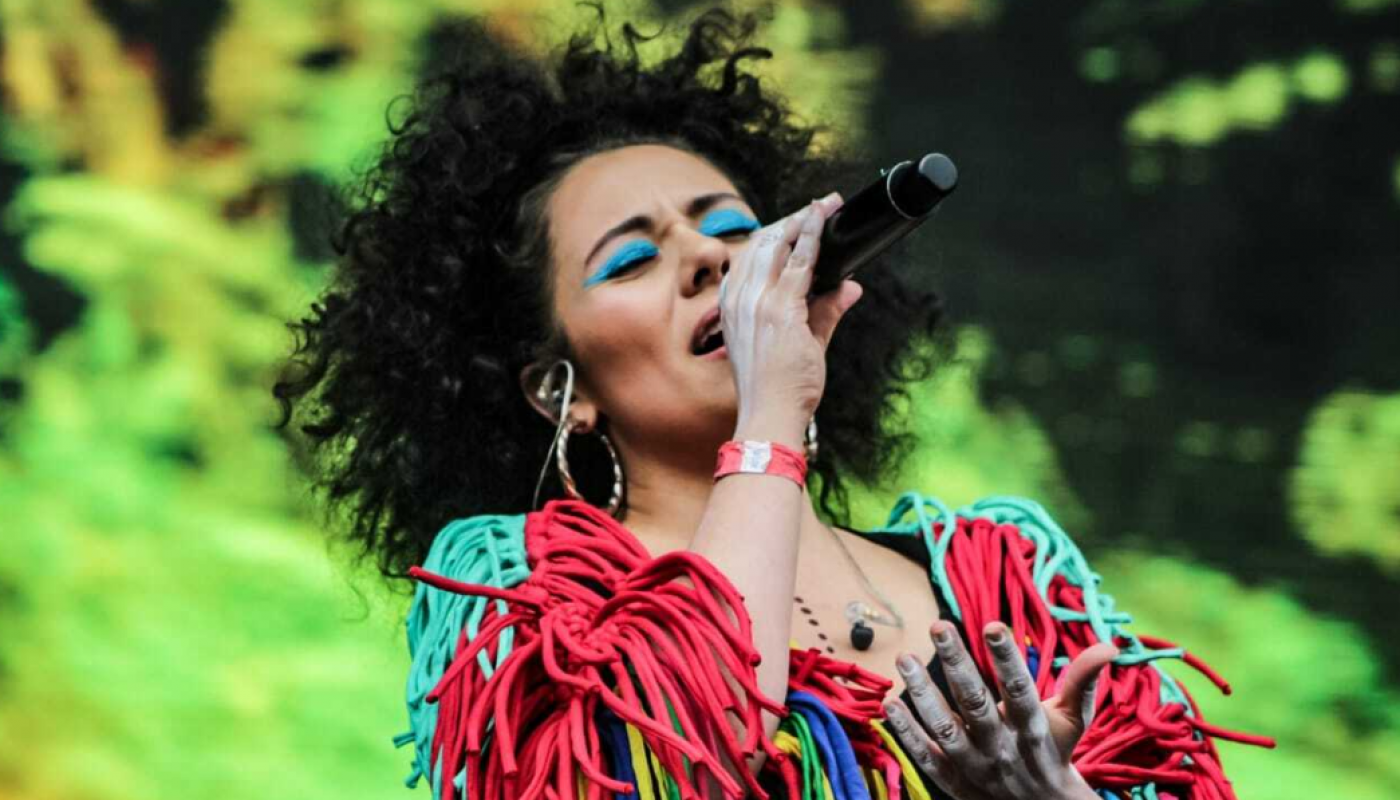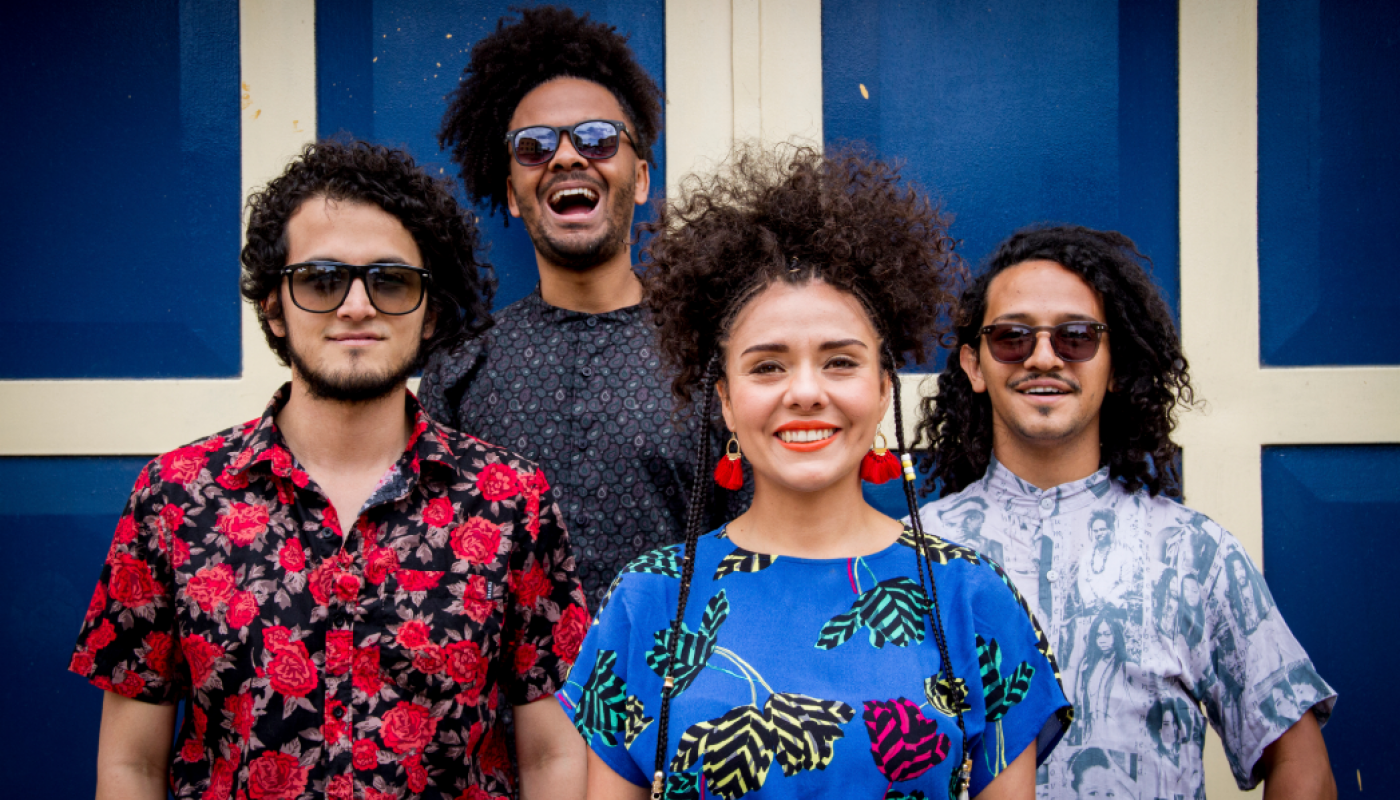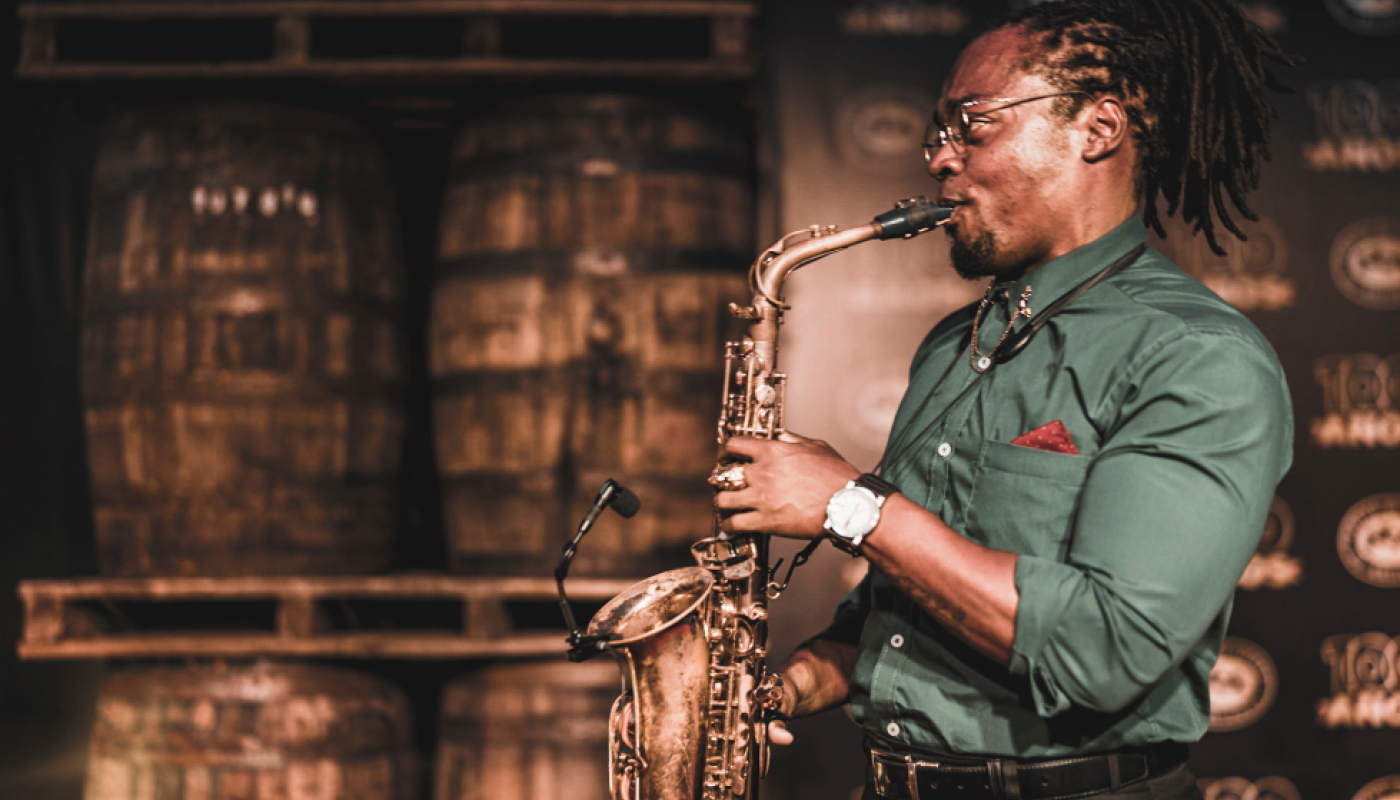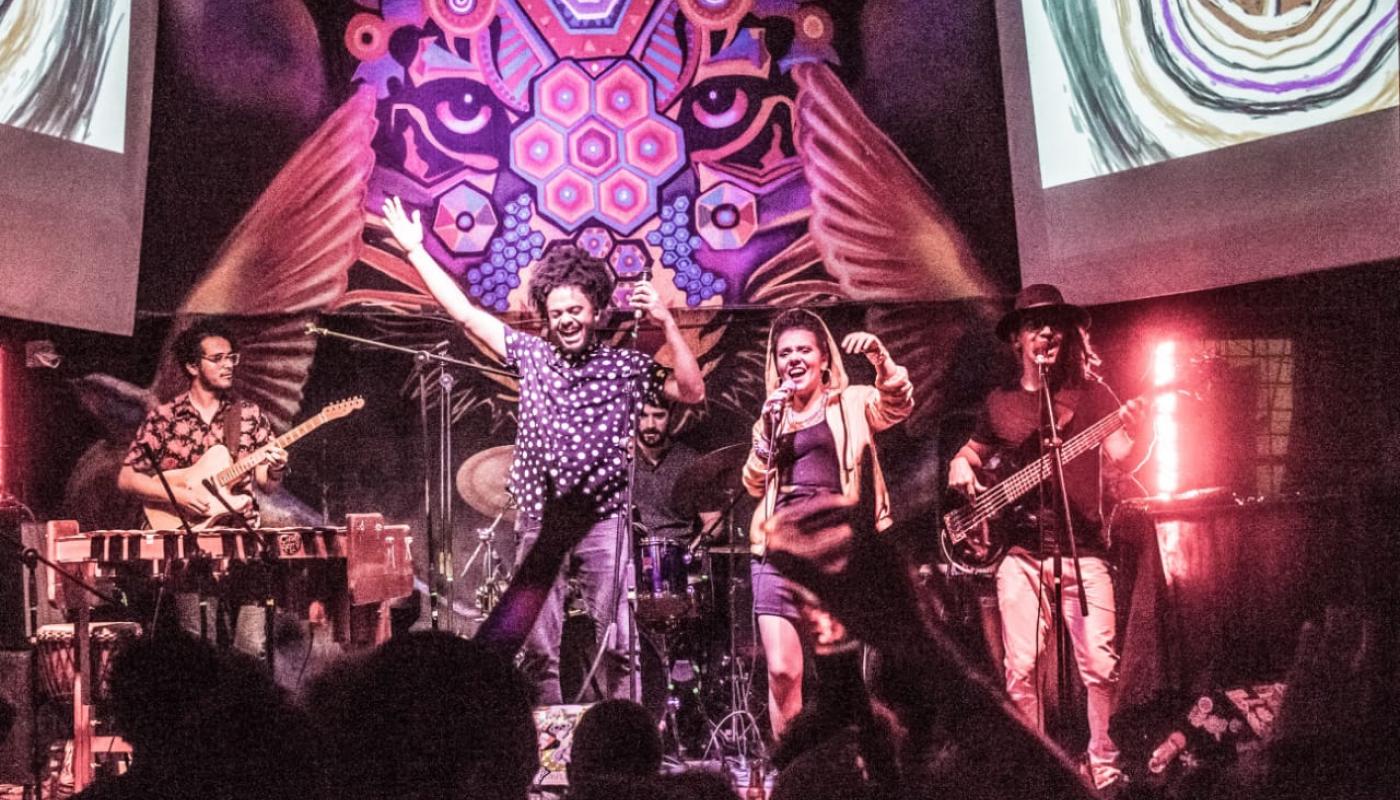 Chontadelia
Bogotá
A 7-piece band rooted in the iconic marimba de chonta and steeped in the Pacific coast's Afro-Colombian culture, identity, and history.
Chontadelia has been making its mark since 2015, called out for its socially engaged celebrations which voice their communities' histories, stories, struggles and concerns. "The capacity to enjoy, to have a good time, is not separate from what is happening to you, your country, your community. Stand up, talk about the issues, dance."
Based in Bogotá, the band completed its first tour to Panama in early March, just as the world was locking down in response to the COVID-19 crisis. "We're working apart now, but we've already added horns to our mix, and more than ever, we're finding ways to connect."
What's in a name? Chontadelia comes from the fusion of two words; chonta – the wood that the marimba is made of, and delia – psychedelic sounds.
Chontadelia's "tropical tang and rhythmic power did not leave any of the dancers present indifferent." – 120 DB
U.S. Debut with Center Stage
February-June 2022
Travelers
9 (7 musicians, sound engineer, U.S. company manager)
Venues
Indoors or out: clubs, amphitheaters, concert and festival stages. Excellent sound system and some backline required.
background
Chontadelia's Outspoken Marimba-Driven Afro-Colombian Funk
Chontadelia uses the marimba de chonta to open up a parallel dimension in Afro-Colombian music, one that pays full respects to the group's roots on Colombia's Pacific coast. This is about more than honoring their roots or getting extremely funky; the group calls out for its socially engaged celebrations that voice their communities' histories, stories, struggles and concerns. "The capacity to enjoy, to have a good time, is not separate from what is happening to you, your country, your community," says Chontadelia's bassist, Diego Agudelo Gómez. "Stand up, talk about the issues, dance."
The marimba de chonta is the perfect tie to bind these multiple social and musical worlds. "The marimba music is my favorite music," enthuses Larry Ararat, founder, marimba player, and musical director of Chontadelia. "Chontadelia flowed from this influence for me. We play differently from artists on the coast because we're settled in Bogotá, and have other musical influences. My influences come from funk, from artists like Stevie Wonder, and from all sorts of other music."
Beyond translating global influences to a beautiful instrument and its rich heritage, the band reimagines the possibilities of chonta and other Afro-Colombian styles, while staying true to their heartbeat. "It's an embodied experience," says Diego. "We do have music you just listen to, sitting down in a concert hall. That's a pleasure, but this is an experience for the body. How can you express what you are because of what the music is doing?"
"This music won't make social problems go away," says Larry, "but it can shine a light on the beautiful people and heritage of the coast" by getting us all to dance. As a popular indie blog puts it: "Chontadelia arrives on the scene with a soundscape full of color, distortions, twists, and a lot of funk. Welcome all from nearby galaxies to a party of currulao and bunde, of marimba, and electro beats." – cartelurbano.com
U.S. Tour in 2021
Chontadelia will join four other ensembles from Colombia and Perú that will make independent tours of the U.S. from July-November 2021 as part of Center Stage, a cultural exchange program that invites performing artists from abroad to the United States to perform, meet, and share their experiences with communities around the country. The 7-piece band's summer-fall tour, now in formation, will mark Chontadelia's U.S. debut.
Roots and Responses
Outspoken and celebratory, the band's roots lie in a local arts organization working to preserve Pacific coast culture in urban Bogotá. When Larry's family moved to Colombia's capital city, they joined up with other families and started a community organization to keep their Afro-Colombian culture alive. Led by a formidable teacher and community leader, Nelly Mina, this artistic youth group mixed dance and music. "That was the seed for many Afro-Colombian musicians who are important in the scene in Bogotá," notes Diego.
Larry first mastered percussion, then as a teenager picked up the acoustic guitar. Then, at 20, he madly fell in love. "I love the music of the marimba de chonta," he says of the native Colombian instrument. "It has particular sounds from south of the Pacific coast. The marimba is special."
After a wildly successful stint with the creative hip hop group ChocQuibTown, Larry wanted to explore what the marimba could do in greater depth. Different regions around Colombia have their own distinctive playing styles and accompanying instruments, making it a rich source of musical possibilities.
To experiment with them, Larry got together with some friends from the indie scene, including Diego, virtuosic jazz guitarist Andres Corredor, and drummer Juan Filipe Calderón. They had fun playing unexpected covers on traditional instruments--Funkadelic and Queen songs made appearances on the setlist--but then realized they could do a whole lot more. "We saw this fusion will give us gigs to play at hotels and events, but won't let us do something more interesting," Diego recalls. "We needed to do our own thing." 
To do it, they called in a frontwoman, Margarita Redondo, who also began contributing to the band's original songwriting. A singer trained in classical and jazz as well as Colombian traditions, her bright, powerful voice glides over the band's quicksilver marimba and slinky grooves. "I have investigated both universes. It's not easy to find a music vocabulary when you mix both styles, but I've found it," she states. "We have also explored how tradition and improvisation work best together. Improvisation in another way to talk and communicate with the audience."
Some of what they communicate is a fresh perspective on long-standing tensions they see and feel around them, something very welcome to their Colombian fans. "The lyrics I like to write are about gender equality and women's rights," Margarita notes. "That is my fight. Every artist has their own fight, and this is mine. Chontadelia is an opportunity for me to express myself as a woman, the way I see the world as a woman. Women in the audience usually say it's very visceral."
"We try to make music with a hook and a message," adds Diego, who also works as a social worker supporting conflict-troubled communities. "You want to make people think, but the songs need to groove. We try to address things politically. Take 'Descontrol,' which is a song about how we have to move beyond the male chauvinist system. It's not always explicit but we have to address these issues, like activist killings and state violence. But even when we're direct, you can still dance."
The band has been making its mark on the Colombian scene since 2015, and completed its first tour to Panama in early March just as the world was locking down in response to the COVID-19 crisis. "We're working apart now, but we've already added horns to our mix, and more than ever, we're looking ahead and finding ways to connect. We can't wait to meet you on the dance floor."
Chontadelia 
Diego Agudelo Gómez – Bass/sequence
Larry Viveros Ararat – Marimba/percussion/vocals
Margarita Redondo – Vocals
Andrés Corredor Bohorquez – Guitar
Juan Felipe Calderon – Drums
Luis Meza – Tenor/Baritone Saxophone
Adrián Viafara – Clarinet/Marimba/Percussion
Alejandro Veloza – Sound Engineer
Audio Clips
Listen to these Chontadelia tracks via Soundcloud