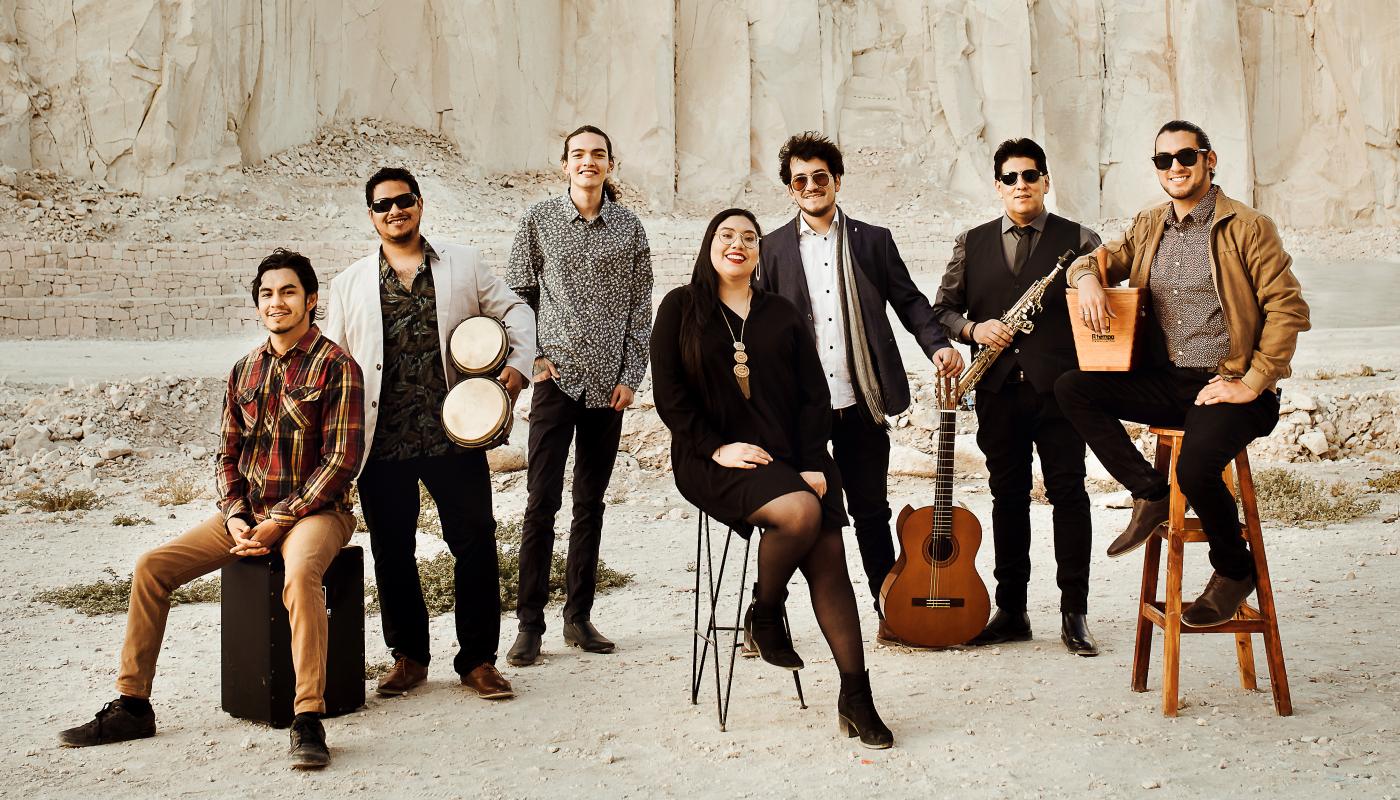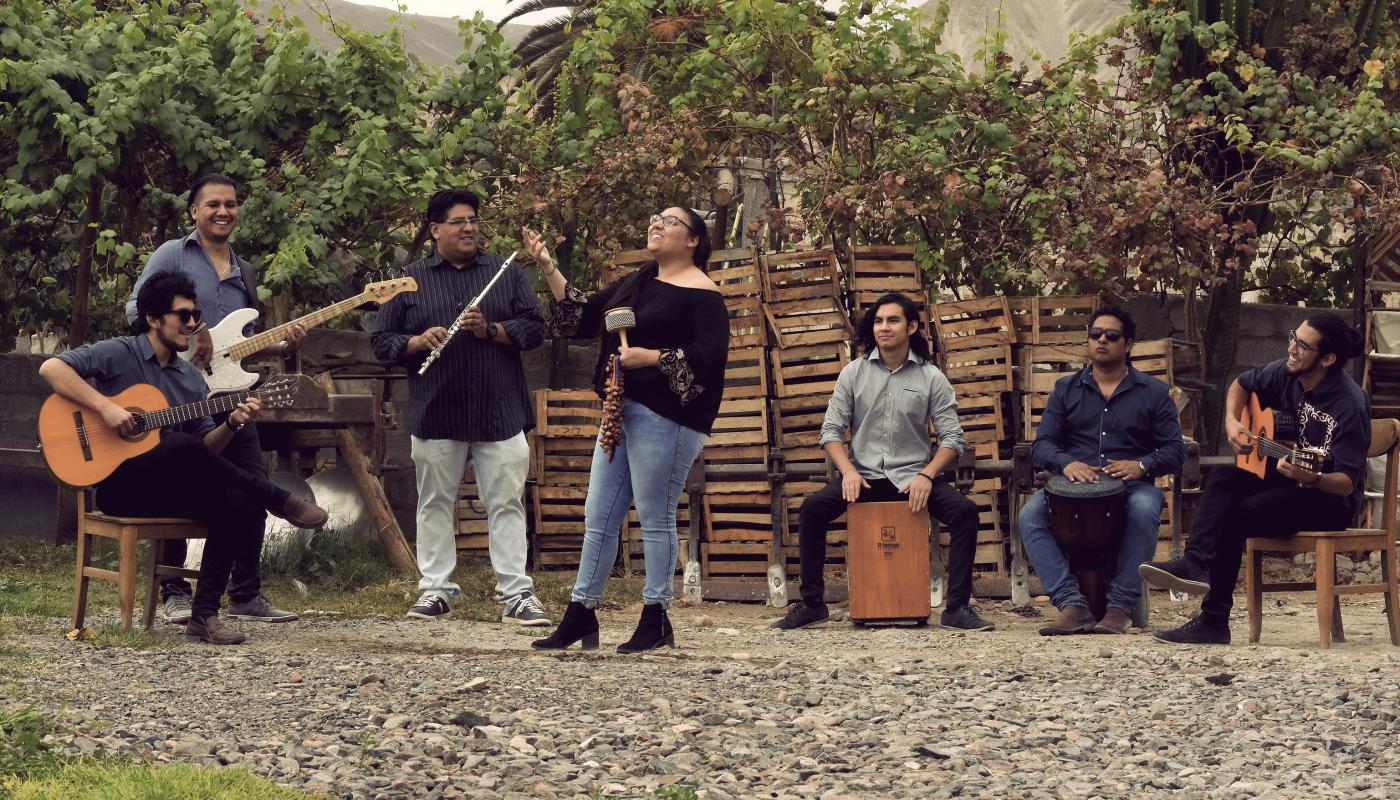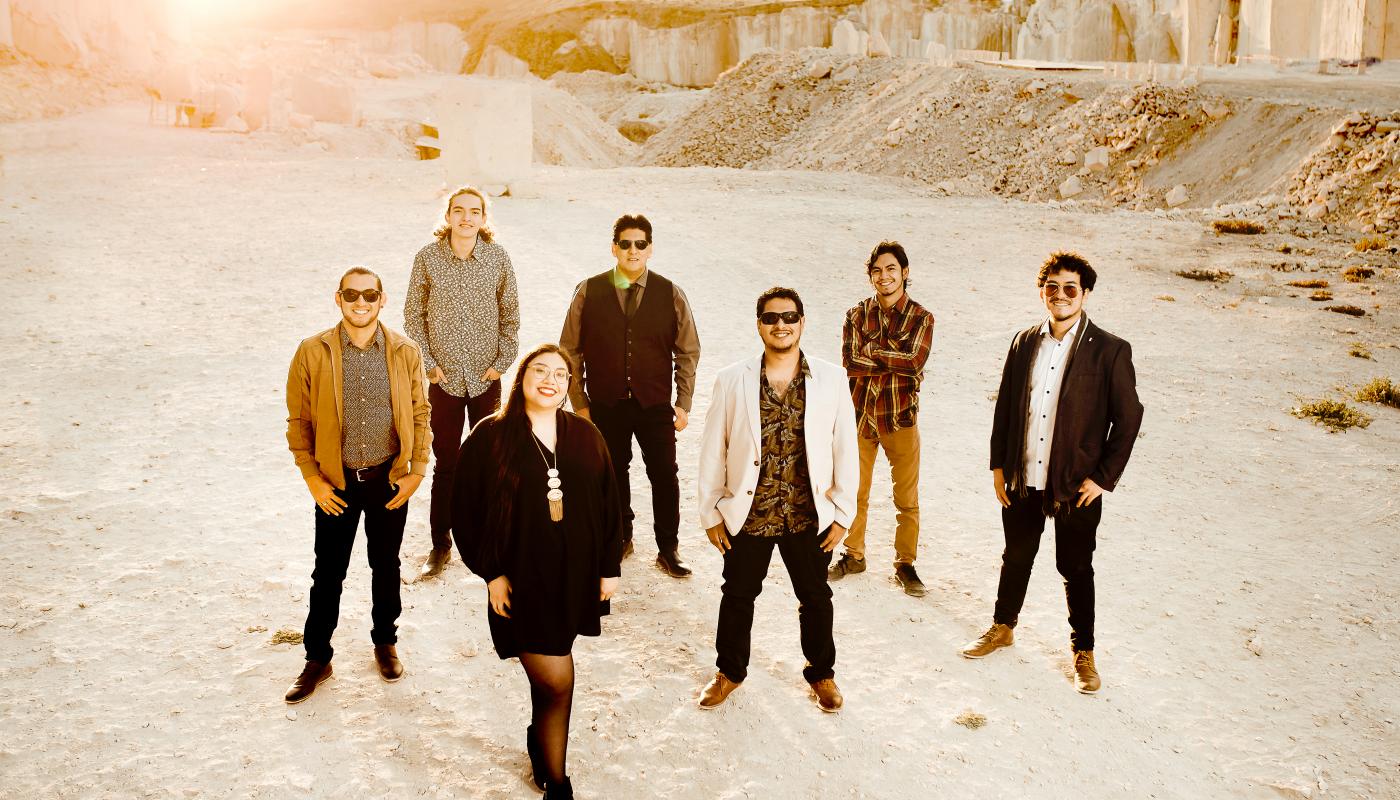 Lundú
Arequipa
Season 5: 2022
Touring February-March 2022
in artful acoustic performances, Lundú's originals and arrangements of folk standards respond to their environment, complex Afro-Peruvian and Andean roots, and their historic hometown, Arequipa.
Named after an Afro-Peruvian rhythm, Lundú is a 7-member chamber group, joined together in 2015 by a love of Perú's song traditions. Like many locally grounded roots groups around the world, they are based outside of their nation's capital city. Arequipa is a musical outlier when compared to Lima, some 600 miles to the north. Perú's second largest city is beautifully sited, surrounded by volcanos, and with a complex syncretic culture that encompasses Afro-Peruvian, Andean and colonial Spanish histories; its 15th century center is a UNESCO World Heritage Site, Here, Lundú is crafting a distinctive musical vocabulary, as it rediscovers and extends a musical legacy with passion and finesse.
Lundú released its first album, Introversiones in 2019, and has made festival appearances in Panama and Argentina.
"The search for new sounds and the use of various instruments drives our musical arrangements of popular themes from our national and Latin American folklore. We're proud to share our identity as a multi-cultural country, and in turn, learn from the musical diversity that identifies us as Peruvians and Latinos." – Lundú
"We're an ongoing musical conversation, drawing on the sounds and songs of the mountains and coasts, in dialogue with distant and more contemporary roots, to share the stories of our nation and the collective Latin American spirit."
U.S. Debut with Center Stage
On Tour February-March 2022
Travelers
9 on tour (7 in the band, manager, U.S. company manager)
Venues
Indoors or out: clubs, amphitheaters, recital halls, and festival stages. Excellent sound system and some backline required.
background
The Sound of Place: Lundú Finds the Spirit of Arequipa in Perú's Acoustic Traditions and Contemporary Songbook where Indigenous, Latin, and Afro-Peruvianmusics intertwine
"When I started to learn the Perúvian flute, I started to hear all these sounds," says Lundú 's flute and reed player Robert Sanchez. "I fell in love with the vibrations. They transported me to new places. I could hear the sound and feel that place."
Lundú strives to evoke the same experience in its listeners, drawing on the sounds andsongs of the region's mountains and coasts, woven together with the independent attitude of the city of Arequipa, where they are based. The 7-member acoustic ensemble pays homage to the elegant spirit of the city, its interwoven Afro-Perúvian, colonial, and indigenous heritage, as well as Perú's strong songwriting and composing traditions. "It's based on traditional Afro-Perúvian music but also has modern elements," explains Fernando Salazar, one of the group's guitarists and arrangers. "For example, we'll add the sax to the flute part. The arrangements are based on our contemporary influences from jazz and classical music."
Some of these arrangement ideas flow from the personalities of Lundú's skilled musicians. One example: several pieces feature two guitars in conversation. "In Afro-Perúvian and Criollo music, two guitars are not the usual thing," says Fernando. "In Lundú, there's conversation between the guitars, and they are equals." Adds Robert: "Fernando has his own language, and you can hear Diego has his own language; they're not the same. This enriches the music."
Lundú released its first album, Introversiones, in 2019, and has made festival appearances in Panama and Argentina. "The search for new sounds and the use of various instruments drives our musical arrangements of popular themes from our national and Latin American folklore. We're proud to share our identity as a multicultural country, and in turn, learn from the musical diversity that identifies us as Peruvians and Latinos."
U.S. Tour in 2022
Lundú will join four other ensembles from Colombia and Perúthat will make independent tours of the U.S. from February-June 2022 as part of Center Stage, a cultural exchange program that invites performing artists from abroad to the United States to perform, meet, and share their experiences with communities around the country. The band's summer-fall tour, now in formation, will mark the band's U.S. debut.
Roots
The young ensemble hails from Arequipa, located 600 miles south of Lima. The city's region has its own influences and musical practices, and Lundú's work highlights how these different elements overlap. "There are some rhythms and songs that mix Afro-Peruvian and Andean music," Robert says. "We're exploring these relationships."
"In Perú, every region has its own repertoire, their own flavors. They each have their mix of traditional instruments and styles," Ana Quintanilla, the group's manager, notes. Lundú adds other ingenious touches as well: "Sometimes Robert experiments with small percussion instruments and even toys that make interesting noises. This brings unexpected detail and texture to the music."
Experimenting with timbre and texture unlocks fresh emotional impact in beloved songs and tune. The group creates its own unique version of a traditional Andean huayno ("Sonqollay") and pays tribute to the iconic talent of Chabuca Granda ("Ese Arar en El Mar"), turning a classic piece's 6/8 time into a looser ballad. They explore the many resonances of the waltz in Perú and highlight some beautiful iterations of the marinera, a popular form that has its own feel in Arequipa. "Marinera is a dance and a rhythm born in Lima but found in every part of Perú," Fernando recounts. "The difference is the instrumentation."
Lundú, named for a Bantu term for what evolved into the Afro-Perúvian lando rhythm, sprang from a group of young students of Juan Carlos Cárdenas, a local music teacher, cultural cornerstone -- and father of two members of the band. They share a foundational aesthetic thanks to this, though as individual musicians, and music educators, they are constantly pushing themselves technically and creatively.
The tight-knit ensemble wants to take their listeners to the same places they go as they play. "We want to make people feel recharged with all the power of the rhythms," Ana explains. "Maybe they can go home with that beat in their heart and head. That's what happens here, people leave singing or tapping their toes to the beat. Our repertoire moves through a lot of emotions. The marinera or tondero is very upbeat, but then we'll play a lando, which is like the blues. No matter the style, we approach it with all the respect we have toward our culture, our rich and diverse Perú."
Lundú
Diego Cárdenas – Director and Composer / Guitarist
Fernando Salazar – Arranger and Composer / Guitarist
Robert Sanchez – Winds Instrument Player / Chorus
Marikatia Campos – Vocalist
Diego Manrique – Percussion
Juan Carlos Cárdenas – Percussion
Sebastian Vega – Bassist
Rafael Saba – FOH Engineer
Ana Quintanilla – Manager
Audio clips
Listen to Lundú via Spotify
technical information 
Technical information
Lundú's instrumentation is largely acoustic; presentations are best in hosted in listening rooms – cabarets, recital and concert halls, and some festival settings. Technical information, current as of April 2021, outlines general conditions and backline, and can be modified to accommodate a variety of stages and circumstances while meeting the needs of the band.
View & download the tech rider at the link below:
View & download the electronic press kit at the link below:
downloadable photos, billing & credits 
Minimum Billing
Lundú
On tour as part of Center Stage
www.CenterStageUS.org
Credit Line
The following credit is required on the title page in all printed performance programs. We appreciate its use wherever else it's practical: brochures, posters, ensemble-only promotional materials, press releases, advertisements, etc:
Lundú is part of Center Stage, a public diplomacy initiative of the U.S. Department of State's Bureau of Educational and Cultural Affairs with funding provided by the U.S. Government, administered by the New England Foundation for the Arts in cooperation with the U.S. Regional Arts Organizations. General management is provided by Lisa Booth Management, Inc.
Logo
Center Stage logo placement is encouraged. On web-based materials, please link from the Center Stage logo and/or written name to www.centerstageUS.org.
Assets
High resolution promotional photos (photographer credit is in the file name), and color versions of the Center Stage logo are available at this link.