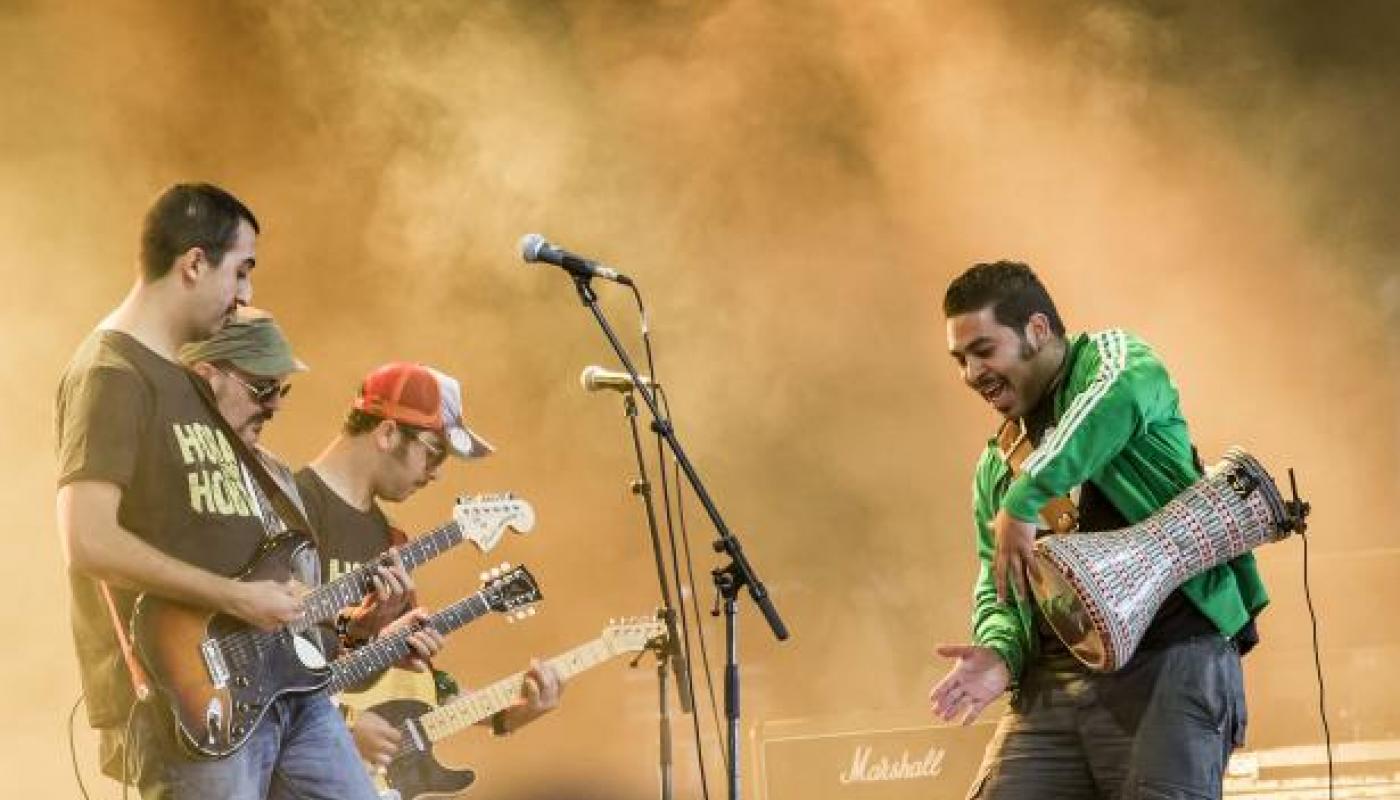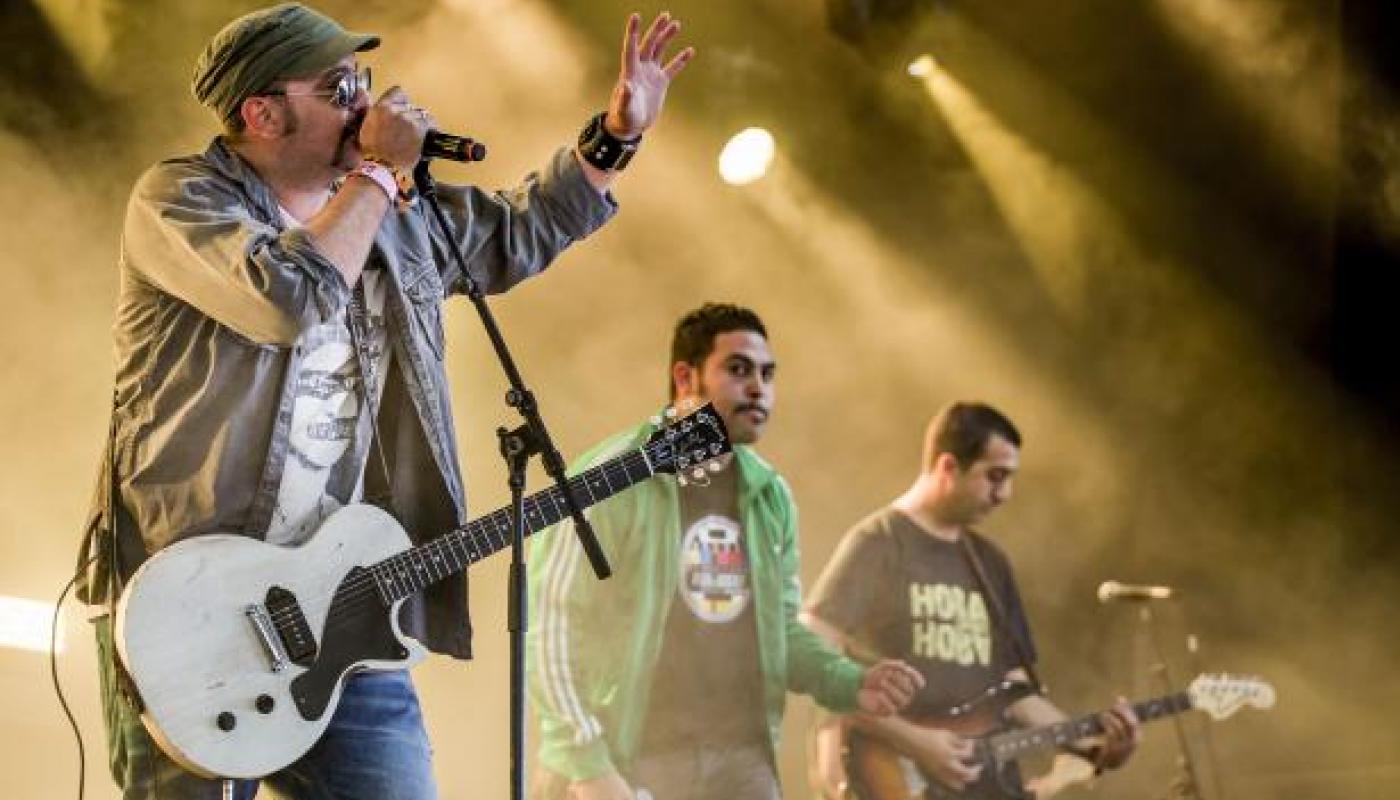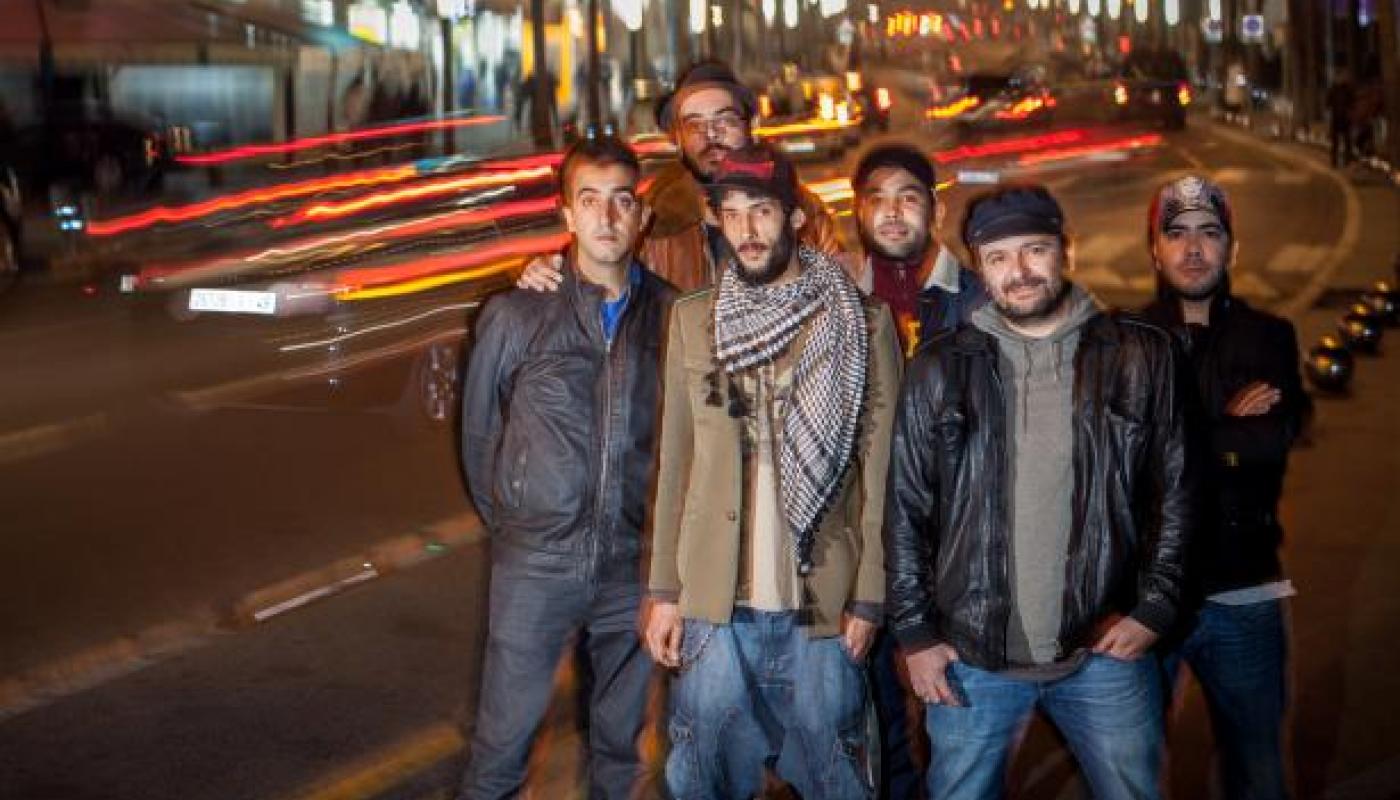 Hoba Hoba Spirit
Casablanca
Crowd-wowing, thought-provoking Morocc'n Roll fresh from the Maghreb
This "sharp, vibrant, and very nearly universal" band (Washington Post) is counted among the 50 people who shape the culture of the Arab world (Huffington Post, 2012).  Unfettered and irreverent, Hoba Hoba Spirit creates its drive from the bold clack of qarqaba (double castanets) and rhythmic swagger of North Africa. With high-energy delivery, heavy guitars, and droll plays on words, Hoba Hoba Spirit is Morroc'n Roll – a hook-laden, thought-provoking party. 
A crowd-wowing multilingual band from Casablanca.

 

NEW YORK TIMES
tour overview
Seattle, WA - August 30-September 3
Hoba Hoba Spirit starts their tour in Seattle where they will perform at Bumbershoot , one of the U.S.'s great summer festivals that takes places over Labor Day Weekend. The performance is on September 1st. Information here
The band also takes a couple days to studio jam with the Boston Boys. 
New York City, NY - September 5-6 & 15-18
Before heading to Washington, DC - Hoba Hoba Spirit has a stop over in NYC on September 5th and 6th for an audio recording session with The Boston Boys. 
The band returns to NYC from September 15-18 for various industry meetings and artist to artist exchanges.
They perform at the Lincoln Center Atrium on September 18th. Information here
Washington, DC - September 7-10
Hoba Hoba Spirit makes their way to Washington, D.C. via NYC for their orientation at the State Department, rehearsal time at the Kennedy Center, and press interviews
Tuesday, September 9th the band performs on the Kennedy Center Millennium Stage. Information here.
Wednesday, September 10th the band performs at Bossa Bistro & Lounge in the Adams Morgan neighborhood. Information here.
Atlanta, GA - September 11-14
Hoba Hoba Spirit performs at Smith's Olde Bar, one of Atlanta's great music rooms, on September 14th. Information here.
Austin, TX - September 19-20
The band arrives in Austin, TX on September 19th to participate in Wobeonfest - a young world music festival held at the Asian American Resource Center, produced by World Beat Online.
On September 19th Reda Allali, lead guitar and vocals, will participate in a panel discussions and reception hosted by the Greater Austin Asian Chamber of Commerce on the topic of the interplay between Commerce (business), culture and community, and the particular role that commerce can and should play to support music and other arts
The band will perform on September 20th on the main stage ballroom. Information here.
Iowa City, IA - September 21-26
Hoba Hoba Spirit ends their Center Stage tour with a 5 day residency at the University of Iowa in Iowa City under the auspices of Hancher Auditorium. The residency will include classroom visits (including courses in sports communications, journalism, international relations, and music), a pop-up student association concert and a visit to the local farmer's market.
The band will perform on September 26 in partnership with Legion Arts at CSPS in the neighboring town of Cedar Rapids. Information here. 
program notes and bios
Hoba Hoba Spirit
Casablanca, Morocco
On tour as part of Center Stage
Reda Allali lead guitar and vocals
Othmane Hmimar percussions and vocals
Adil Hanine drums
Saad Bouidi bass
Abdessamad Bourhim guitar
Anouar Zehouani guitar and backing vocals
Hamza Chioua master fixer and sound guru
Unfettered and irreverent, Hoba Hoba Spirit began touring Morocco's small towns in 1998 and burst onto Casablanca's main stage in 2003.  For more than 10 years this Morocc'n Roll powerhouse has been one of the Arab world's most visible bands and a cultural change maker at home and abroad.  Hoba Hoba Spirit creates its musical drive from the clack of qarqaba (double castanets) and the rhythmic swagger of North Africa.  The band calls its trademark mix of homegrown roots, Rock and Reggae "Hayha" music.  As front man Reda Allali puts it in the band's anthem Gnawa Blues, this is not "world music…it's just the music of my world." As the Washington Post sees it, Hoba Hoba Spirit is "sharp, vibrant, and very nearly universal."
Under the auspices of Center Stage, Hoba Hoba Spirit calls the U.S. home for the month of September 2014 with engagements in Seattle, Washington, DC and Atlanta to New York, Austin and Iowa City.
"Hoba Hoba Spirit's influences go from the Clash to Manu Negra, from James Brown to Nass el Ghiwane, to Joe Strummer to Bruce Springsteen," said Allali in a 2012 interview with Jeffrey Callen for MTV Iggy.  "Rock was not played in Morocco the way we played it -- with Arabic lyrics and Moroccan rhythms.  But the core of the system is the rock 'n roll attitude which is to try for something impossible, to be at the edge of chaos, to make the illusion that everything is possible, to give the impression of places better than where you are now and this is important…. But, we don't want to be too serious—it's music, and let's be ironic and have some fun. There are too many people giving very serious lessons. I don't think the music scene is in need of one more moral teacher."  
Whether or not you speak Darija (Moroccan Arabic), French or English, Hoba Hoba Spirit music lays down a critical groove, but these lyrics fill in the picture…
Terrorist/Terrorist



I was walking in the street in a foreign country
And discovered that you have opinions about me
You have a strange way of looking at my moustache
You always talk about some cultural clash

You ask me how many wives I've got
The answer is one and Man, that's a lot
You have a strange way of smiling as you walk away
When I pray five times a day

And, I'm not a terrorist
I am not an extremist
I don't sell no cannabis
I am you and you are me too

I don't want to live in your beautiful country
'cause I am sure mine is better for me
We don't have no financial crisis
It's permanent here, we take as it is
You may say I'm too contemplative
Paying homage to every minute I live
You have a strange way of smiling as you walk away
When for a month I don't eat all the day

And, I'm not a terrorist
I am not an extremist
I don't sell no cannabis
I am you and you are me too

And I do love my children like you do
I support a football team too
I am the one that you have to meet
Like the kefta needs to meet the frites

"what is kefta exactly ?
Hmm hamburger..."

And, I'm not a terrorist
I am not an extremist
I don't sell no cannabis
I am you and you are me too

Blad Skizo/Schizo[phrenic] Country

 

How much for this?
Is it raining where you are?



How's your mother?
Wanna buy a watch?

 

Light or black coffee?
Is she still sick?



What's your final price?
In a cup or a glass? (still about coffee)

 

Did they call for prayer or not yet?
Gasoline or diesel?



How much, the Jawal pack? (a prepaid mobile service)
And where is Jamal?



Schizophrenic country



(…)

 

Why don't you listen to Fatna Bent El Houcine?

 

Come, drop, be ashamed, sit!
Go, come up, get down, piss off!



Move, forget, nod, f**k off
Die, go away, be careful, go!

 

Why didn't you call me when I beeped you?
Why does he have money and I don't?



Did they get the code to Canal Satellite?
And tell me, does this sandwich come with French fries?

 

Schizophrenic country



(…)

 
Reda Allali  Leader of the band, guitar player and singer, Réda is the Hoba Hoba's main songwriter. An essayist and journalist, he writes about society and football (soccer), and pens an (ir)regular column for Telquel under the nom de guerre Boualem Zakaria.
Othmane Hmimar  Singer and percussionist; explosive performer. Othmane's soulful voice and huge energy drive Hoba Hoba Spirit's live performances.
Adil Hanine  High energy drummer, mixing all the rhythms to create Hoba's unique organic groove. Adil's creativity plays an important role in the sound of the band. 
Saad Bouidi  Bass player, groove's keeper, Saad is an essential musician, who is fond of rock culture and Moroccan music.
Abdessamad Bourhim  Guitar hero with a rock and metal background. He enlightens Hoba's music with brilliant solos and great presence onstage.
Anouar Zehouani  Guitar player and co founder of the band, Anouar's personality and huge musical culture are important in the process of writing music.
Hamza Chioua Sound engineer and all round musical fixer of Hoba's concerts over long years. He is also involved in the recording of the band's music.
Background
Moroccan Pulse Beats in Rock's Defiant, Democratic Heart: Casablanca's Hoba Hoba Spirit
"…sharp, vibrant and very nearly universal." –Washington Post
"A crowd-wowing multilingual band from Casablanca"—New York Times
They've played Roskilde. They've recorded at Peter Gabriel's Real World Studio. But this isn't your typical stadium-packing rock band. This is clever, catchy Marocc'n Roll.
Casablanca's unfettered and irreverent Hoba Hoba Spirit finds the rock drive within the bold clack of qarqaba (double castanets) and rhythmic swagger of North Africa. They belt choruses as a band, invoking both the soccer-stadium democracy found in their homeland and the robust call-and-response of Gnawan song. They shout truth to power at home, and poke fun at the global cultural cognoscenti who decide who and what is called 'world music' with post-punk wit, high-energy delivery, and droll plays on words.
Bursting onto the scene more than a decade ago, the group won a huge fan base in their homeland by doing what rock once did on a regular basis: asking tough questions, challenging the status quo, and having a good time doing it. "We wanted people to be happy with who they are," explains lead singer and philosophical Hoba Hoba frontman Reda Allali. "[Moroccan popular] chaabi music is full of this chaotic joy. We want this spirit, this private party filled with love and sweat and what you have in your heart, this African heart of Morocco, back on stage."
Hoba Hoba Spirit will bring this powerhouse mix to American audiences in 2014 under the auspices of Center Stage. Center Stage is an exchange program of the U.S. Department of State's Bureau of Educational and Cultural Affairs. Exchange programs initiated by the Bureau support U.S. foreign policy goals and engage youth, students, educators, artists, athletes, and rising leaders in the U.S. and more than 160 countries. Center Stage uses the performing arts to support cultural understanding between American and international communities; participating artists experience the U.S. first hand and cultivate lasting relationships.
A band of professionals—journalists, engineers, intellectuals by day; rock stars by night—Hoba Hoba Spirit plays with languages and sounds and puns across tongues. Songs like "Blad Schizo," which coined phrases that entered popular slang, or "Dark Bendir Army," which seamlessly melds a modal electric guitar line and pounding beat with raw-edged, soaring North African vocals and Arabic lyrics, show the band's versatility and clever songwriting, their ability to craft riffs that barely give on where the Motorhead ends and the Moroccan party begins.
There's great joy to be had at that party, and it's connected to the texture and nuance of local culture. The way New Jersey inspired Springsteen, the Afropolitan, post-colonial culture of Casablanca sparked Hoba Hoba's musical perspective. "Casablanca is a world apart, a chaotic world with big energy," exclaims Allali. "It's a social and cultural mixture that's not the easiest thing to find in Morocco. It offers you freedom due to its size. People can live the way they want to live."
The band grew up in this relative freedom, neighbors and friends who began to jam together as rock and metal-loving youngsters. Sons of Casablanca, they began to craft songs that were syncretic by default. The interwoven sounds of Morocco's many traditions and complex history were the sounds they heard every day. Along with the Gnawa, Berber, and Arab sounds, and more mainstream rock idols like Springsteen and the Clash, Hoba Hoba Spirit embraces the onstage energy and multicultural wanderings of high-intensity bands like Gogol Bordello or artists like Manu Chao.
"We don't have categories or boxes in our minds that, say, this riff is surf, this beat is Berber," Allali notes. "You can listen to rock and reggae all day, then go to a traditional wedding for hours. You don't analyze where things are coming from."
While Hoba Hoba may not think in musical categories, they do think a lot about where they are from and what it means to be from Casablanca, the Maghreb, and the Arabic speaking world of Africa. "Our songs have a lot of very specific reference to what's going around us, though this can feel very universal, just like Springsteen proved," muses Allali. "There's a lack of confidence, a lot of concern about the image that the rest of the world gets of us here in Morocco. We feel that we're from here and here we are and what's the problem? The attitude in our music is based on love for the pop culture of this neighborhood, this place."
Hoba Hoba sees the pop culture of place in Morocco's unsung nooks and corners, spaces outside the often stiff, stifling atmosphere of limited public expression and state-run media. One of these corners is the soccer stadium, a place where the band, avid soccer fans, has found a haven of democracy and popular sentiment. "When we were young, all public speech was censored, controlled. The people we heard had polite, cold speech. Then you had the stadium, where 20,000 people sing what they have on their minds, an island of freedom where everything could be said and sung. For me it's great to see how a crowd can create a song, and very often when we write a chorus, we imagine a crowd singing it."
That catchiness and the hot-button issues that rile and move their fellow Moroccans translate directly into songs and into their stage show. "All the musicians in the band are singers and they use their voices on stage. It gives you huge energy. It's one of the key parts of our music. We all join the chorus, and we know how to make you stand up and grab the mic … In this moment, when you abandon yourself and your body, it just resonates." The result: one hook-laden, thought-provoking party.
Hoba Hoba Spirit
Reda Allali, guitar and vocals
Anouar Zehouani, guitar
Adil Hanine, drums
Saad Bouidi, bass
Othman Hmimar, vocals and percussion
Abdessamad Bourhim, guitar
Center Stage will bring seven ensembles from Morocco, Pakistan and Vietnam to the U.S. for month-long tours from June-December 2014, connecting artists with diverse communities across the country. Residencies will include performances, workshops, discussions, people-to-people exchanges, and community gatherings. Keep up with Center Stage on Facebook and on Twitter and at www.centerstageUS.org.
Center Stage is a public diplomacy initiative of the U.S. Department of State's Bureau of Educational and Cultural Affairs. It is administered by the New England Foundation for the Arts in cooperation with the U.S. Regional Arts Organizations, and supported by the Asian Cultural Council. General management for Center Stage is provided by Lisa Booth Management, Inc.
press links
audio Clips
Hoba Hoba Spirit 51 track playlist on Yala.fm
billing and crediting information
Hoba Hoba Spirit
On tour as part of Center Stage
The following credit is required on the title page in all printer performance programs. We appreciate its use wherever else it's practical: brochures, posters, ensemble-only promotional materials, press releases, advertisements, etc:
The presentation of [name of ensemble] is part of Center Stage, an initiative of the U.S. Department of State's Bureau of Educational and Cultural Affairs, produced by the New England Foundation for the Arts in cooperation with the U.S. Regional Arts Organizations, with additional support from the Robert Sterling Clark Foundation and the Asian Cultural Council. General Management for Center Stage is provided by Lisa Booth Management, Inc.
Center Stage logo placement is greatly appreciated. On web-based materials, please link from the Center Stage logo or written name to www.centerstageus.org.
Download a zipped folder of color and black and white version of the logo here.