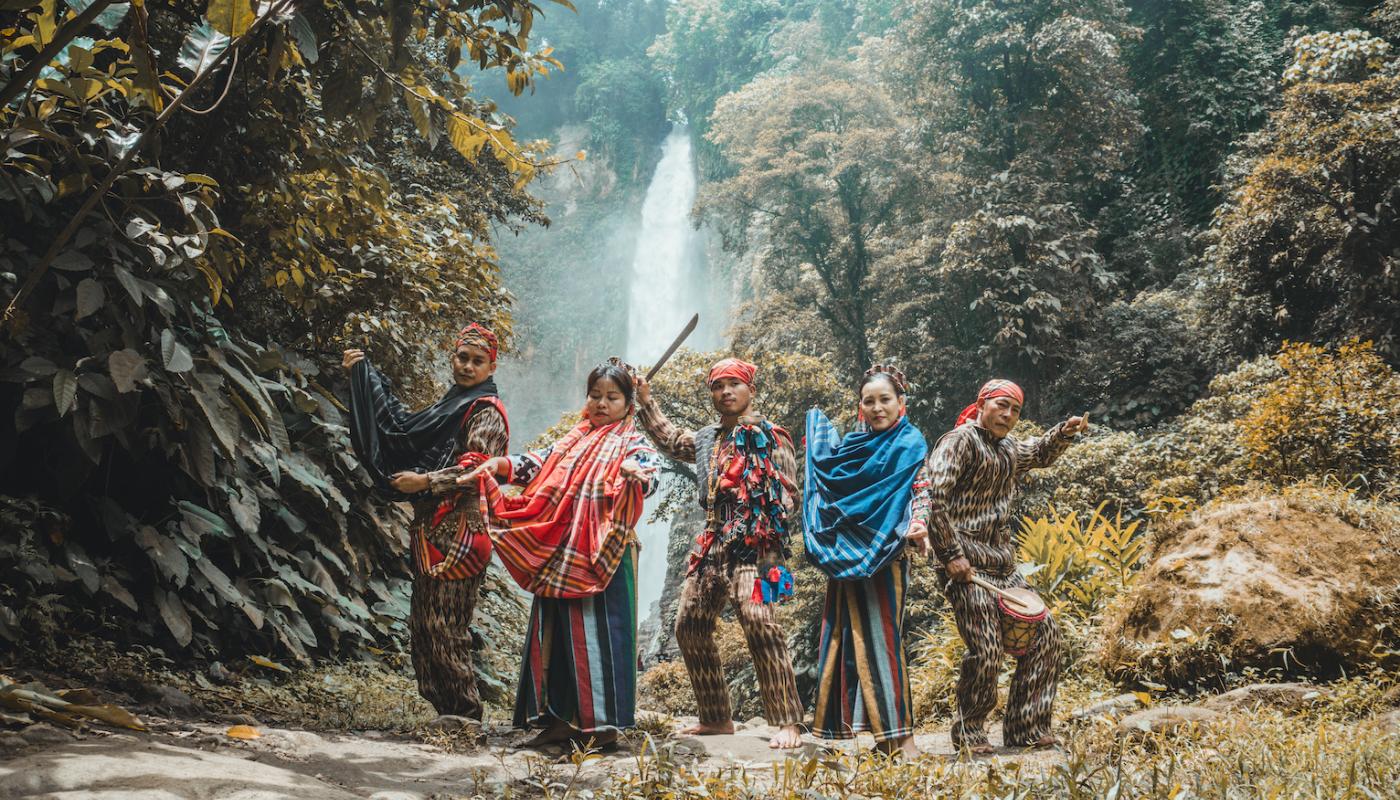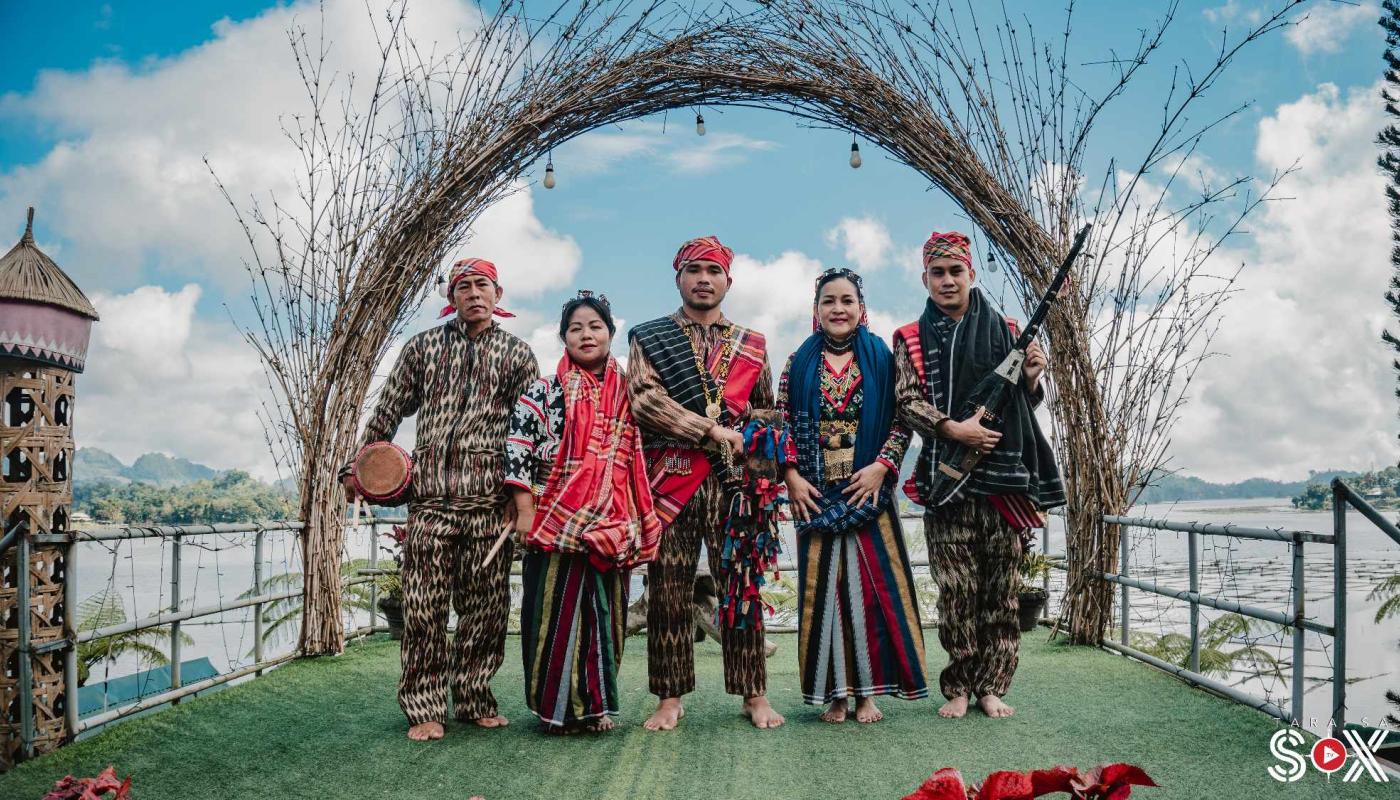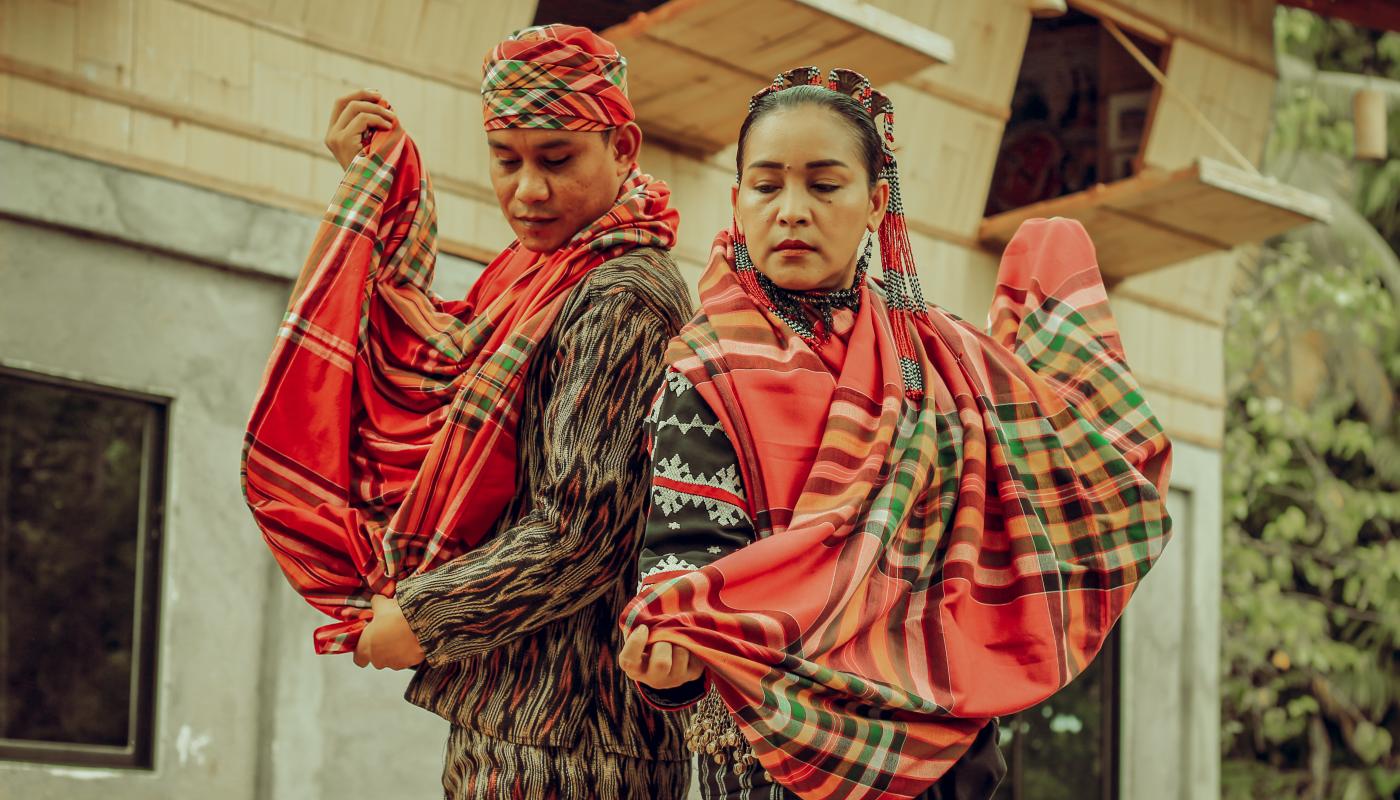 Helobung
Lake Sebu
Season 7: 2023
October 2023
Art is life, art is alive.
Preserving Tboli culture in the biodiverse land of Lake Sebu's South Cotabato highlands on Mindinao, Helobung ("endless joy") is a wellspring and tradition bearer dedicated to cultural stewardship and creativity through generational transfer of indigenous knowledge and practices. 
Performed by five dancers and musicians, "Tales, Tunes, and Threads of the Tbolis" introduces and shares this people's cultural roots and signifiers -- the living traditions that continue to sustain contemporary Tbolis today.
Established in 1986 by young Tbolis, this venerable troupe is recognized nationally and has internationally. Their vivid performances have been presented through the Philippines, in Paris, Singapore, Malaysia, and Indonesia. The accomplished performers who will travel to the U.S. as part of Center Stage are this generation's creators and interpreters. Some were not yet born when Helobung last traveled to the USA in the late 1990s for a residency at the Smithsonian Folklife Festival.
With presentations and gatherings, Helobung aims to reach out widely in the U.S. and to especially connect with Filipino-Americans and Indigenous artists forging a similar cooperative path. 
On Tour with Center Stage
October 2023
Travelers
6 on tour (3 dancer/singers, 2 musicians, U.S. company manager)
Venue
Spaces that reflect the heritage and welcome all members of the host communities. These might be historic or otherwise significant venues for performance, or other gathering spaces that embody a spirit of place. Presentation strategies and requirements will be devised for each engagement. 
Background
High-Spirit Torchbearers: Helobung's Movement, Song, and Soundscapes Weave Tradition with Living Creativity
Artist collective from Mindanao's indigenous Tboli community comes to the U.S. to share its traditions and discoveries with artist collaborators, Filipino-Americans, and new audiences.
Helobung means "endless joy," and that's what this long-standing collective of indigenous Tboli musicians, singers, and dancers offers to audiences. Mindanao's breathtaking Lake Sebu in the southern Philippines is home and inspiration for Helobung as it weaves together signature movements, sounds, symbols, and patterns that have sustained their community for generations.
As they move, Helobung's dancers often unfurl the characteristically bold Tboli t'nalak, highly patterned fabrics woven from local fiber that expand the dancers' gestures. These threads reflect a central element of Tboli identity, the pride and beauty Helobung wants the world to see.  
At other times, the ensemble highlights haunting a capella songs performed by a trio of female singers, or the evocative lone sound of a jaw harp, flute, or zither. Some of these tunes are played when someone is far from home and misses a loved one. Some soothe or simply pass the time. It's the contemplative counterpart to the more raucous celebration, based on what the ensemble members have lived their entire lives.
Helobung plays gong-like instruments that will feel familiar to lovers of Filipino kulintang or Javanese gamelan. Their pulsing, ever-shifting tones create rhythmic waves that are underscored by small but intense drums and other percussion, summoning a high-energy soundscape. Responding to this music, dancers exhibit breathtakingly quick footwork paired with graceful sweeping arms, slow spins and wiggling hips, elegant dignity and playful athleticism.
"All the elements come from our community and our environment," says ensemble leader, artistic director, and dancer Michael Yambok. "It's part of life. Dance and music are in our lives. When we perform, we don't change anything about ourselves. The movements and expressions, the rhythm and melody -- that's who we are."
Members of the group have performed at dance festivals across Asia, given performances from France to Japan, and participated in the Smithsonian's Folklife Festival. They hope on their return to the U.S. to continue to connect with Filipino-American communities and with American artists, for collaborations that highlight the beauty of Tboli artistic practices and bring them into dialogue with other perspectives.
U.S. Tour in 2023-2024 with Center Stage Season 7
Helobung will bring their knowledge, practices, and inspiring creativity to the U.S. in 2023-2024 as part of Center Stage, the cultural exchange program that has connected performing artists from abroad with American communities since 2012. Seven other music, theater, and dance ensembles from South Africa, Ethiopia, and the Philippines will also make independent tours or hold in-depth residencies with the program, promoting global ties and engaging with audiences on stage, off stage, and online. Center Stage is produced through a public-private partnership between the U.S. Department of State's Bureau of Educational and Cultural Affairs and the New England Foundation for the Arts. 
High Spirit
Helobung's presentations, Yambok emphasizes, translate community celebrations and musical moments directly onto the stage, framing them for non-Tboli viewers. The ensemble does this with engaging grace. There's lots of improvisation to enliven the thoughtful dynamics that take the audience through highs and lows.
Yambok recalls gathering in his village's large central house designed for big get-togethers, watching his musical aunt and grandma play for the community. He can't remember a time when he didn't dance, though he first engaged with a more structured approach to dance and choreography as a young man in college. This interplay between the lived and the learned has helped shape Yambok's particularly effective dramaturgy, framing Tboli life for the stage without disrupting the spirit and flow of the music and movement itself.
Grace Guay, one of Helobung's dancers, tells a similar tale, of learning to dance as a young girl with her sisters and simply never stopping. Yet as she and other members of Helobung have grown as artists and performed around the world from Singapore to Sochi, she has come to a deeper understanding about just what it takes to dance, sing, and play her community's art. "It's not just showing, it's doing it with high spirit in you. Otherwise you can't dance gracefully if you don't feel what you're doing," she notes "You have to put all your concentration and pride into it.  You must give your utmost energy, apply everything you have, and you must be proud of who you are. You must be proud to be a Tboli."
A Sense of Place
Tboli life evolved in close dialog with the creatures, plants, and natural features of their home region. Tboli leaders point to a sense of abundance and a deep knowledge of place as part of what distinguishes their perspective and lends it universal wisdom. This wisdom runs like a thread through the music. Yambok, for example, notes that one of the songs Helobung performs is related to a specific bird that always appears at a certain time, the time when it's right to plant rice.
These observations and their expression in song run deeper than local curiosities, however. They suggest a way of looking at the world that many Americans will find refreshing and inspiring. The sounds and movements stem directly from Tboli observations and practices. They are often connected to generational knowledge of the animals, plants, seasons, and landscapes that make up their home. Helobung wants to share this gathered knowledge with the rest of the world, at a time when they feel its relevance to non-Tboli.
 "In the world, many people started with us, the first people," explains Yambok. "We can share our uniqueness to help people respect one another. We can teach harmony, respecting Mother Earth."
Transferring the Torch
Inspiring engagement with Tboli art, music, and dance lies at the heart of Helobung's mission. Though focused on refined artistry on stage, the ensemble is dedicated to something bigger off it: passing along traditional dance and music to younger generations. Tboli elders have actively worked to ensure this happens. Helobung is both proof of their success and the next phase: Many of the performers are the children or younger relatives of some of the original members who launched the project almost 30 years ago.
The tradition of teaching and nurturing the next generation of artists continues. "We run a school for around 100 children," Yambok says. "This experience motivates me because as an artist, we need to teach young people the expertise. We share these talents with the young. We have this program called school of living tradition. Elders would teach young children Tboli music and the dances. It's volunteer work on our part, we're not paid to express ourselves as indigenous people, and not paid to teach. We are artists in our own right, and as artists now, it's our time to transfer the torch."
Video Clips
These videos provide context for the presentations Helobung will share in the U.S. and are not intended to represent the full arc of performance Helobung will present in performance.
Downloadable Photos, Billing, & Credits
Minimum Billing
Helobung
On tour as part of Center Stage
www.CenterStageUS.org
Credit Line
The following credit is required on the title page in all printed performance programs. We appreciate its use wherever else it's practical: brochures, posters, ensemble-only promotional materials, press releases, advertisements, etc:
Helobung is part of Center Stage, a public diplomacy initiative of the U.S. Department of State's Bureau of Educational and Cultural Affairs with funding provided by the U.S. Government, administered by the New England Foundation for the Arts in cooperation with the U.S. Regional Arts Organizations. General management is provided by Lisa Booth Management, Inc.
Logo
Center Stage logo placement is encouraged. On web-based materials, please link from the Center Stage logo and/or written name to www.CenterStageUS.org.
Assets
High-resolution promotional photos (photographer credit is in the file name), and several versions of the Center Stage logo are available at this link.