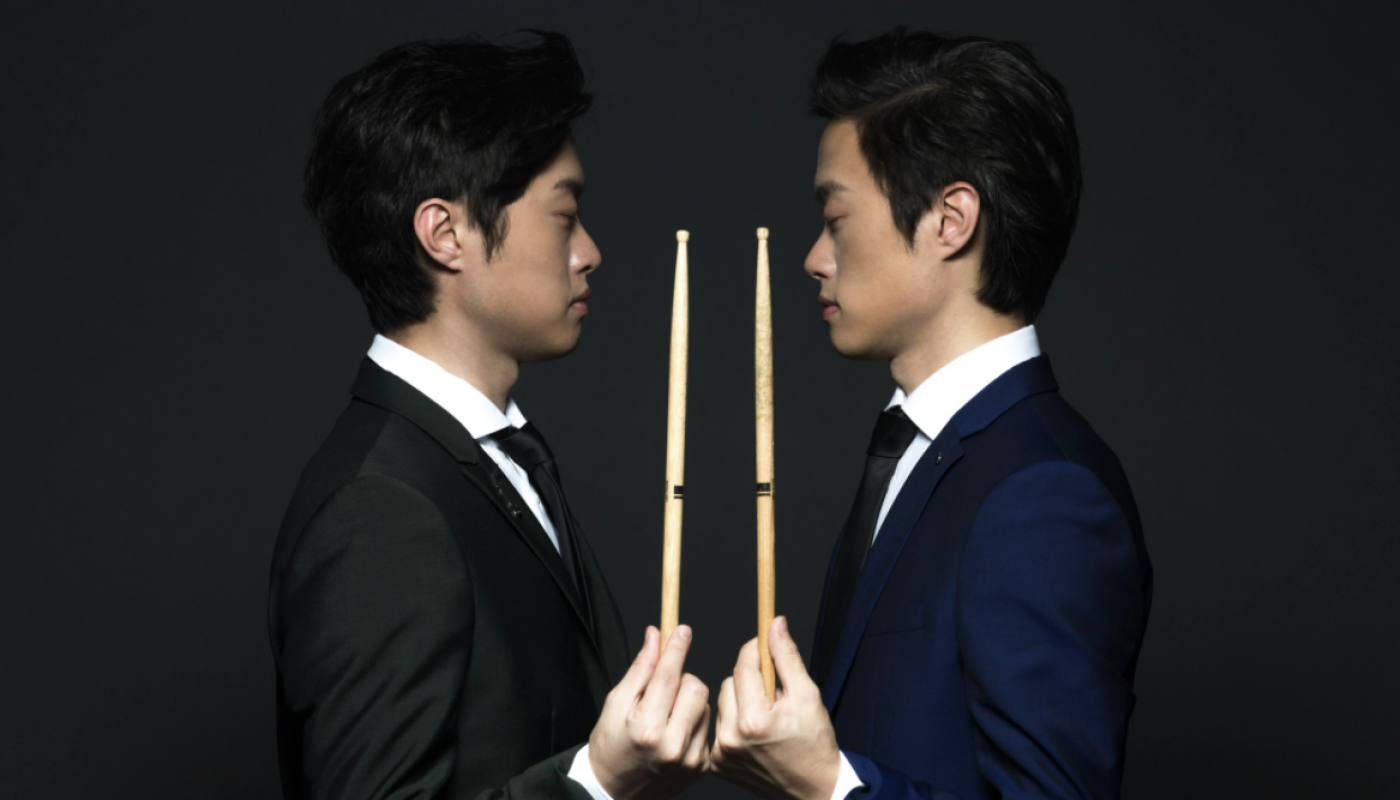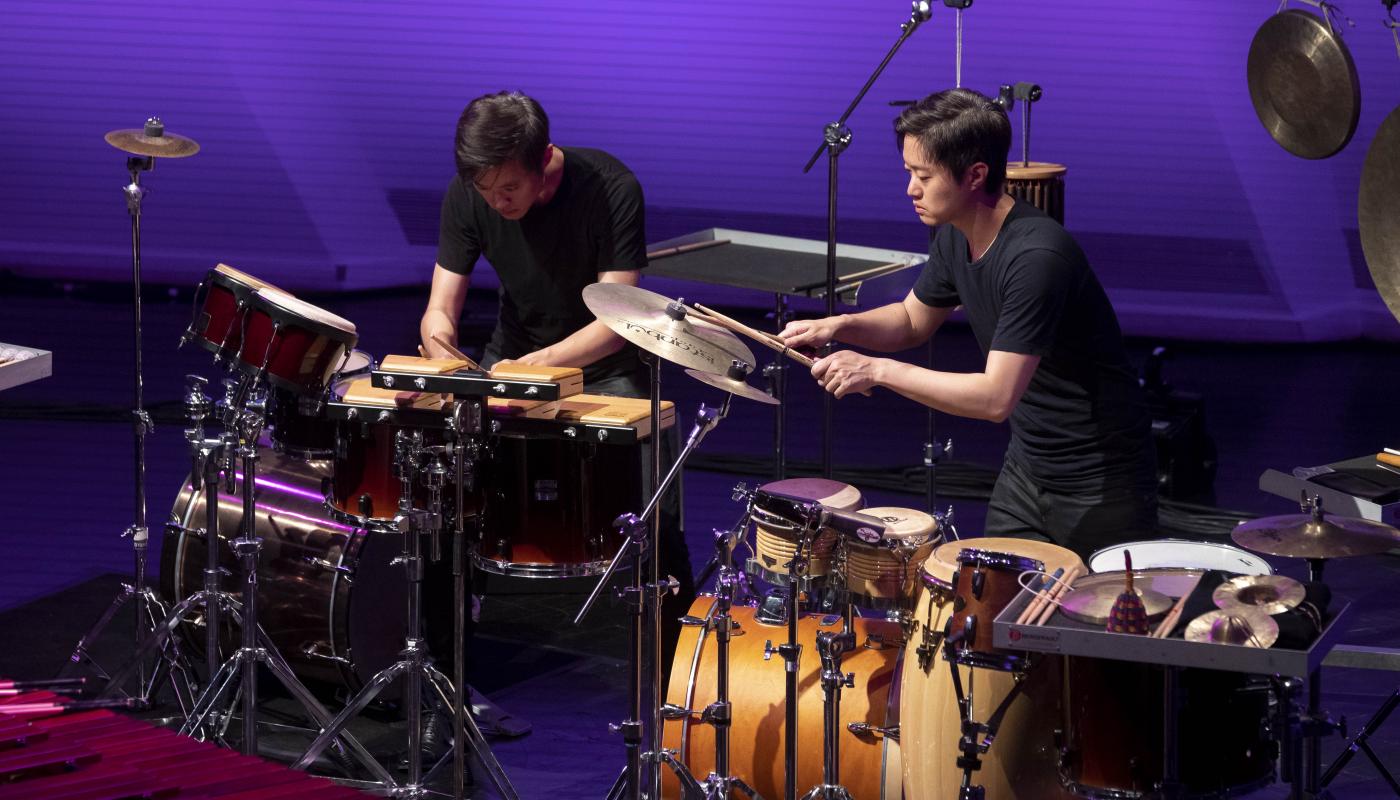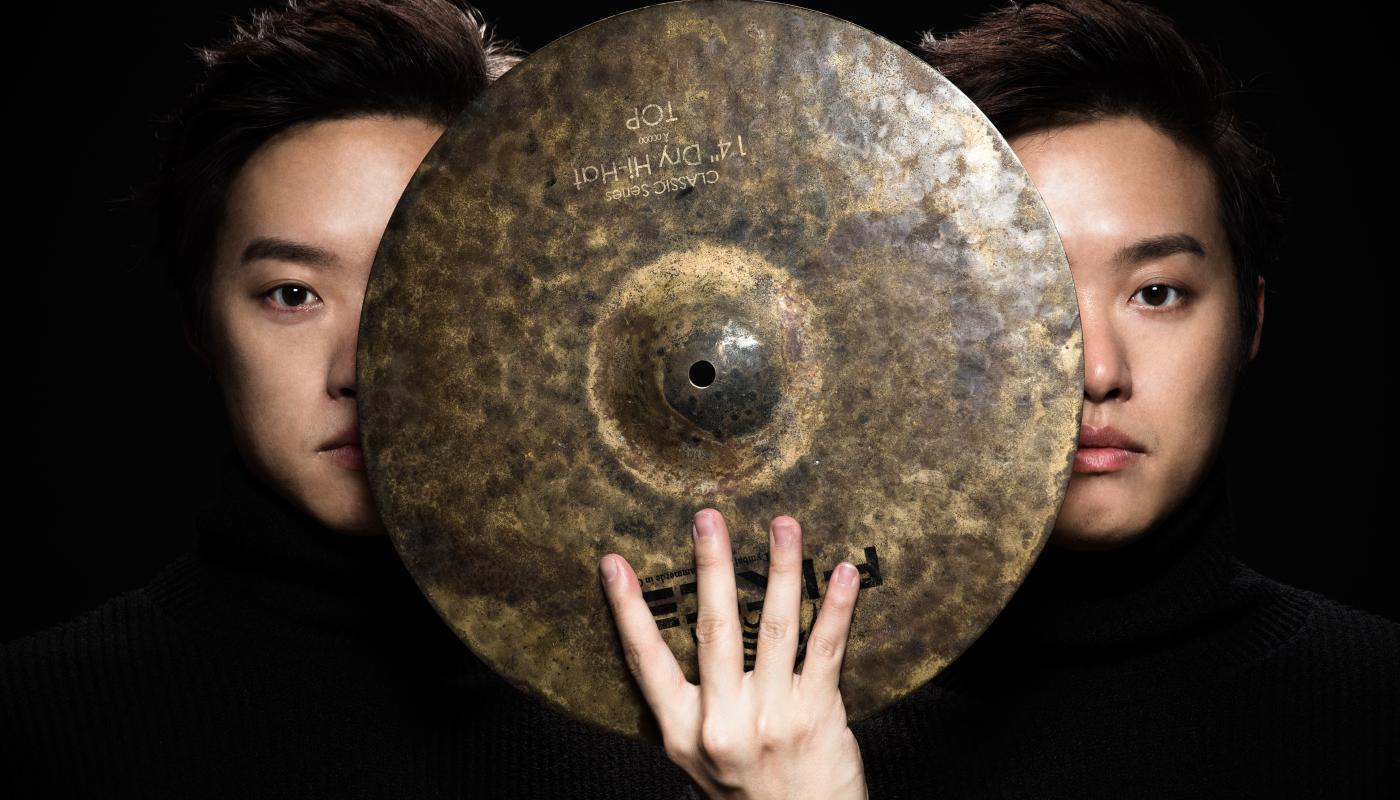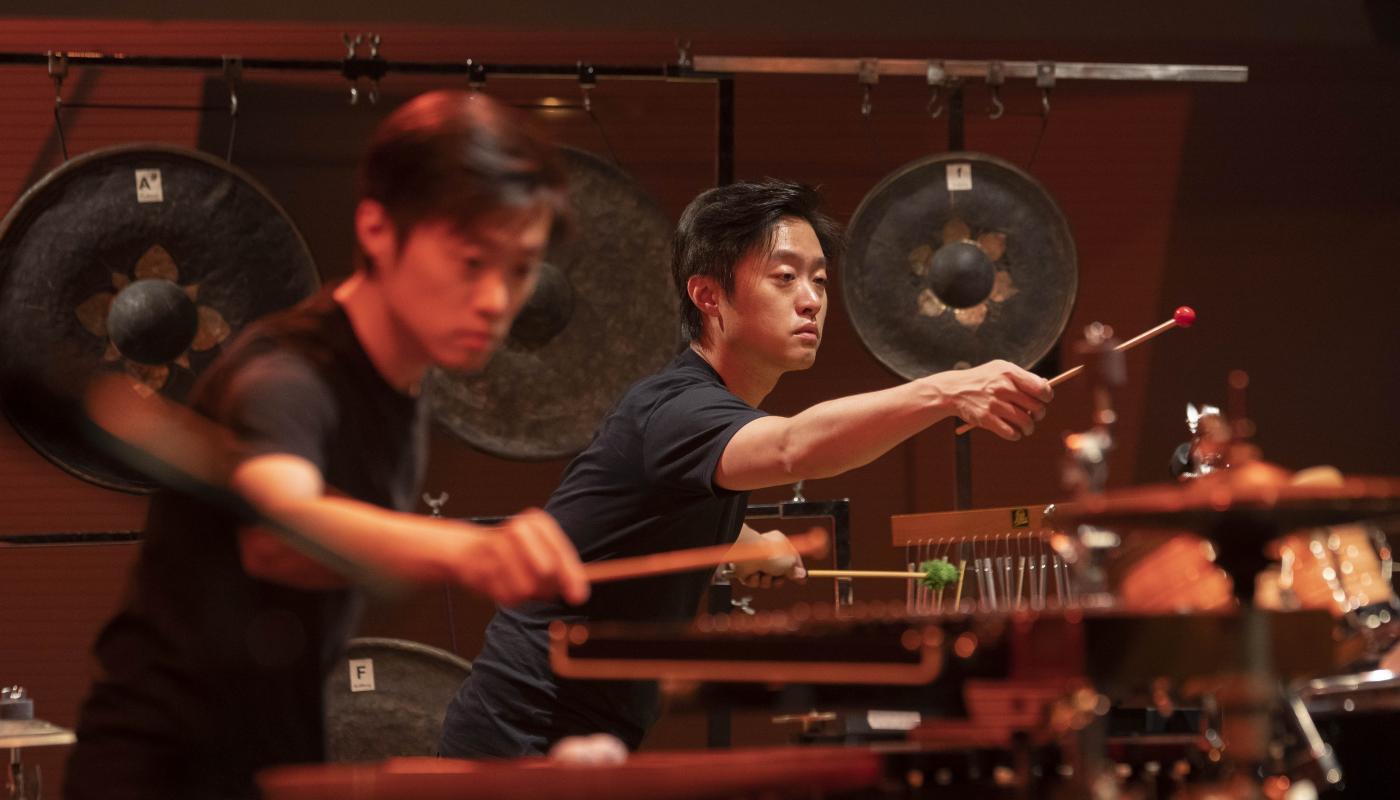 Twincussion
Taipei
Season 6: 2022-2023
February 2023
Hearing Double: Twincussion's Dynamic, Classically Infused Percussion Spans East and West
Charismatic rising stars Jen-Ting and Jen-Yu Chien, the twin brothers that make up this percussion dynamic duo, are engaged advocates for Taiwanese folk songs, perceptive arrangers of Western classical showpieces, and champions of contemporary composers. Their technically superb and accessible programs connect music from East Asia to the West and instruments from marimbas, toms, and windchimes to Chinese opera gongs and electronics. Their concerts, appearances and master classes are in growing demand on the international contemporary new music scene. Twincussion is supported by Yamaha Europe and Innovative Percussion in the U.S.
Performing together for 20 years – since age six – the duo made their international debut at the 2014 Southern California International Marimba Competition where they received the Grand Honorable Mention (second place). In 2016, they travelled to Europe and won first prize in the ensemble category at the International Percussion Competition in Italy.
In 2018, Twincussion won first prize in the New York Golden Classical Music Awards, Chamber Music Category, and made their NYC debut at Carnegie Hall's Weill Recital Hall; they presented a Showcase Concert at the Percussive Art Society International Convention in Indianapolis. In 2019 - 20, they performed in festivals and gave masterclass in the U.K., Japan, Taiwan, Spain, China, Denmark and Switzerland.
Jen-Ting and Jen-Yu both hold the Advanced Postgraduate (Soloist) Diploma in the Royal Danish Academy of Music. They are former members of the well-known Ju Percussion Group and the co-founders of Punch Percussion Group.
Mesmerizing!

classicfm.com
ON TOUR WITH CENTER STAGE
February 2023
TRAVELERS
5 on tour
Jen-Ting Chien, musician
Jen-Yu Chien, musician
Bo-Hao Huang, sound engineer
Valeska Lu, manager/production assistant
U.S. company manager
VENUES
Concert and Recital Halls, site specific venues; backline required; amplification may be required depending on the natural acoustics of the hall.
background
Double Charisma: Twincussion's Dynamic, Classically Infused Percussion Spans East and West
A Taiwanese duo of identical twin brothers, Twincussion pulses with charisma, dancing through complex, engaging percussion pieces with mallets and sticks flying in perfect synch. Whether playing a marimba arrangement of Orff or Handel, commissioning contemporary classical pieces for drums and electronics, or revealing facets of Taiwan's sometimes haunting, sometimes humorous, folk songs, Twincussion's Jen-yu and Jen-ting Chien welcome audiences in with musical eloquence and showmanship.
"We have a special sense of one another and it's magical, when we play on stage," explains Jen-ting. Yet their similar looks and "twinstincts" belie two distinct and highly skilled artists, each with their own perspective and strengths. "We see from the audience's faces that they are curious about the two identical people, but we're more than that. We're not just twins in the end; we're both artists with different stories to tell."
U.S. Tour in 2022-2023 with Center Stage Season 6
Winners of notable international percussion competitions and awards, Twincussion are coming to tell their stories in the U.S. in 2022-2023 as part of Center Stage, the cultural exchange program that has connected performing artists from abroad with American communities since 2012. Five other music and dance ensembles from Argentina, Armenia, and Taiwan will also make independent tours with the program, promoting global ties and engaging with audiences on stage, off stage, and online. Center Stage is produced through a public-private partnership between the U.S. Department of State's Bureau of Educational and Cultural Affairs and the New England Foundation for the Arts.
From Cacophony to Composition
The Chien brothers grew up in a small city in northern Taiwan, Yilan. Their father owned a metal factory, and their lives were filled with the patter of rain on roofs — it rains 200 days a year in Yilan — and the constant, intriguing clanging, banging, and clatter of metal being worked next door. (They commissioned a piece based on these early sonic experiences, "The Pulse of Yi-Lan.") Jen-yu and Jen-ting were double trouble as children, and their mischievous obsession led to their future careers.
"When we were little, we liked to make sounds by pounding on the sofa or breaking Mom's favorite vase. Our parents found a place where we could make all the sounds we wanted and sent us to a percussion ensemble class. This saved their furniture," Jen-yu laughs. "We started to play percussion just for fun and discovered there were a lot of different sounds out there! All kinds of sounds attracted us."
The attraction only grew with time. The brothers completed music degrees in Taiwan and then decided to go abroad at the Royal Danish Academy of Music, in pursuit of their dream of becoming the one of the world's finest percussion duos. There, they met legendary percussionist Morten Friis from Safri Duo who encouraged them to explore their own work.
They embraced the duo format, using their twin connection as a superpower. These back-and-forth conversations began to reveal novel sides of Western classical repertoire, be it a Chopin Fantasie or a selection from The Well-Tempered Clavier, and illuminate wide-ranging melodic and rhythmic structures of challenging new pieces.
Friis also encouraged them to find their own style and sound, one linked to their homeland. "When we first toured outside of Taiwan for the first time as a duo," – the brothers have performed around Europe and at several percussion events in the U.S. – "we transcribed a Taiwanese folk song. It got great feedback," recounts Jen-yu.
Celebrating Taiwanese Identity and Idioms
The brothers kept playing and perfecting Western classical percussion repertoire but incorporated more and more works that reflected their origins, the traditions of Taiwan and its unique soundscapes. They arranged or had composer friends arrange Taiwanese folk songs for marimbas and drums. "Every time after the concert, the audience remembered the Taiwanese melody," Jen-ting notes. "We were confident we needed to keep this and let the audience feel that Taiwanese vibe."
The songs they chose highlight folk images and stories passed down in Taiwan's songs, while foregrounding the duo's deep, nuanced sense for performance and arrangement. "Cloudy Sky" chronicles a knockdown, drag-out argument between an older couple about what to cook via a remarkably jaunty melody and a dynamic, fugue-like arrangement for two marimbas by composer Yi-Chih Lu. Played on a single, shared marimba "Grasshopper Playing Tricks on a Rooster" is an animal fable suggesting how to avoid the attentions of an unwanted suitor. Musically, it moves from a tight filigree of notes to a looser, freewheeling cascade of melody.
"Most of these Taiwanese folk songs tell a story and reflect rural life, how hard it was, but they always have some humor," explains Jen-yu "We play a folk song and people relate to it, no matter where we are. We are all humans, after all; we fight and we have happiness together. This music can help people realize how similar we are. We tell them the story and express this idea through the music."
The relatable human stories in the music serve Twincussion's vision of putting Taiwanese music on more audience's maps. "On stage and in the master classes we give, we want to inspire people with our twin identity and our music. If we can have people leave and remember that we're from Taiwan, if they learned something about Taiwan, then we have succeeded as artists," Jen-yu reflects. "We are the ambassadors of our culture. We don't represent everything, but we can help open their awareness to all the cultural richness of our island."
press
technical information
View and download production information as of August 2021 at the link below. A Technical Rider with these general conditions will be created for all Center Stage engagements.
Downloadable photos, billing & credits
Minimum Billing
Twincussion
On tour as part of Center Stage
www.CenterStageUS.org
Credit Line
The following credit is required on the title page in all printed performance programs. We appreciate its use wherever else it's practical: brochures, posters, ensemble-only promotional materials, press releases, advertisements, etc:
Twincussion is part of Center Stage, a public diplomacy initiative of the U.S. Department of State's Bureau of Educational and Cultural Affairs with funding provided by the U.S. Government, administered by the New England Foundation for the Arts in cooperation with the U.S. Regional Arts Organizations. General management is provided by Lisa Booth Management, Inc.
Logo
Center Stage logo placement is encouraged. On web-based materials, please link from the Center Stage logo and/or written name to www.centerstageUS.org.
Assets
High-resolution promotional photos (photographer credit is in the file name), and several versions of the Center Stage logo are available at this link.