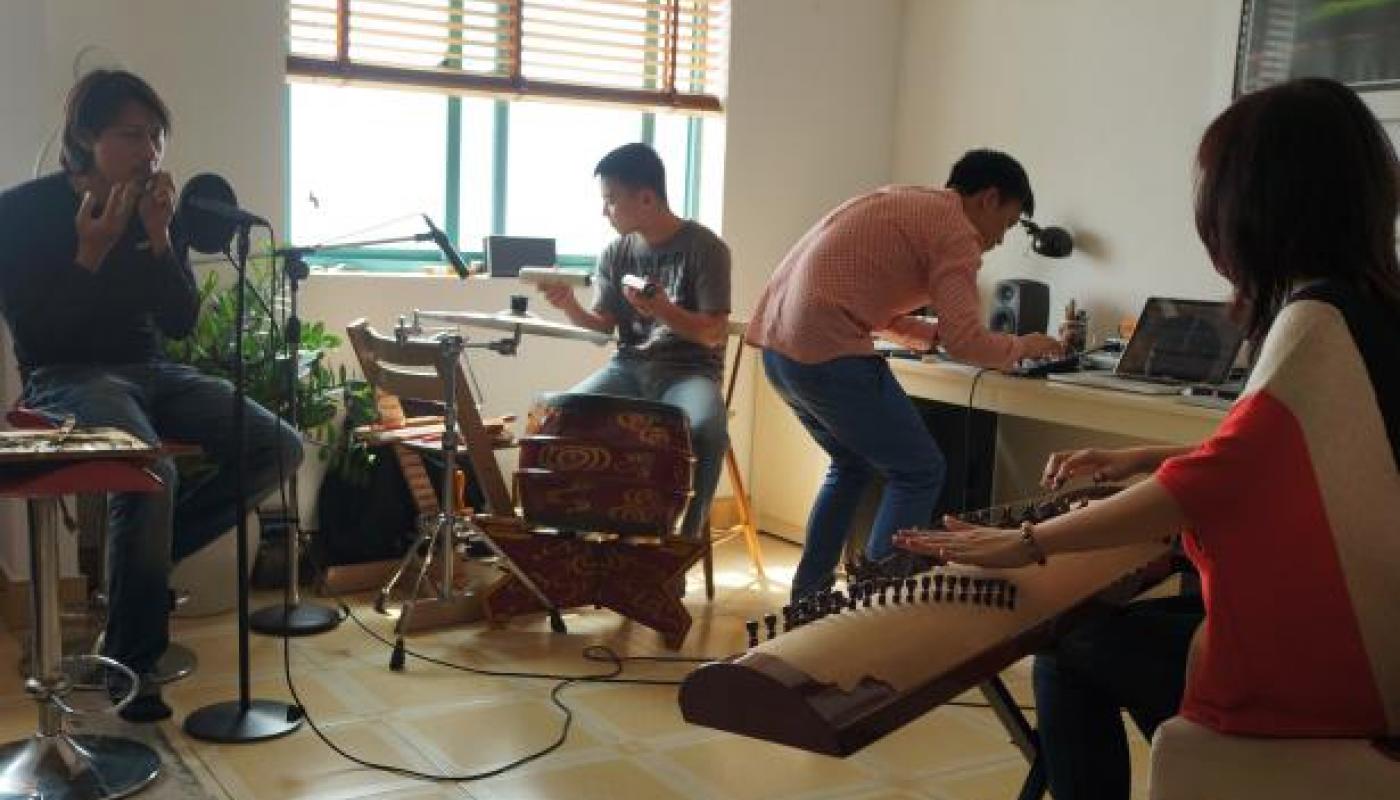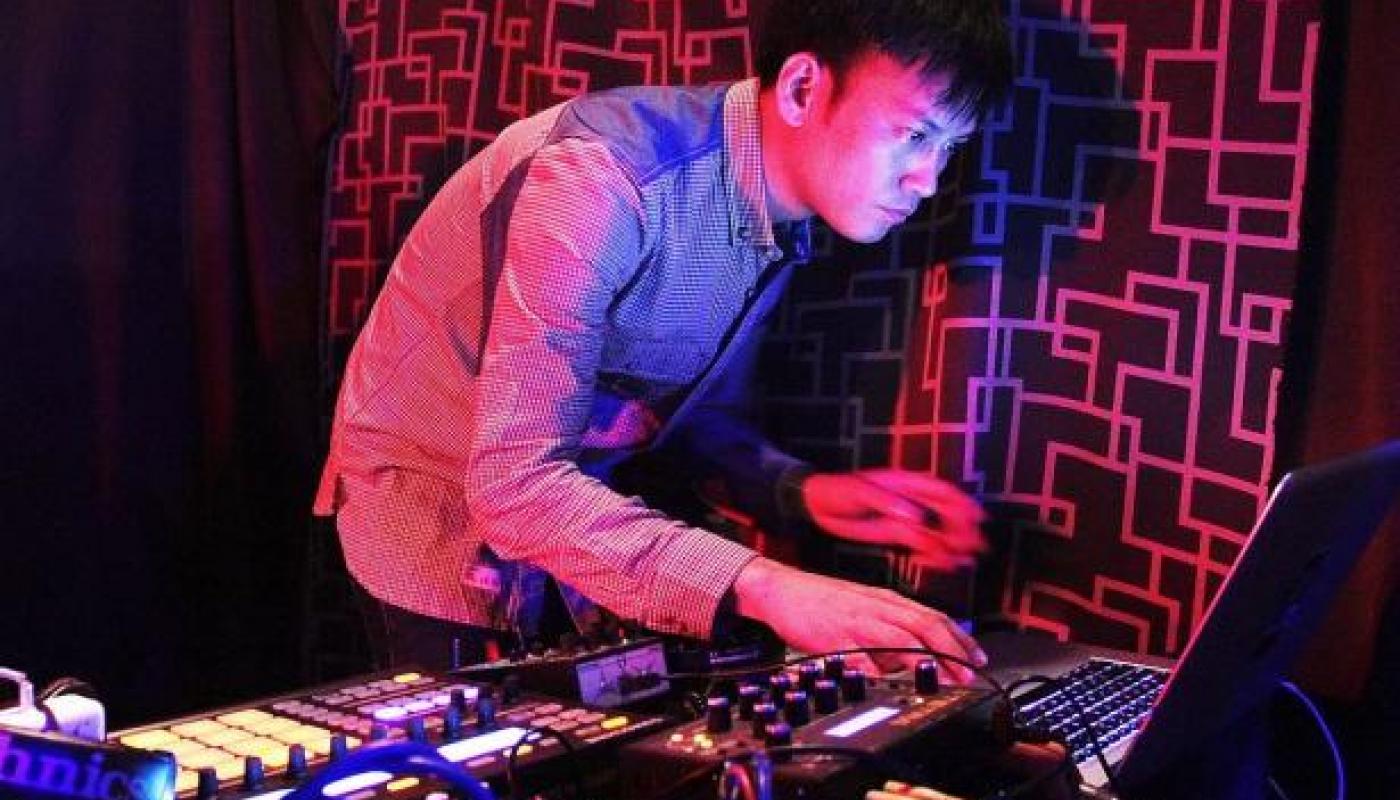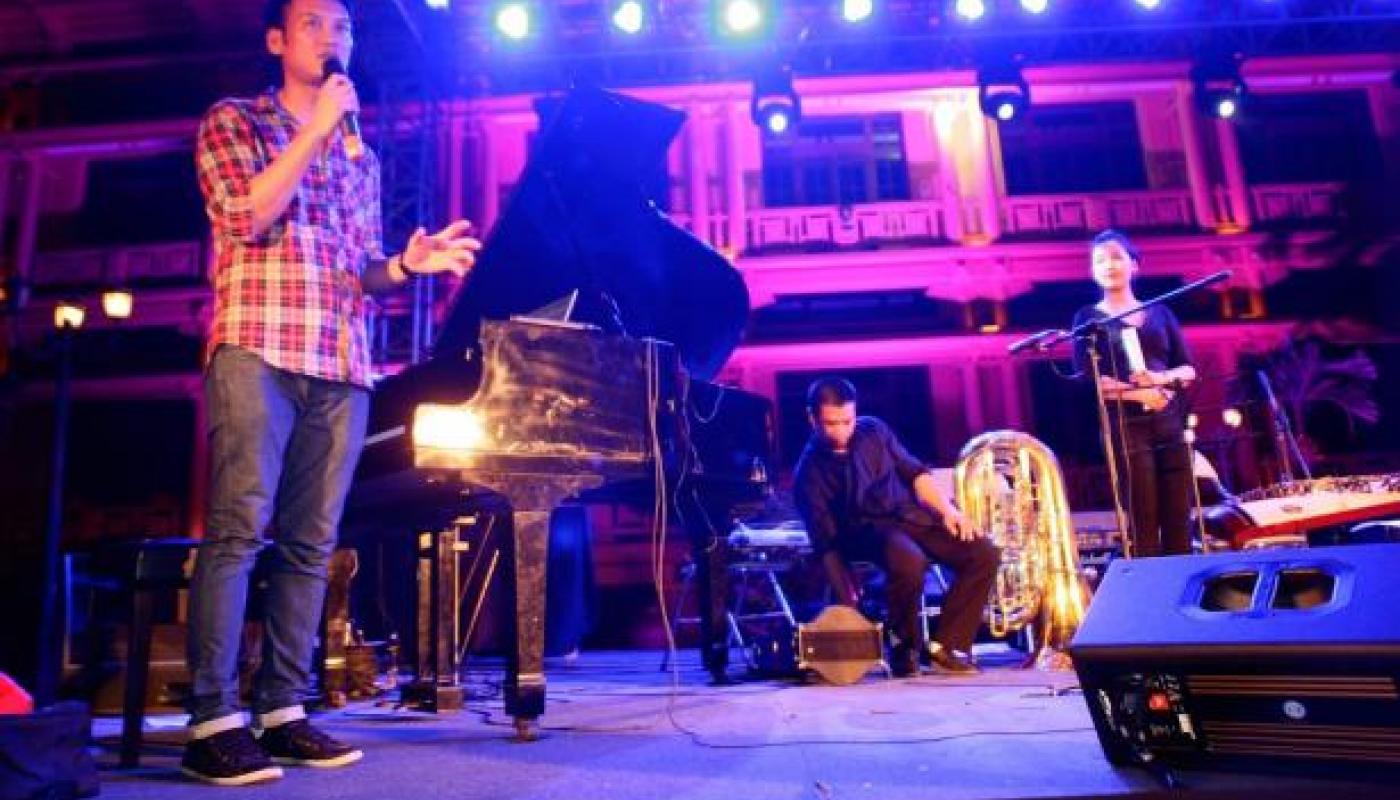 Tri Minh's Quartet
Hanoi
Season 2: 2014
 Avant sounds of electronica, acoustic instruments, and Vietnamese motifs
Sophisticated, versatile and lithe, Tri Minh's Quartet binds electronica, acoustic instruments, and traditional motifs in a program of collaborative and improvised works. Sounds From Hanoi opens a window onto one of the world's unsung contemporary music scenes. "Like other trailblazers of his generation, Minh is using his creativity, connections and education to forge an artistic identity that is unmistakably global – yet uniquely Vietnamese – in the ever-widening spaces of Vietnam's ongoing liberalization."  (Vietnam Investment Review: Timeout)
u.s. debut with center stage
Tour Overview
Washington, DC - September 20-23
Tri Minh's Quartet starts off their Center Stage tour in Washington, DC with a State Department orientation and video interview.
Their U.S. Debut is on the Kennedy Center Millennium Stage on September 23rd -- information here.
Burlington, VT - September 25-28
During a 3 day residency hosted by the Flynn Center for the Performing Arts, Tri Minh's Quartet will host a master class for local musicians and meet with members of the community.
They will perform at FlynnSpace on September 28th -- information here.
New York City, NY - September 30-October 4
The band's five days in NYC includes a residency at Asia Society which will include an artist discussion/reception on October 1, video-taped interview, and a performance on October 2 with special guest Van-Anh Vo (information here). Artist to artist exchanges and meetings with cultural leaders are also planned. 
Lewisburg, PA - October 5-8
Tri Minh's Quartet will be hosted by Bucknell University for a residency that includes interactions with students & faculty in the music, history, and science departments.
They will perform on October 8th at the Weis Center for the Performing Arts -- information here.
Seattle, WA - October 10-12
Earshot Jazz folds a three day residency into its annual festival. Tri Minh will be one of several pianists who will each play one of Thelonious Monk's short piano pieces on Oct 11; the full quartet will present a concert on October 12 at the intimate 170-seat Poncho Concert Hall at Cornish College of the Arts. 8pm.
San Diego, CA - October 13-15
Tri Minh's Quartet ends their Center Stage tour with a residency hosted by ArtPower! at UC San Diego. They perform on October 15 -- information here.
about tri minh's quartet
Trí Minh's Quartet: Open-Ended Soundscapes of Contemporary Hanoi
The twang of the zither against the overtone-laden bamboo mouth harp, hinting at tradition one moment, and the analog experiments of midcentury electronic music the next. Sweet jazz piano and hand drums, juxtaposing electronic and organic. These are the sounds of Hanoi, where open-ended experimentation is coming into its own in Vietnam's capital city.
At the hub of this scene, contemporary sound artist Trí Minh, the Hanoi Conservatory-trained composer, jazz pianist, and all-around musical instigator, has created his own platform for creative work at home and abroad.  As founder of the Hanoi Sound Stuff Festival, Trí Minh has worked with musicians from highly diverse backgrounds, collaborated with internationally respected DJs and electronic musicians like Robert Henke, Robin Scanner, and Dickson Dee, and played sets around the world.
In a program titled Sounds from Hanoi, Trí Minh's Quartet uses improvisation—a vital, though differently expressed component of both Vietnamese traditional forms and jazz – to create a dialogue between instruments in ways that echo Hanoi's experimental side, a side Trí Minh and his friends connect with the growing voice of civil society in Vietnam.
The Trí Minh Quartet will bring the sounds of contemporary Hanoi to American audiences during its debut U.S. tour in 2014 as part of Center StageSM.  All accomplished performers and improvisers in their own rights, quartet members also include Phạm Trà My, a widely recognized master of the nimble 16-string đàn tranh, a zither with moveable bridges resembling the Japanese koto, as well as a lecturer at the Vietnam National Academy of Music and member of the Vietnam Traditional Orchestra; mouth harp whiz Đức Minh, an expert at fusing Vietnamese minority traditions and electronic sounds, and the disciple of one of Vietnam's most revered masters of the instrument; and percussionist Hà Đình Huy, mastering the power and subtlety of Vietnam's diverse hand drums.
Center Stage is an exchange program of the U.S. Department of State's Bureau of Educational and Cultural Affairs. Exchange programs initiated by the Bureau support U.S. foreign policy goals and engage youth, students, educators, artists, athletes, and rising leaders in the U.S. and more than 160 countries. Center Stage uses the performing arts to support cultural understanding between American and international communities; participating artists experience the U.S. first hand and cultivate lasting relationships.
Trí Minh knows his work has a history. "It all started before I was born," recounts Trí Minh. His parents, both officers in the North Vietnamese Army during the war, wrote and performed songs to keep up morale. As he came into his own as a young man, Trí Minh did what generations of Vietnamese sons and daughters have done: He followed in his parents' professional footsteps. He became a musician, as did his pop singer sister.
His formal training in piano performance and composition at the Hanoi Conservatory of Music, modeled on the Russian classical system, gave him a powerful technical background and challenging but set repertoire. It wasn't quite enough for the restless, curious musician, who was caught up in the winds of change that blew from Eastern Europe. "The changes brought new music to us," Trí Minh recalls. "There was German pop music like Modern Talking, electronic stuff like Kraftwerk and Depeche Mode, and jazz, lots of jazz. It was exciting for us young people."
Trí Minh began exploring electronic music, sometimes playing with the fringes of noise and experimental improvisation, sometimes keeping to pop-friendly formats. Yet eventually, he came to appreciate Vietnam's wealth of instruments—from potent drums to nuanced bowed and plucked string instruments—and heard a new vista of potential sounds and ideas. It was a journey of self-discovery, one that speaks of the way young Vietnamese artists are embracing both outside influences and their own heritage.
"For me, playing with traditional instruments, with my culture, is a journey to understand my roots more," muses Trí Minh. "When you understand them, you understand more about yourself and how you can develop in the future. When you're young, you can forget who you are. But as I grew, I knew I needed to understand my culture, and then I can do anything."
Anything includes founding an adventuresome music festival in Hanoi, experimenting with down tempo and minimal techno as a producer, and incorporating both traditional sounds and found sound from around his home city into his pieces. Though he's played gigs all across Europe and Asia, he found he was also in good company in the small but varied music scene in Hanoi. "I'm in the new music and avant-garde field, and we all hang out together," says Trí Minh. 'Then there's a pop community and a traditional community, and then there's a gray zone, where we all exchange ideas. I want to make people understand what I'm doing, rather than going to extremes."
"It takes time to get traditional and more experimental musicians to talk to one another," Trí Minh notes. "A traditional player isn't trained to be different, to do things differently. It's been a process of changing the whole culture. We hang out and play weird or melodic, nice music together, and try to create a dialogue," where every artistic voice gets its space, its moment to articulate its perspective.
In fact, Trí Minh very consciously envisions this project as a reflection of his changing homeland in miniature, where new and old sit side by side and converse. "I want to bring the new Vietnamese culture to places like the United States, so that audiences know we are an evolving country," states Trí Minh. "We may still be poor, but we're moving forward. This project shows how we live together: it's chaotic but still in harmony."
Trí Minh's Quartet
Trí Minh, piano, and electronics
Phạm Trà My, đàn tranh (16 string zither)
Đức Minh, mouth harp
Hà Đình Huy, drums and percussion
Center Stage will bring seven ensembles from Morocco, Pakistan and Vietnam to the U.S. for month-long tours from June-December 2014, connecting artists with diverse communities across the country. Residencies will include performances, workshops, discussions, people-to-people exchanges, and community gatherings. Keep up with Center Stage on Facebook and on Twitter and at www.centerstageUS.org.
Center Stage is a public diplomacy initiative of the U.S. Department of State's Bureau of Educational and Cultural Affairs. It is administered by the New England Foundation for the Arts in cooperation with the U.S. Regional Arts Organizations, and supported by the Asian Cultural Council. General management for Center Stage is provided by Lisa Booth Management, Inc.
press links
audio clips
billing and crediting information
Tri Minh's Quartet
Sounds from Hanoi
On tour as part of Center Stage
The following credit is required on the title page in all printed performance programs. We appreciate its use wherever else it's practical: brochure, posters, ensemble-only promotional materials, press releases, advertisements, etc:
The presentation of [name of ensemble] is part of Center Stage, an initiative of the U.S. Department of State's Bureau of Educational and Cultural Affairs, produced by the New England Foundation for the Arts in cooperation with the U.S. Regional Arts Organizations, with additional support from the Robert Sterling Clark Foundation and the Asian Cultural Council. General Management for Center Stage is provided by Lisa Booth Management, Inc.

Center Stage logo placement is greatly appreciated. On web-based materials, please link from the Center Stage logo or written name to www.centerstageus.org.
Download a zipped folder of color and black and white versions of the logo here.
PROMO INFO
Ron Kadish at Rock Paper Scissors is the press rep for Center Stage. 
Contact: ron@rockpaperscissors.biz Tel: 812.339.1195
Tri Minh's Quartet's Online Press Kit, photos, and downloadable MP3s are accessible on the rps site: triminh.rockpaperscissors.biz/
Blurb:
Sophisticated, versatile and lithe, Tri Minh's Quartet binds electronica, acoustic instruments, and traditional motifs in a program of collaborative and improvised works. Sounds from Hanoi opens a window onto one of the world's unsung contemporary music scenes. "like other trailblazers of his generation, Minh is using his creativity, connections and education to forge an artistic identity that is unmistakably global - yet uniquely Vietnamese - in the ever-widening spaces of Vietnam's ongoing liberalization." (Vietnamese Investment Review: Timeout)
Facebook: www.facebook.com/Soundsfromhanoi
Twitter: www.twitter.com/triminh05
Audio
Lightness and Noise Teaser: www.soundcloud.com/triminh05/lightmess-noise-teaser
Ambients with Ca Tru: www.soundcloud.com/triminh05/ambients-with-ca-tr-test
Press Links
Hanoi Grapvine: www.hanoigrapevine.com/2013/06/kvt-tri-minh-magic-at-manzi/#.U0hH8_ldU1J