Tanzania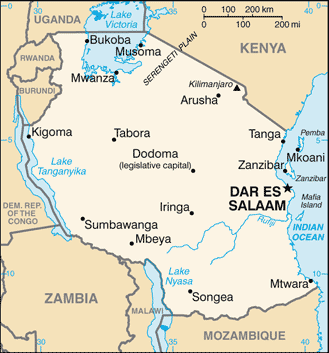 Map courtesy of travel.state.gov
Tanzania, officially the United Republic of Tanzania, is a country in East Africa situated within the Africa Great Lakes region. Kilimanjaro, Africa's highest mountain, is in northeastern Tanzania. Serengeti game park (and other reserves) are among the continent's foremost tourist destinations. With a highly diverse population of around 45 million, there are over 100 different languages spoken in Tanzania, making it the most linguistically diverse in East Africa; English and Swahili are the two most commonly spoken languages and are also the nation's two official languages.
Zanzibar is a semi-autonomous part of Tanzania. It is composed of the Zanzibar Archipelago in the Indian Ocean, 15 to 30 miles off the coast of the mainland, and consists of many small islands and two large ones: Unguja (the main island, referred to informally as Zanzibar) and Pemba. The city of Stone Town has been named a UNESCO World Heritage site.
News & Culture
The East African - An insightful source of regional news, politics, business, finance, science and technology
The Trans-African - A publication initiative of Invisible Borders Trans-African Organization featuring guest articles
art
Music in Africa -  an information and exchange web portal dedicated to the African music sector. 
GOVERNMENT