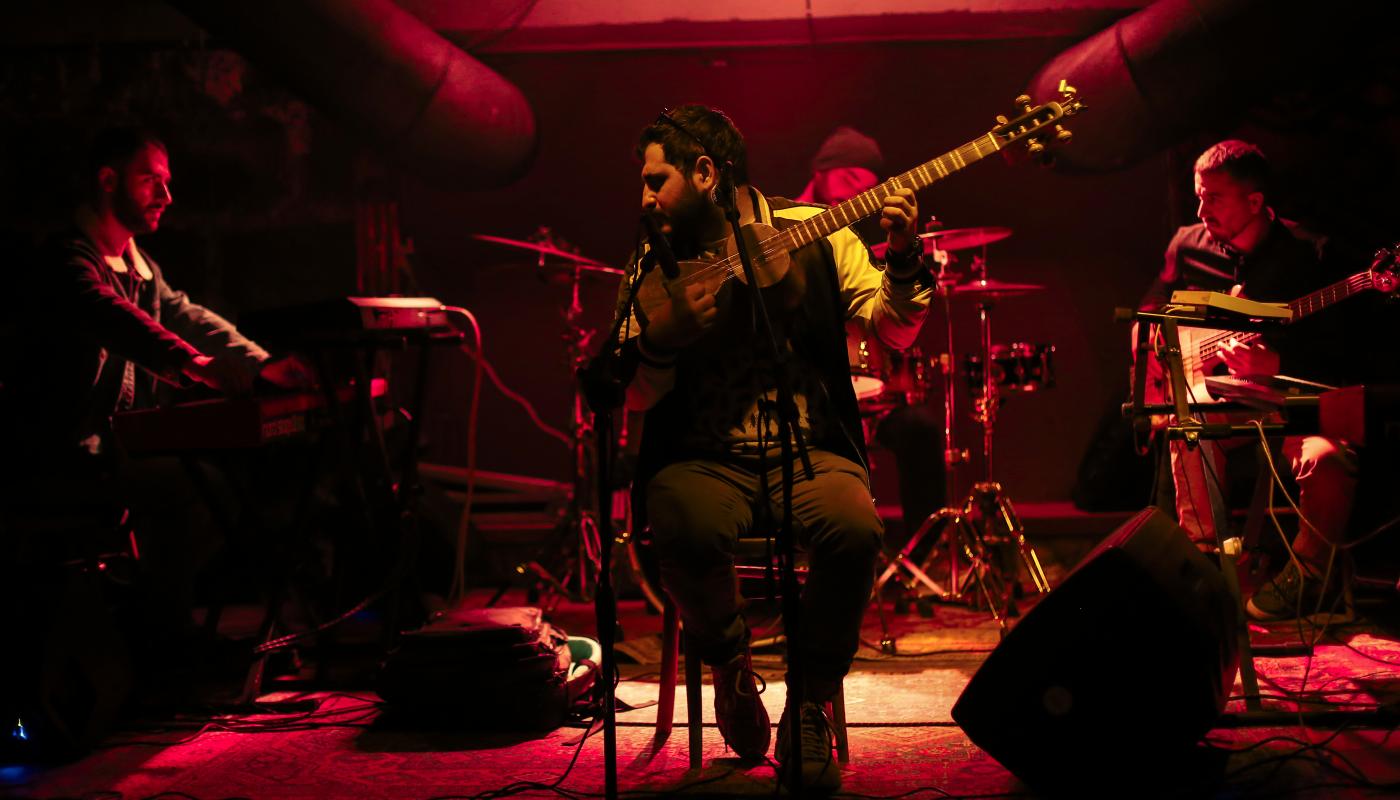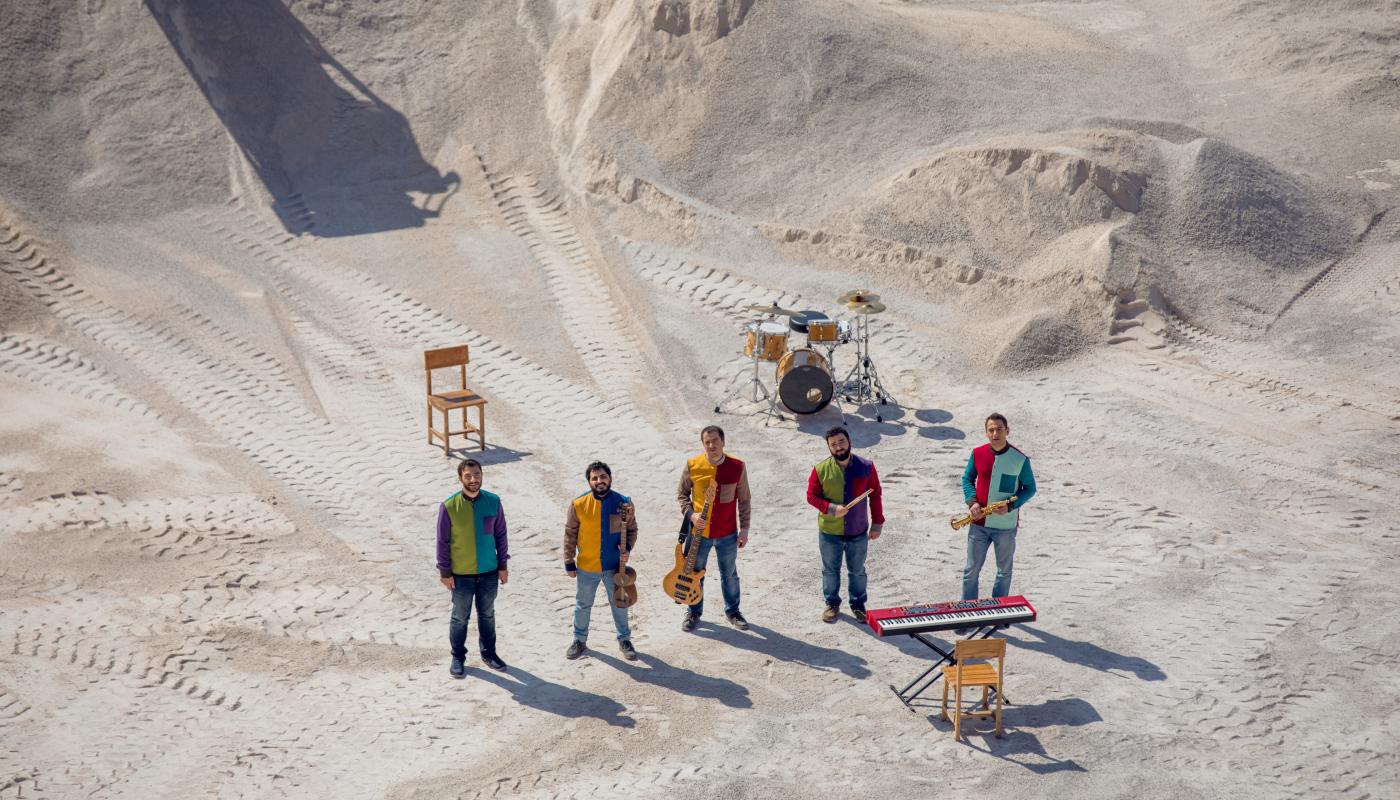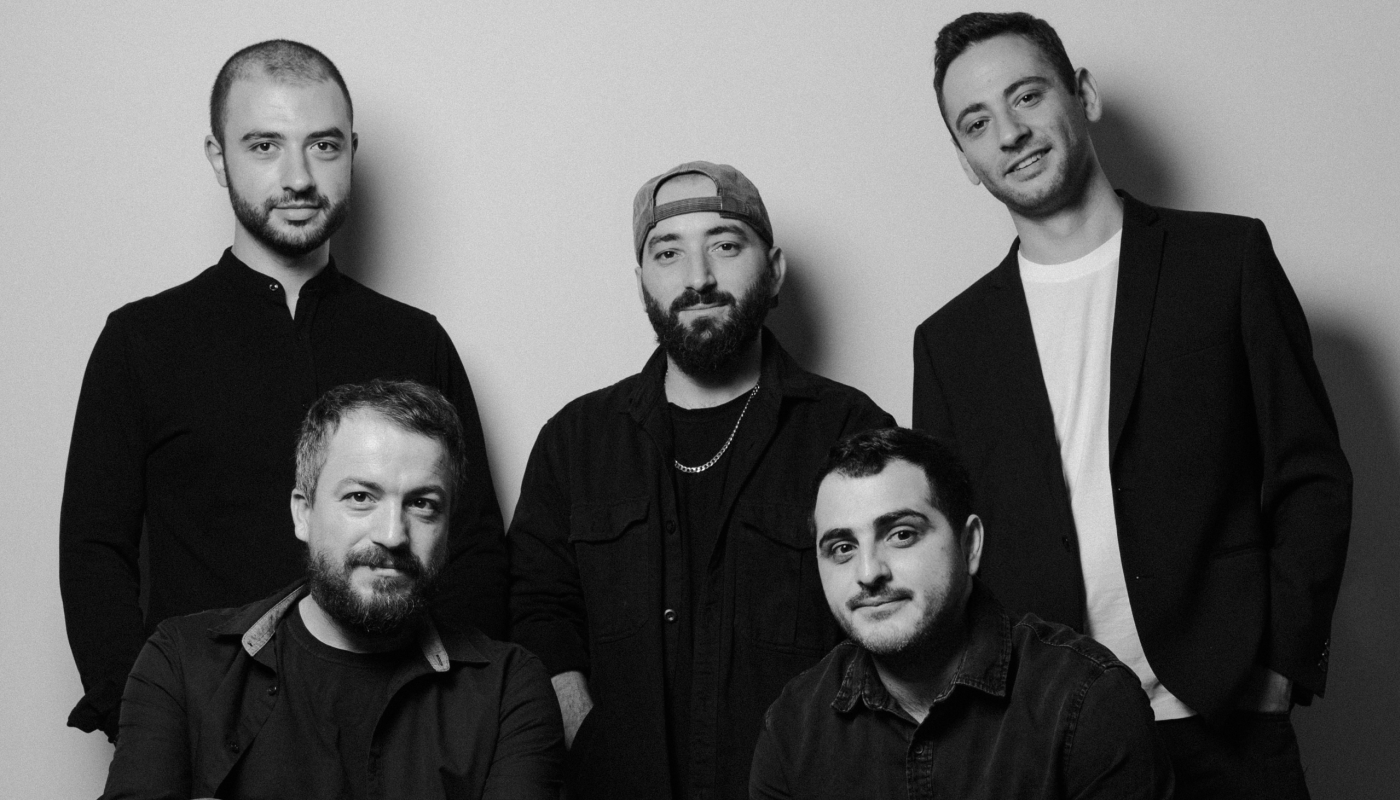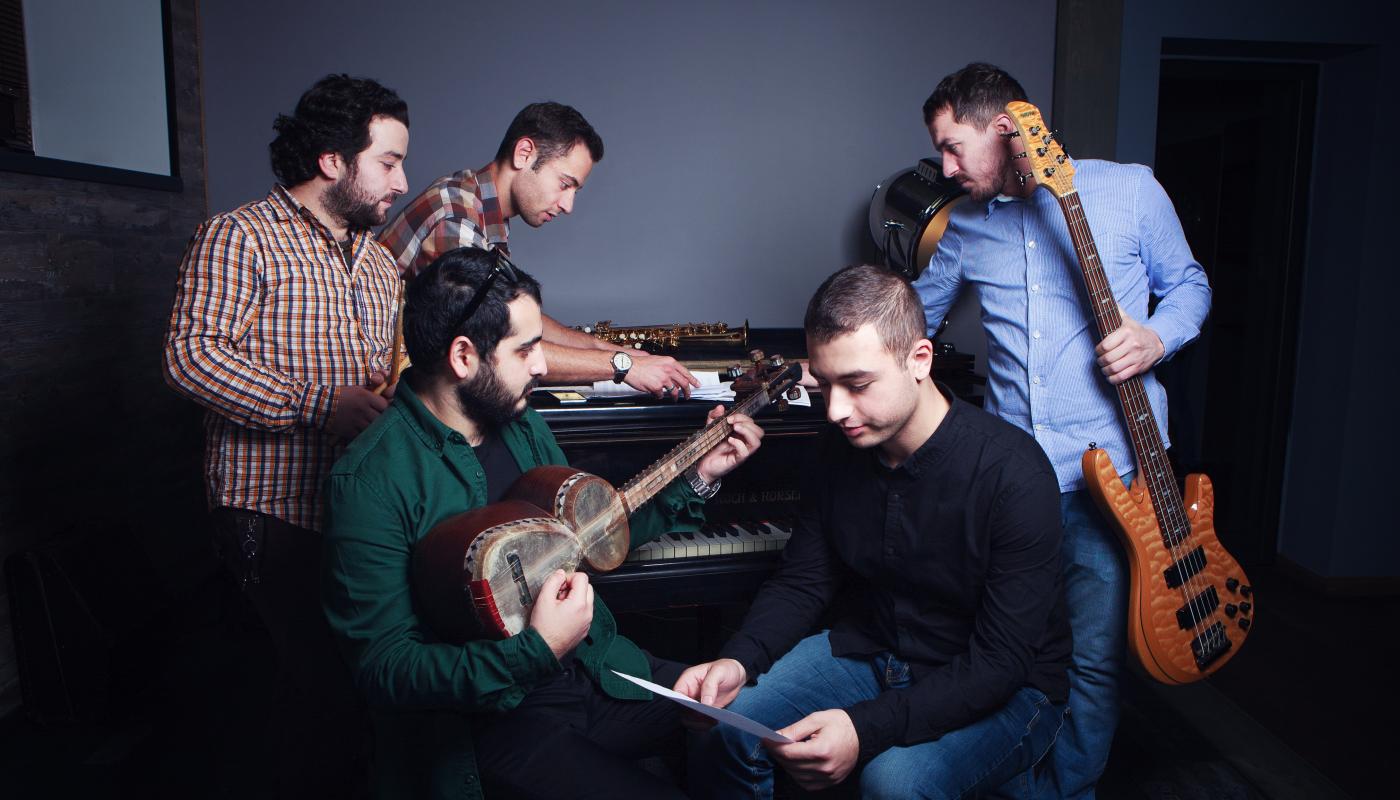 MVF Band
Yerevan
Season 6: 2022-2023
February-March 2023
Opening idiomatic portals, MVF Band harnesses Yerevan's jazz and contemporary scenes to reimagine Armenia's Age-old sounds.
"We've woven together jazz ideas of improvisation, harmonic complexity, and ensemble fluidity with the musical tensions, melodies, and perspectives that distinguish Armenian folk music. We're music makers in a modern world, creating original compositions that are a new Armenian sound." – Miqayel Viskanyan
Centering the 11-string long-necked tar, Miqayel Voskanyan's quintet draws on polyphonic roots, global rhythms, funk, and jazz's tight grooves and improvisational play. Add to this Voskanyan's expressive singing voice and you'll find this dynamic, and ultimately uncategorizable work, at home in clubs, concert halls, and folk festivals.
Known for intertwining ancient folk idioms with progressive arrangements and original compositions, MVF Band challenges conventional thinking about the cross-pollination of Eastern and Western sounds and genres.
Dynamic, Exhilarating, Haunting New Armenian Sounds

New York Music Daily
Miqayel Voskanyan - Tar and Vocal
Davit Melkonyan - Alto/Soprano Saxophones
Arman Peshtmaljyan - Keyboards
Gurgen Ghazaryan - Bass
Movses Ghazaryan - Drums
on tour with center stage
Available February-March 2023
Travelers
8 on tour (5 musicians, band and communications managers, U.S. company manager)
Venues
Indoors or out: clubs, theaters, concert halls, and festival stages. Excellent sound system and some backline required.
background
Opening Idiomatic Portals: MVF Band Harnesses Yerevan's Jazz and Contemporary Scenes to Reimagine Armenia's Age-Old Sounds
Carved from a single block of mulberry wood, the long-necked tar has been the faithful companion of generations of Armenian bards. It's found a new life as a front-and-center jazz voice, thanks to the innovators of MVF Band (short for Miqayel Voskanyan and Friends). Sometimes sharp and percussive as a banjo, sometimes subtle and soft-spoken, in the capable hands of band leader and singer Miqayel Voskanyan, the tar speaks powerfully of contemporary life's struggles and joys.
"We want to show that there is a genre, Armenian jazz," reflects Voskanyan. "We've woven together jazz ideas of improvisation, harmonic complexity, and ensemble fluidity with the musical tensions, melodies, and perspectives that distinguish our folk music. We're music makers in a modern world, creating original compositions that are a new Armenian sound."
Set as a standard jazz quartet of sax, keys, bass, and drums — plus the tar, MVF Band has spent the last decade together exploring new directions in Armenian music and perfecting their on-stage connection, one band members jokingly compare to telepathy. Moving across genres, they have played major jazz festivals around Eastern Europe and Central Asia, represented Armenia at music industry events like MIDEM in France, and performed at the Smithsonian Folklife Festival and the Ford Theatre (Hollywood, CA).
U.S. Tour in 2022-2023 with Center Stage Season 6
MVF Band will return to the U.S. in 2022-2023 as part of Center Stage, the cultural exchange program that has connected performing artists from abroad with American communities since 2012. Five other music and dance ensembles from Argentina, Armenia, and Taiwan will also make independent tours with the program, promoting global ties and engaging with audiences on stage, off stage, and online. Center Stage is produced through a public-private partnership between the U.S. Department of State's Bureau of Educational and Cultural Affairs and the New England Foundation for the Arts.
Origins
Voskanyan grew up steeped in Armenia's older sounds. As a young boy at music school, Voskanyan was fascinated by the bowed kamancha (spike fiddle), which, like the tar, is a traditional instrument played frequently in Armenia that has versions and cousins across the Caucasus and Persia. He desperately wanted to learn to play it — until he heard the tar: "When I went to music school, I accidentally heard the sound of the tar and had to find out what it was," recalls Voskanyan. "I decided to play that instrument. I fell in love with the sound of the tar."
After mastering the traditional repertoire, the thousands of years of secular and sacred songs, Voskanyan wanted to push his beloved instrument further. Voskanyan loved jazz, from Miles Davis and Chick Correa to Richard Bona and Bela Fleck, and how its improvisatory approaches resonated with Armenian traditional technique. He became an active part of the lively jazz scene in Yerevan, Armenia's capital, and largest city, with its clubs, jam sessions, and festivals. He wanted to disprove that the tar was just for "old stuff."
He crossed paths with fellow musician-jazz fans who were willing to experiment. "The band came together because of both the people and the instrument voices I want to hear. The guys are very open. I asked Davit [Melkonyan] if he wanted to play sax with tar. He said, 'That's crazy, but I'm ready. Let's try,'" Voskanyan recounts. "He couldn't imagine what it would be. But we practiced and jammed and found the sound of the right mix of tar and sax. That is the main sound of MVF Band, how a sax and a tar sound together."
Pushing the tar in new directions — on its own or with other instruments — feels natural to Voskanyan. It's part of what he loves about the instrument: "The tar is a multi-genre instrument. You can use it when and where you want. It makes you play everything," he explains. "To use my instrument in other genres, I had to change the structure of strings. I added a pair of strings to the neck and now it can fit into that music more. But I also have a very old traditional instrument and I love it."
Admixture of Sound
MVF Band weaves Armenian elements, both directly and conceptually, into their work beyond their use of traditional instruments to express contemporary sounds and states. Their arrangement of "Esor Urbat E," a song traditionally about Good Friday that's become a TGIF anthem in modern Armenia, shows how effortlessly the band can blend Armenian melodies with clever harmonic settings and catchy rhythmic breaks. Sometimes the Armenian cultural foundation is subtler, such as in "The Dance of Insomnia," one of MVF Band's recent compositions dedicated to the late-night struggles he faced, struggles he had to dance his way out of. The track features a choir that suggests spiritual traditions, yet it sits squarely in contemporary jazz, showing the breadth of sounds the band engages with.
Voskanyan and the band prove that this mix never strays far from funkiness, taking cues from the great, genre-melding jazz experiments of the 1970s. "In Yerevan" grooves hard with a sway that gives ample room for the tar to dialog with bass and piano as well as sax. "Shakaraklor," named after a sweet treat, blends traditional percussion with tar thrums and snaps, segueing into a lively, melismatic song halfway through, with the tar perfectly following the voice.
This constant amalgamation creates what's effectively a contemporary portal, bringing young Armenian listeners back to their roots and transporting international audiences to new musical places. "Even for Armenians, we're living in times that, by fate or accident, have led people really far away from the origins of Armenian culture, especially Armenian music," MVF Band communications manager Loris Kroyan reflects. "Our folk and traditional songs are sometimes ignored. Miqayel is creating an Armenian sound that reimagines and revitalizes them. Fans often get into the folk stuff via the jazzier pieces. That's what happened to me! I found myself asking, 'This is my music, why didn't I like it?' Now I love it -- and I understand."
press
technical information
View and download production information as of August 2021 at the link below. A Technical Rider with these general conditions will be created for all Center Stage engagements.
downloadable photos, billing & credits 
Minimum Billing
MVF Band
On tour as part of Center Stage
www.CenterStageUS.org
Credit Line
The following credit is required on the title page in all printed performance programs. We appreciate its use wherever else it's practical: brochures, posters, ensemble-only promotional materials, press releases, advertisements, etc:
MVF Band is part of Center Stage, a public diplomacy initiative of the U.S. Department of State's Bureau of Educational and Cultural Affairs with funding provided by the U.S. Government, administered by the New England Foundation for the Arts in cooperation with the U.S. Regional Arts Organizations. General management is provided by Lisa Booth Management, Inc.
Logo
Center Stage logo placement is encouraged. On web-based materials, please link from the Center Stage logo and/or written name to www.centerstageUS.org.
Assets
High-resolution promotional photos (photographer credit is in the file name), and several versions of the Center Stage logo are available at this link.