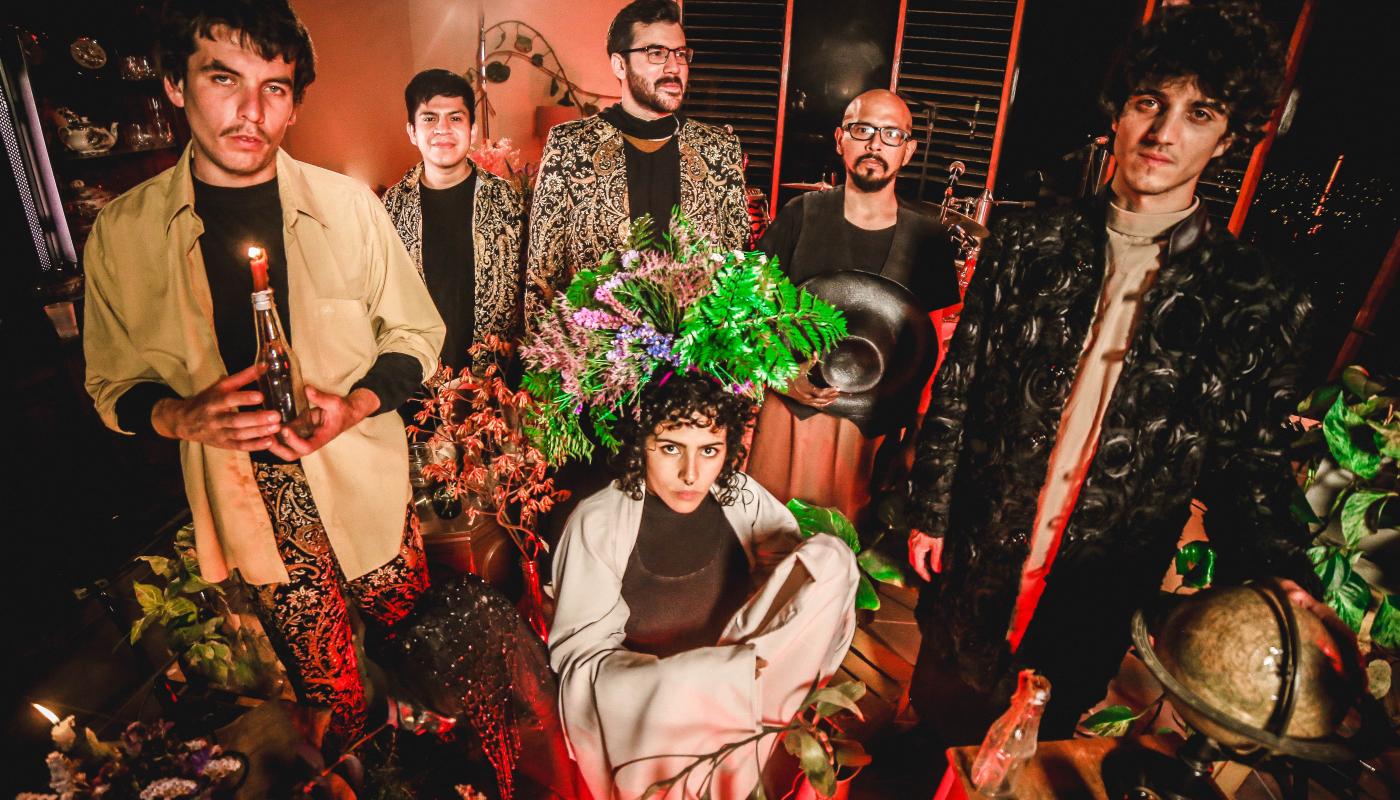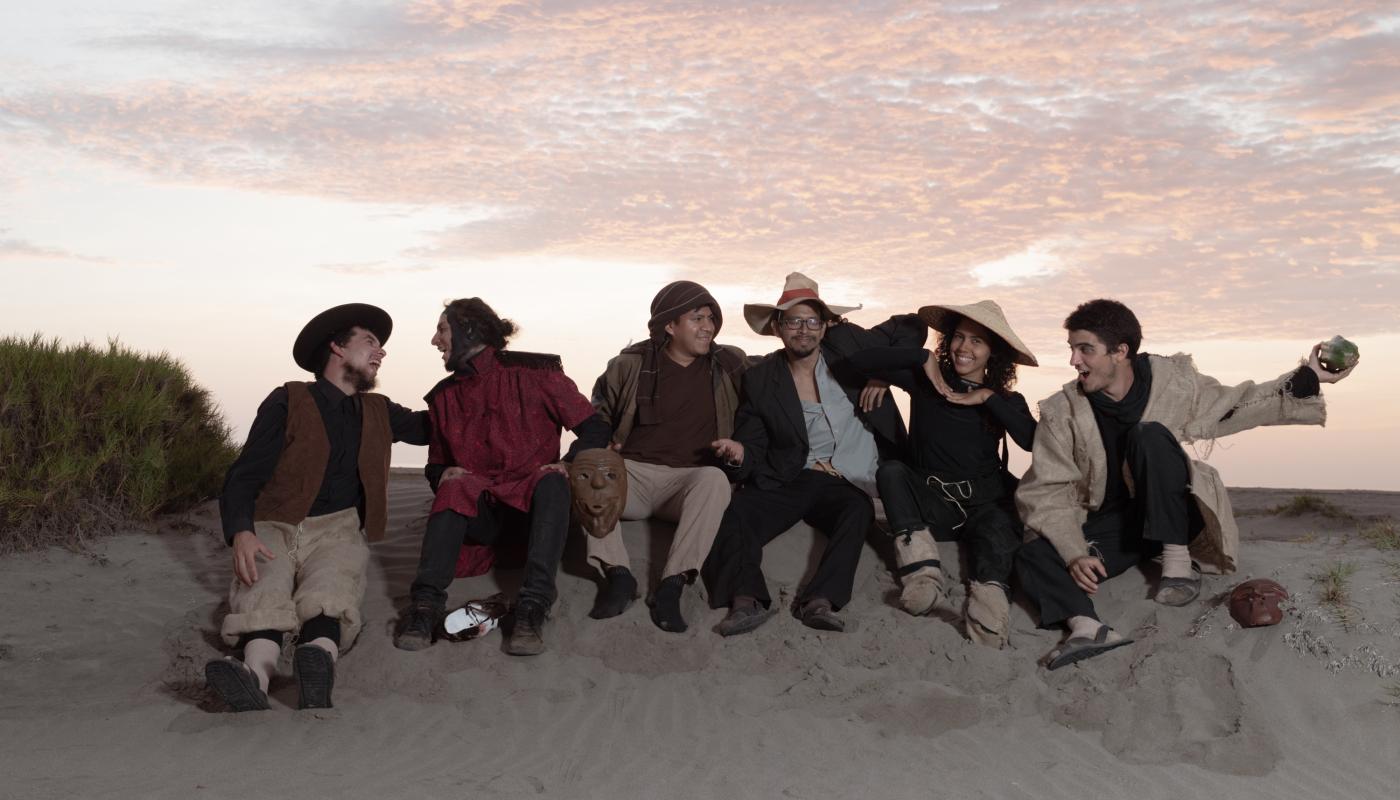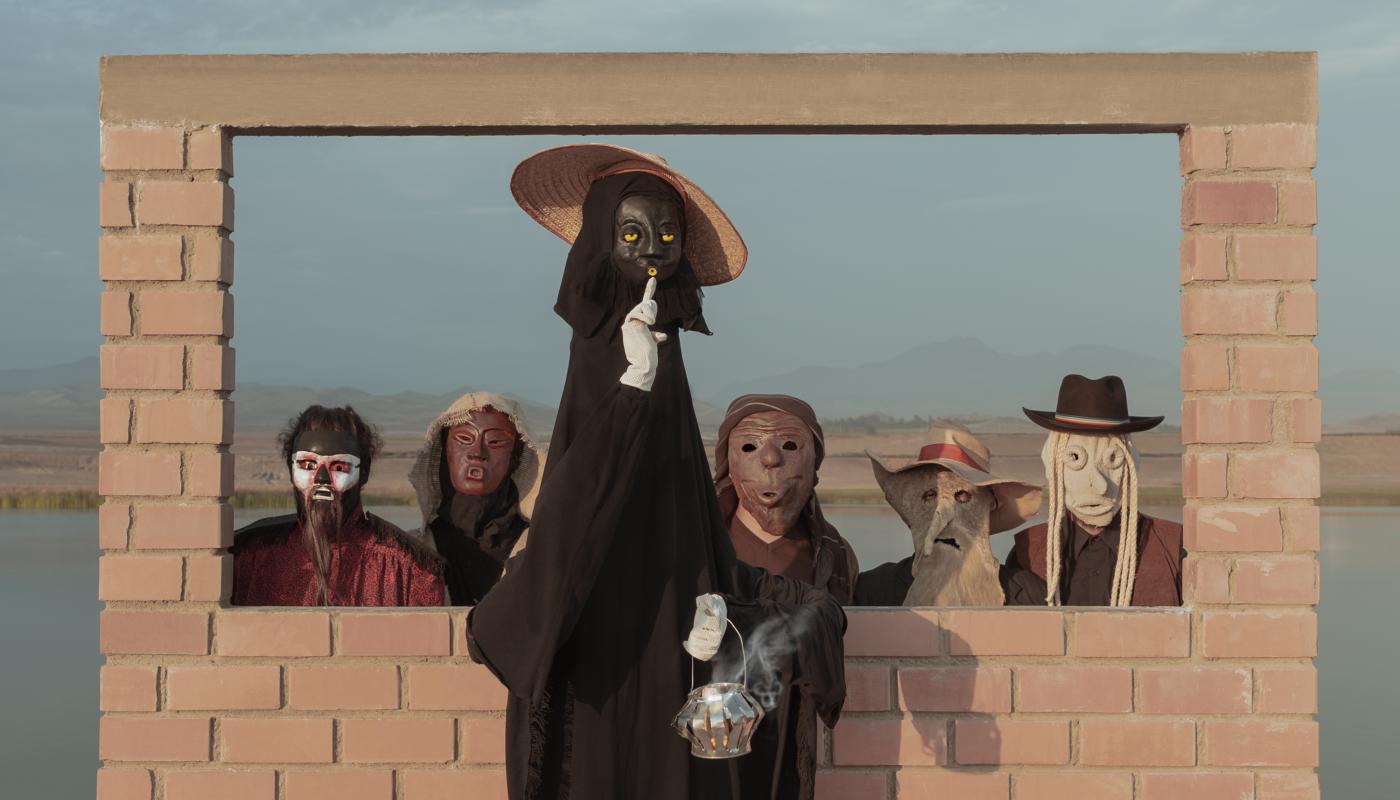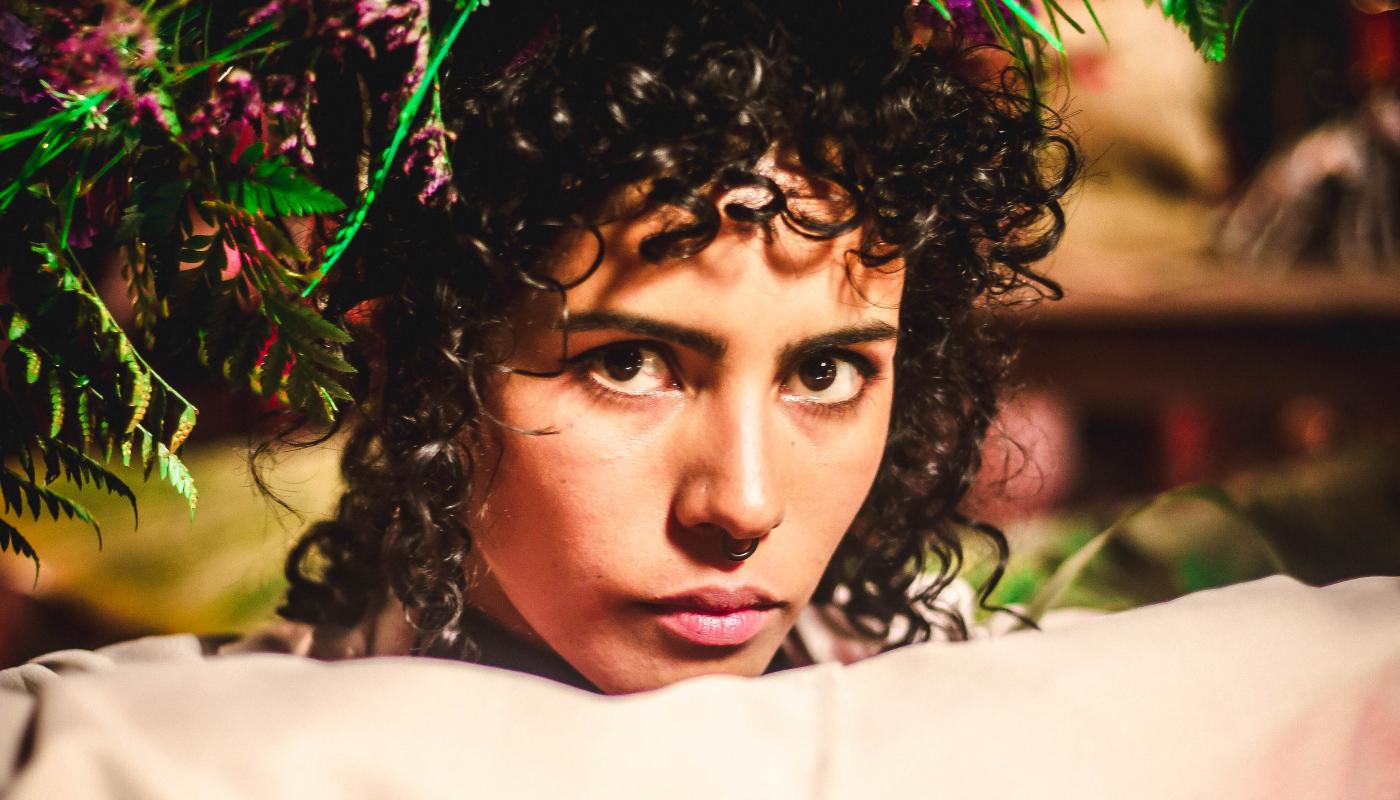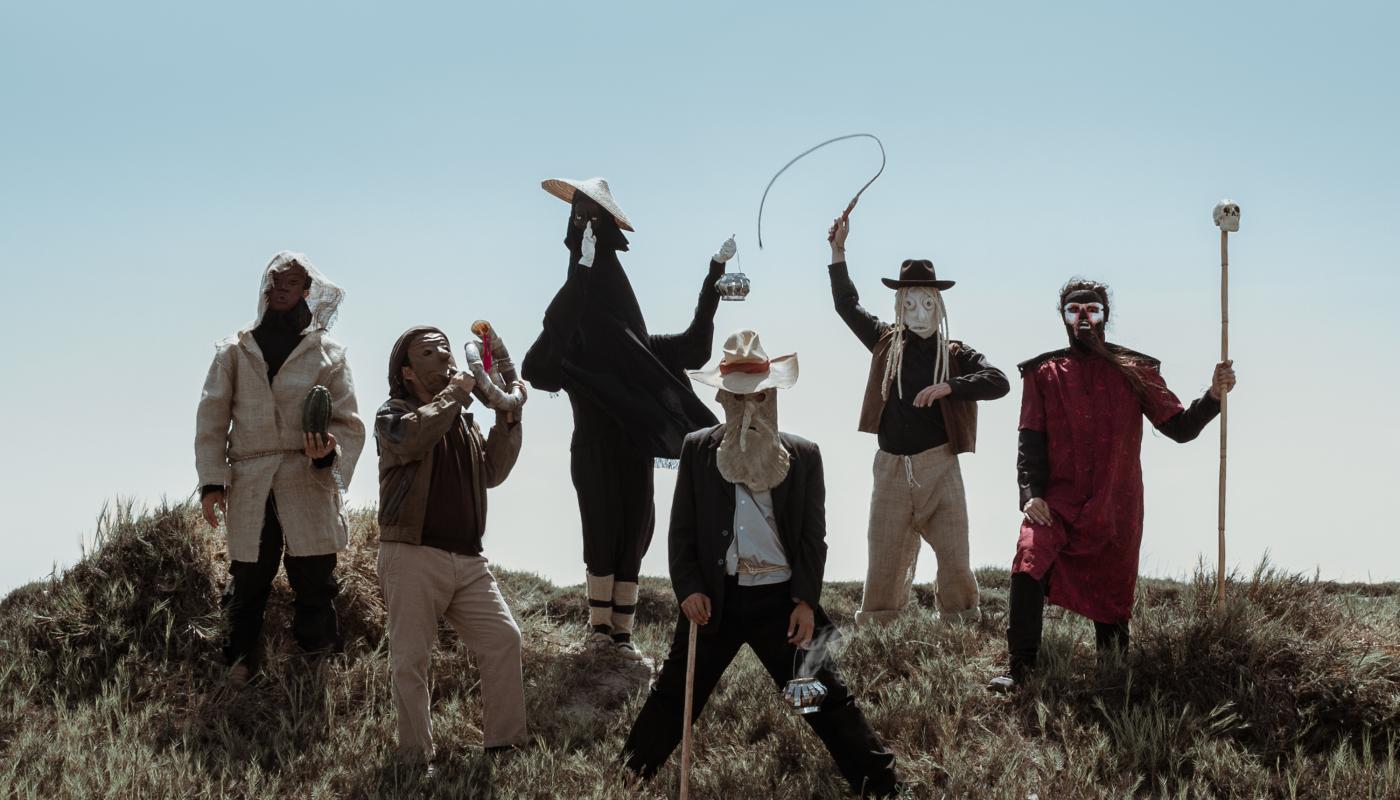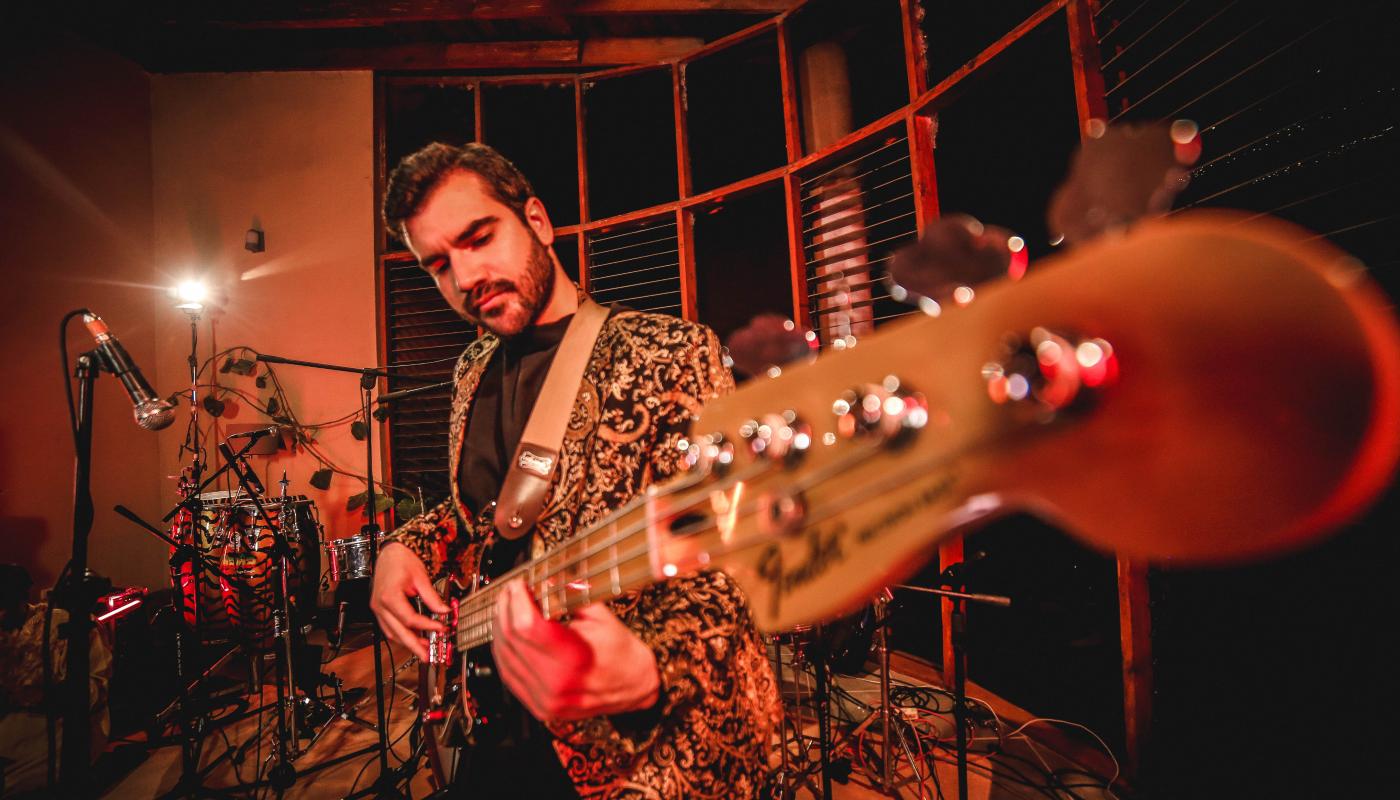 Hit La Rosa
Lima
Season 5: 2022
At play in a Psychedelic Cumbia Sandbox, Hit La Rosa Channels a Fantastic Reflection of Perú's Full Cultural Spectrum
One of Lima's leading indie bands, Hit La Rosa delivers tight sets of pulsing tropical beats, rolling surf sounds, and sly lyrics to heal what ails you. At the center is Cumbia, the sound and beat of a collision of various cultures, and the heartbeat of contemporary Peruvian music.
By turns precise and dreamy, Hit La Rosa plumbs cumbia and pop music, folklore, jazz, and dancehall, to produce its distinctive grooves and hooks. Add to this a punk sensibility designed to, as lead singer and primary lyricist Chaska Paucar puts it, "bring healing to people," by exploring, not shunning, life's shadowy sides.
"Our music has a bit of mystery with lots of supernatural and fantastic elements. It's about mind travel. You have this duality between dark and healing, experiences that are not comfortable but that everyone has to find their way through."
A regular on Perú's eclectic scene and increasingly in demand abroad on festival stages, during the pandemic lockdown, the band has been working on its second album, teaching, and releasing material online. Writing about their set at the all-virtual Tiny Desk meets GlobalFest in January 2021, Jon Pareles write, "Hit La Rosa topped the clip-clop beat of cumbia with surreal lyrics, surf-reverbed guitar solos and psychedelic swoops and echoes." (New York Times)
"With an open sonic sensibility that mixes chicha, cumbia, groove, Andean sounds and a rock attitude, the Peruvian band Hit La Rosa hosts a psychedelic-tropical party, born from the heart of the jungle to take to the streets of Lima."

ZONADEOBRAS.COM
U.S. Debut with Center Stage
On Tour June 2022
Travelers
9 on tour (6 in the band, sound engineer, manager, U.S company manager)
Venues
Indoors or out: clubs, amphitheaters, concert halls, and festival stages. Excellent sound system and some backline required.
background
Psychedelic Sandbox: Hit La Rosa, Cumbia, and the Fantastic Reflection of Perú's Full Cultural Spectrum
"Hit La Rosa comes in hot and doesn't stop until the final measure. The band explores many facets of Peruvian cumbia music, infusing it with pop, folklore, jazz, and dancehall to produce its distinctive grooves and hooks. The band's precise-yet-dreamlike music and punk sensibility all come together to make music that explores life's shadowy sides." - Bob Boilen NPR Music
In Perú, there is "tons and tons of cumbia," says Hit La Rosa's guitarist Alfredo Coll. Cumbia's rolling Afro-Latin sway has seeped into nearly every corner of Latin America and inspired music making and dancefloor joy for decades. It launched a whole other storyline in Perú.
For the young explorers of Hit La Rosa, cumbia is a phantasmagoric looking glass that reflects and intensifies their homeland's bonanza of cultures, languages, sounds, and lives. Hit La Rosa adds Lima's cosmopolitan mojo to the tropics--all the jazz, rock, electronic, and other music swirling through Lima's ears--and brings novel psychedelic, punk-inspired fire behind the popular Latin American music form's local shifts.
The results buzz with fuzzed out surf-rock guitar, swirling keys, and the heavy pulse of rhythms that have enriched Peruvian cumbia over the years, from reggae and dancehall to the beat of indigenous huayno. By turns driving and dreamy, Hit La Rosa's sets play in a psychedelic sandbox of fantastic elements and mystic tales designed to, as lead singer and lyricist Chaska Paucar puts it, "bring healing to people," by facing, not shunning, life's shadowy sides.
Writing about the band's first album, Madrid-based journalist Alvaro Guzmán Catanzaro captured the band's sound: "At times the guitar takes over like a witch, then the percussion picks up, then Chaska Paucar's voice takes you straight to the cantina with suffering and hope. The bass takes over, then vibrating keys. Louder!" -eblastingnews.com (Spain) 
U.S. Tour in 2022
Hit La Rosa will join four other ensembles from Colombia and Perú that will make independent tours of the U.S. from February - June 2022 as part of Center Stage, a cultural exchange program that invites performing artists from abroad to the United States to perform, meet, and share their experiences with communities around the country. The band's summer-fall tour, now in formation, will mark the band's U.S. debut.
Cultural Touchstone
Cumbia is the result of a collision of various cultures, of a complex historical process, and of a fusion of sounds. Although the etymological origin of the word "cumbia" is uncertain, there are those who maintain that its root comes from the African word "cumbé," which means revelry or party. 
It is also the perfect psychedelic sandbox for experimenting without losing your roots. Beyond being wildly popular in Perú, cumbia has played an extraordinary role in Peruvian culture. During the 1960s and 1970s, the style became the vessel for musical creativity, personal experimentation, and social defiance. 
"In the late 60s and 70s, [then president] Alvarado started banning rock concerts," explains Alfredo, as part of the dictator's overall policies to nationalize major aspects of Peruvian life. "Some people say that made guitarists who would have played rock play cumbia. That psychedelic feeling from the 60s and 70s which wasn't played in rock music was played in cumbia. Peruvian musicians have made really lovely fusions." 
Perú's many cultures offer ample fuel for these fusions. "We're extremely rich in culture," explains the band's manager Cristian Basilio. There are 43 languages in the Amazon jungle region, and each one has their songs, their music, their visual art. So there's a big spectrum of cultural possibilities." 
The nature of making music in Perú--almost everyone has to figure out how to operate as an independent artist--means bands like Hit La Rosa can keep open to these possibilities. "Our independent status gives us freedom to mix things," says percussionist Ruben Guzman. "We are very honest with our creativity. That's how we can mix music we like. I think that results in a very unique sound."
Chaska's lyrics and delivery are incantatory explorations of imagination and heart. "Our music has a bit of mystery with lots of supernatural and fantastic elements," she notes. "It's about mind travel. You have this duality between dark and healing, the dark places everyone has been through, experiences that are not comfortable but everyone has to deal with. We're exploring those two sides."
Origins
Hit La Rosa (whose name is a playful take on Ray Charles' classic "Hit the Road, Jack") emerged from a group of musical friends, all of whom had other projects with other styles, as a fun side endeavor. The band coalesced, however, when one day, Alfredo called Chaska and asked her if she wanted to try being frontwoman. Her training was primarily as an actor, but she loved singing and music. Though terrified, she took the risk and the band leaped to a new level. "It was cumbia with a punk attitude," Chaska recalls. "That was really fun to me." 
The band soon picked up passionate fans, racked up video views, and played major festivals around the region. Despite growing success, the band continues to work together in a way that makes space for everyone's creativity, keeping open while pushing themselves. "Hit La Rosa is a horizontal organization," Alfredo says. "There is no leader or head of the group. We're all equal. That democracy is really useful when you compose, because everyone gives, everyone says things and throws in their ideas, everything they have." 
Hit La Rosa
Alfredo Coll – Guitar
Chaska Paucar – Lead Vocal
Ruben Guzman – Latin Percussion
Martin Del Prado – Keys & Synths
Juan Diego Rondon  – Drums
Dario De La Cuba – Bass Guitar
Cristian Basilio – Manager
Luiggi Enciso – Live sound mix
Press
Audio Clips
Listen to Hit La Rosa via Spotify
Technical information
Great indoors or out, Hit La Rosa can perform on festival stages, in concert halls and in clubs. Technical information, current as of March 2021, sets out general conditions and can be modified to accommodate a variety of stages and circumstances while meeting the needs of the band.  View & download the rider at the link below:
downloadable photos, billing, & credits
Minimum Billing
Hit La Rosa
On tour as part of Center Stage
www.CenterStageUS.org
Credit Line
The following credit is required on the title page in all printed performance programs. We appreciate its use wherever else it's practical: brochures, posters, ensemble-only promotional materials, press releases, advertisements, etc:
Hit La Rosa is part of Center Stage, a public diplomacy initiative of the U.S. Department of State's Bureau of Educational and Cultural Affairs with funding provided by the U.S. Government, administered by the New England Foundation for the Arts in cooperation with the U.S. Regional Arts Organizations. General management is provided by Lisa Booth Management, Inc.
Logo
Center Stage logo placement is encouraged. On web-based materials, please link from the Center Stage logo and/or written name to www.centerstageUS.org.
Assets
High resolution promotional photos (photographer credit is in the file name), and color versions of the Center Stage logo are available at this link.