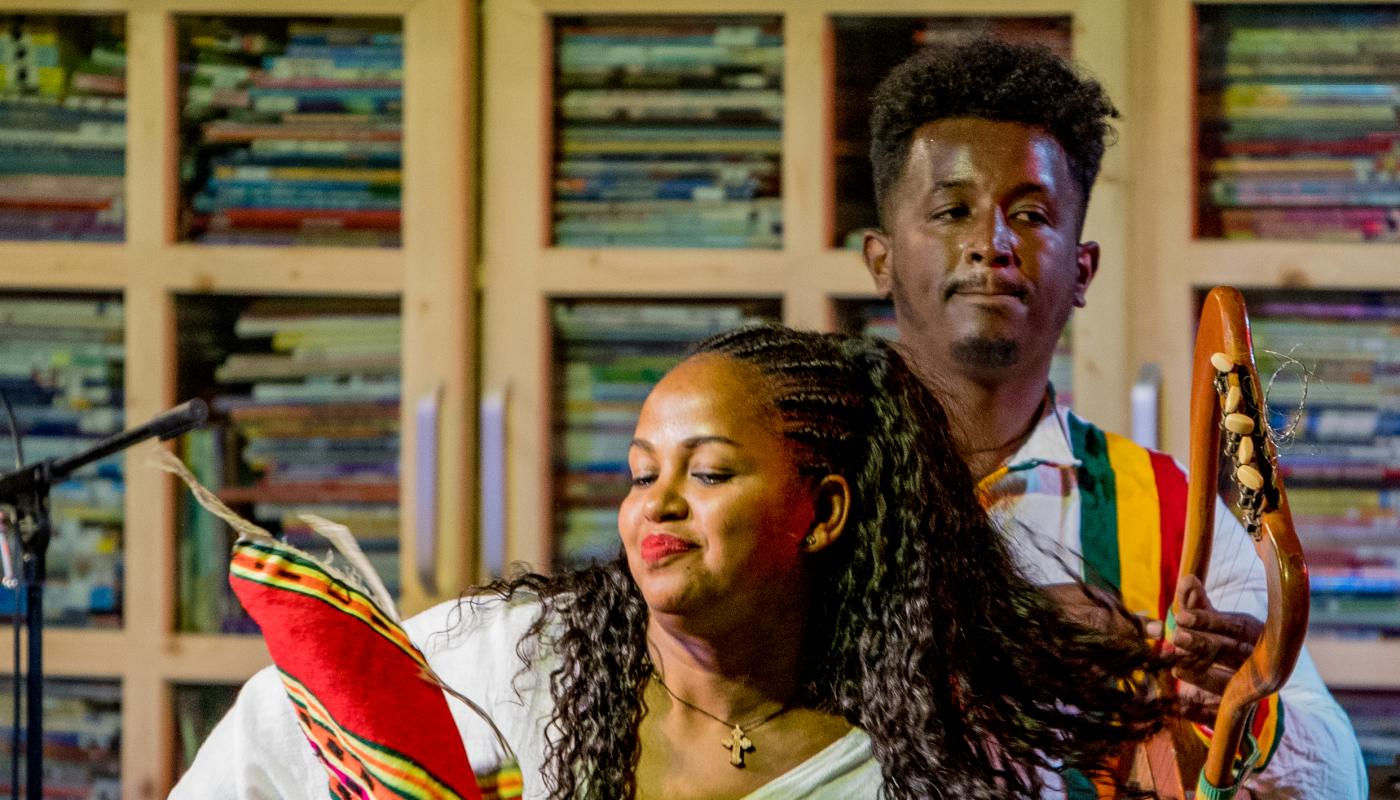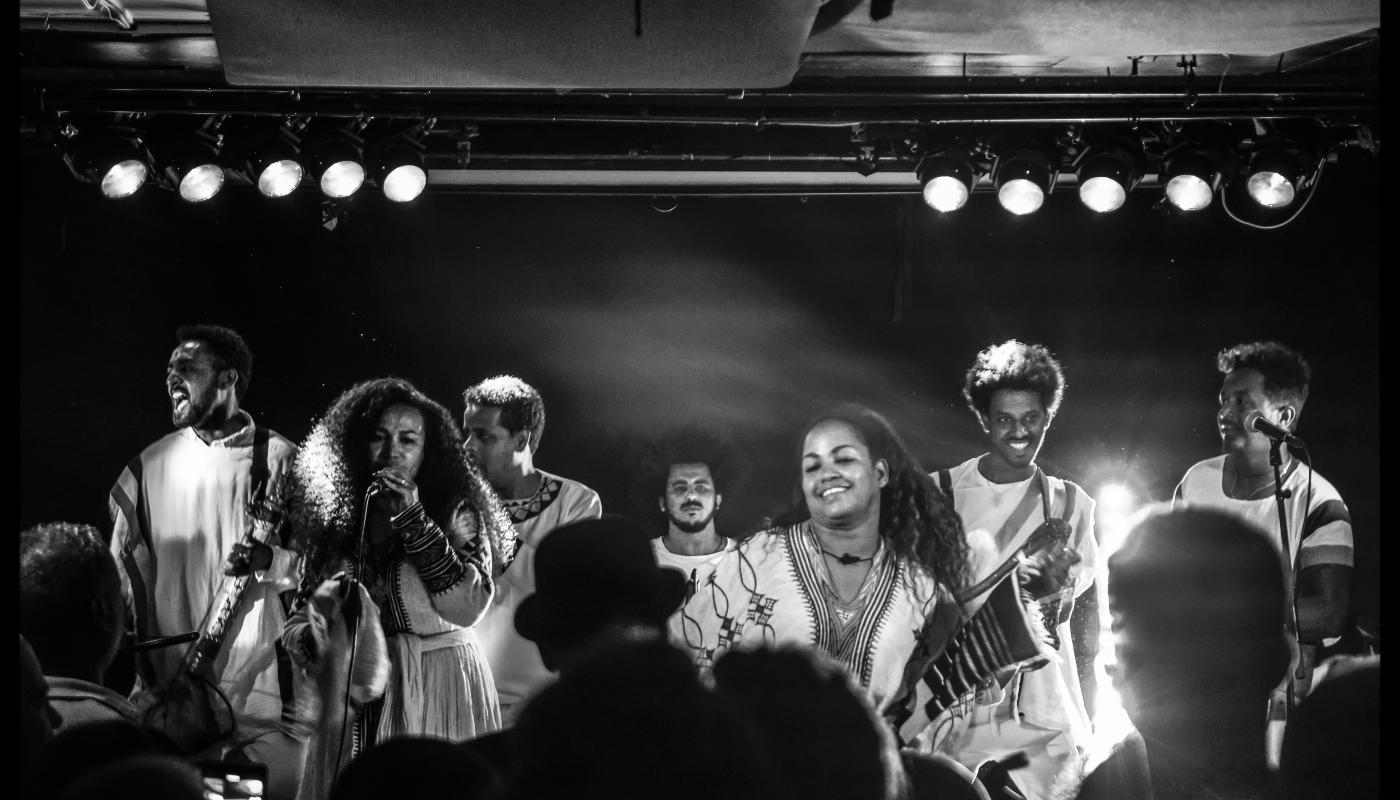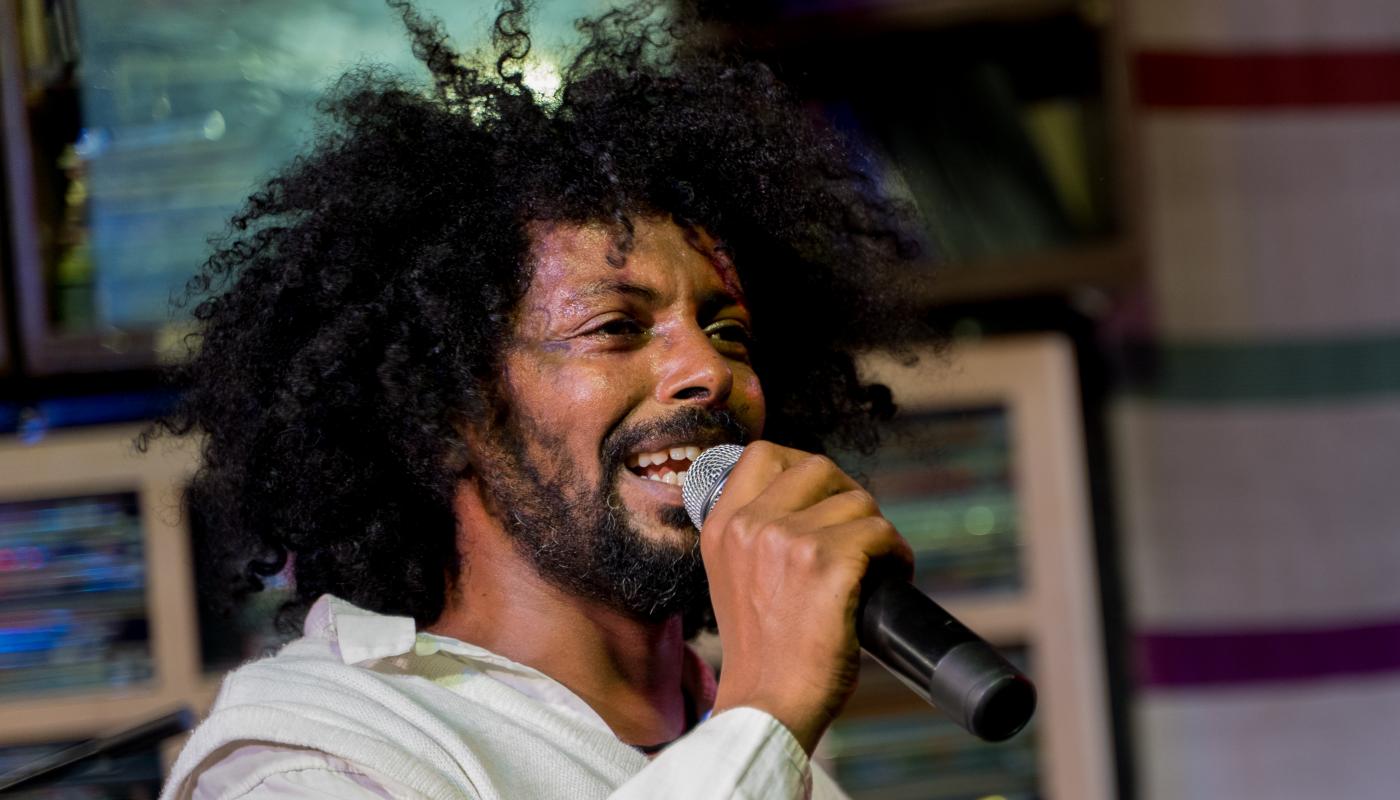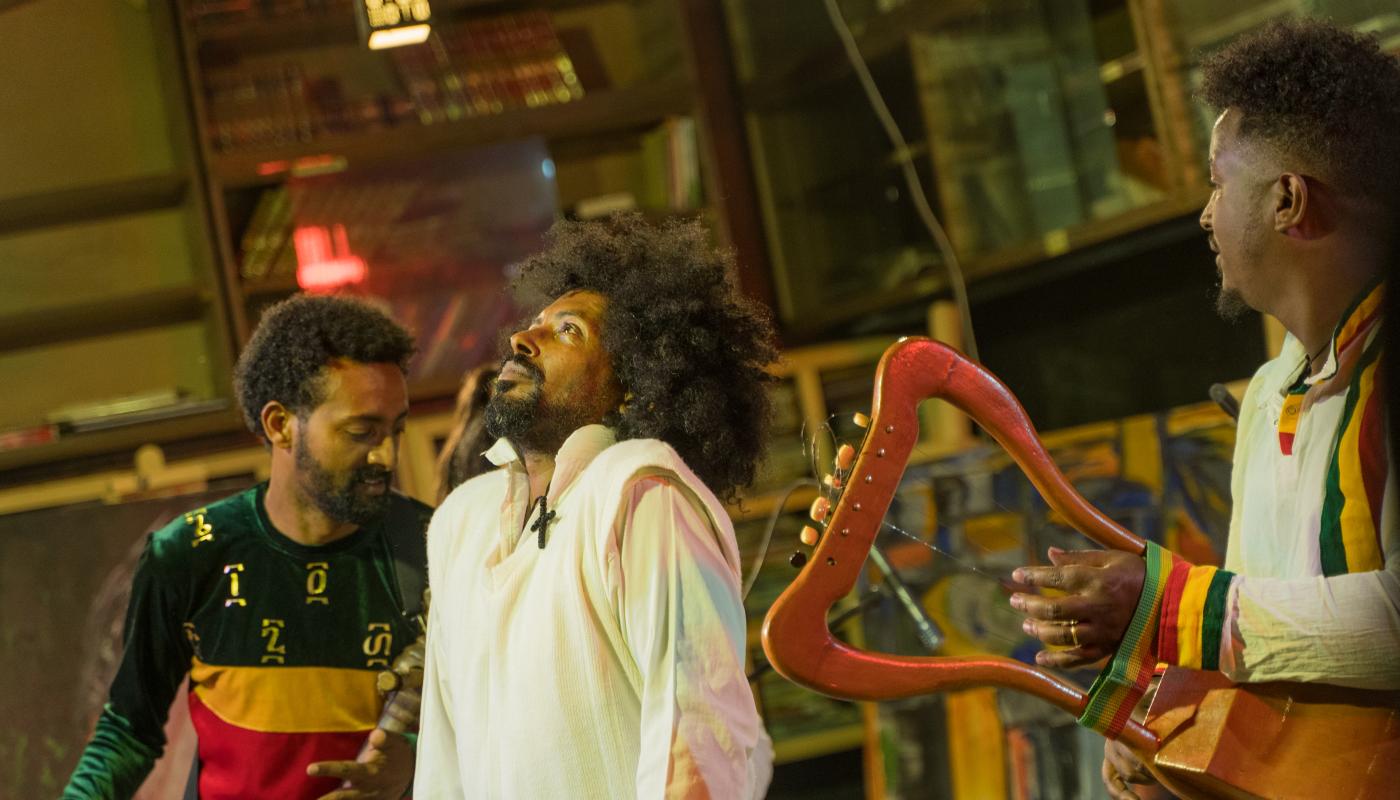 Ethiocolor
Addis Ababa
September 2023
Founded in 2009 by the charismatic Melaku Belay, who has made his Fendika Cultural Center in Addis Ababa a global gathering place, Ethiocolor draws deeply from the bardic well of Ethiopia's diverse heritage. Their revelatory practice is an ecstatic symbiosis of dance and music, of tradition and modernity. 
Nourished by diverse Ethiopian music and dance traditions and cross-cultural exchange, Ethiocolor presents energetic, free-spirited sounds and movements that are at once culturally specific and internationally resonant. 
Ethiocolor routinely shares the stage with traditional Azmaris and jazz musicians. From this dynamic musical home, Ethiocolor also builds partnerships with international musicians such as the Ex (Dutch punk band) and Large Unit (Norwegian Jazz band). The band regularly tours abroad. Its CDs include Ethiocolor (2014), Birabiro (2016), and Dildiy (upcoming). 
Melaku Belay received a 2015 French Medal for the Arts, a 2020 Prince Claus Award, and is a 2022 TED Fellow. Lead singer Nardos/Wude Tesfaw is the central character in Stand Up, My Beauty!, a 2021 European film exploring music and gender in Ethiopia. 
 
Invoking ancestral blessings and contemporary experiences, Ethiocolor reveals how Ethiopian music and dance have evolved to transcend time and space. Says Melaku: "We're here to remind audiences everywhere of our shared human desire and capacity for peace, love, joy, and justice."
They damn near brought the house down with their exuberant, dance-filled live set at the January 2017 globalFEST in New York.
On Tour with Center Stage 
September-October 2023
Travelers
10 on tour (9 performers, U.S. company manager)
The 9-member group, led my Melaku, includes two dancers, three singers, kebero (traditional drums), a masinqo (one-stringed bowed fiddle), a krar (six-stringed lyre), and a bass krar. 
Venues
Indoors or out: clubs, amphitheaters, concert halls, and festival stages. Excellent sound system and some backline required. Tech specs/rider forthcoming.
Background
Get Up, Make Peace: Melaku Belay and Ethiocolor Put Ground-Shaking Ethiopian Traditions on the Map
A central figure in Ethiopian arts, Melaku and his ensemble dedicated to traditional instruments and dances come to the U.S. to transfix and transform with seismic live performances.
They call Ethiocolor founder and leader Melaku Belay a "walking earthquake." By sheer force of will, turning shimmying shoulders into blazing ecstasy, he's helped put Ethiopia's 2000-year-old Azmari culture on the world map. The winner of a long list of international accolades, the most prominent contemporary interpreter of Ethiopia's eskista, a rhythmic, shoulder-shimmying dance, Melaku draws tens of thousands to Fendika, the independent arts center he founded in Addis Ababa, every year.
It's easy to see why: It's impossible to tear yourself away once Belay leaps into motion, once Ethiocolor lays down sophisticated yet instantly intoxicating grooves that make traditional instruments (krar, bass krar, masenko, kebero drums) hit as hard as any funk band. It's the palpable joy in every second, when it's clear everyone on stage and around it are exactly where they want to be. 
There's a powerful reason behind the tranced-out sets and packed rooms. Ethiocolor uses traditions to heal, to re-engage with some of Ethiopia's deep roots in fractious times. That's why Melaku is adamant that these dance and music forms cannot be allowed to die out. As he puts it, "When I'm sad or missing justice, I heal myself with dance and music. I want people to know about the best things we can give to the world. The world only knows about hunger and war here. But I love my country and I understand how much we have, in our history and our modern culture."
Ethiocolor has become a sought-after collaboration partner, and groups like Debo Band and Holland's post-punk legends The Ex have clamored to record and tour with them. Thanks to these international connections, the group has performed everywhere from Dubai to Copenhagen. Melaku has even been honored as a TED Fellow in 2022. Yet none of this reduces the core calling Melaku and Ethiocolor feel in their work: to bridge, to heal, and to fan the embers of neglected cultural traditions into full-on flames.
U.S. Tour in 2023-2024 with Center Stage Season 7 
Its biggest foray into America to date, Ethiocolor will tour the U.S. in 2023-2024, including Melaku, dancer Emebet Woldetsdik, drummer Meselu Abebaye, krar (bow-shaped lyre) players Sentayehu Tadesse and Robel Solomon, masenko (bowed single-string fiddle) player Habtamu Yeshambel, and vocalists Wude Tesfaw, Elias Ahmed, and Asnake Gebreyes.
They will come to the U.S. as part of Center Stage, the cultural exchange program that has connected performing artists from abroad with American communities since 2012. Six other music, theater, and dance ensembles from South Africa, Ethiopia, and the Philippines will also make independent tours or hold in-depth residencies with the program, promoting global ties and engaging with audiences on stage, off stage, and online. Center Stage is produced through a public-private partnership between the U.S. Department of State's Bureau of Educational and Cultural Affairs and the New England Foundation for the Arts.  
"The rhythmic virtuosity of Mr. Melaku was often astounding…. Simply to see him sway his body to the music was a marvel: the angle of his out-held elbows, the pliancy of his spine, the rhythmic point of those shoulders all made their sensuous contributions. A happily superlative artist." Alastair McCaulay, New York Times
Life-saving Dance
Melaku's enlightened advocacy and international reputation belie his extremely humble beginnings. Melaku was homeless as a child. Self taught, he made eskista his solace, a path through difficult circumstances. The fast-paced, shoulder-shaking wonder of a dance is integral to religious festivals and other major events. As Melaku danced at these gatherings, recounted in his recent TED Talk, he dreamed of a day when he could share dances like eskista with people everywhere. 
That dream began to materialize in 2009, when Melaku founded his own group and cultural center under the umbrella of Fendika as a center for Azmari culture and the arts. From the start,   he was determined to work differently than many of the other ensembles around him. Established dance companies regularly fired female dancers the moment they got pregnant or underpaid older dancers, even if still in the prime of their artistic abilities. Female performers faced frequent harassment.
Melaku was determined to do something else. Fendika pays performers regular salaries and programs Azmari performances all year round. And he recruits and guides others like him whose working-class or poor roots might have precluded a career in the arts. "Some of the performers started working as cleaners and waiters, then became pros. I did the same thing," Melaku reflects. "Now they are going to the U.S. I've helped shape them and I'm proud of it."
The Fight for Tradition
Dance is everywhere in Ethiopia, Melaku notes, in every community among the 80 ethnic groups in the country. But it's radically underappreciated: "Dance is never accepted as art in Ethiopia," Melaku opines. "There's no platform to protect the dance traditions. Everything has to be done independently, and there is zero support from the government. I got really angry about that. I decided to start fighting for art."
Part of this fight meant learning just what was out there and why people danced. Melaku knew he needed to experience this for himself. He set out on long journeys through rural Ethiopia, searching high and low for opportunities to find and absorb new dance forms.
This discovery process often took the form of a dialog with traditional dancers he met on his travels. "I danced my dance, but then I'd see one of them doing a dance and I'd ask, why are you dancing?" he recalls. "I love the countryside people. They are very generous and welcoming. It's natural for them to give without expectation. They'd say, 'Oh, it's for this holiday or celebration. We do this ceremony with dancing, dance this way, with our hips and shoulders.' I would interview them about what their dances and songs meant. Dances were about everything: hunting and the hero, about farming, about so many things I found! In my mind, I'm cooking all this, researching."
This research turns into living, breathing music and dance. Melaku and Ethiocolor will improvise around Oromo dances, alternating between rhythmic trembling and high-stepping leaps. They skip and shimmy at effusive, breakneck speed in dances from the Gurage. The community sources become fuel for a non-stop creative fire, one sometimes carefully fed, sometimes stoked high in the moment. Even the least rhythmically inclined viewer may struggle to sit still in the face of Ethiocolor's gleeful intensity.
Get Up and Make Peace
Melaku loves dance of all kinds--he often lays down DJ sets to get people on the floor--but he wants to make dance that strikes at the soul. "Many contemporary dance pieces are beautiful concerts where you sit for one hour. That's good but that's not what we do. We love to move people, to get them to stand up and go for it," he explains. "You need to mesh the soul and the movement. When you feel the music, you can find everything inside. Everything you can find through the voice, beat, instrument, movement, costume design. You can take it everywhere and exchange with people. It can mix with anything, any energy."
Melaku sees this as the antidote to division, strife, and violence—or at least part of it. Dance and music are valuable tools to bind wounds and close divisions in fractious times. "As much as I can, I want to heal, to build a bridge, person to person," he states. "I want to make peace with art, not fight with it. To make our world peaceful, we need to make peace with art."
Press
Audio Tracks
Downloadable Photos, Billing, & Credits
Minimum Billing
Ethiocolor
On tour as part of Center Stage
www.CenterStageUS.org
Credit Line
The following credit is required on the title page in all printed performance programs. We appreciate its use wherever else it's practical: brochures, posters, ensemble-only promotional materials, press releases, advertisements, etc:
Ethiocolor is part of Center Stage, a public diplomacy initiative of the U.S. Department of State's Bureau of Educational and Cultural Affairs with funding provided by the U.S. Government, administered by the New England Foundation for the Arts in cooperation with the U.S. Regional Arts Organizations. General management is provided by Lisa Booth Management, Inc.
Logo
Center Stage logo placement is encouraged. On web-based materials, please link from the Center Stage logo and/or written name to www.CenterStageUS.org.
Assets
High-resolution promotional photos (photographer credit is in the file name), and several versions of the Center Stage logo are available at this link.