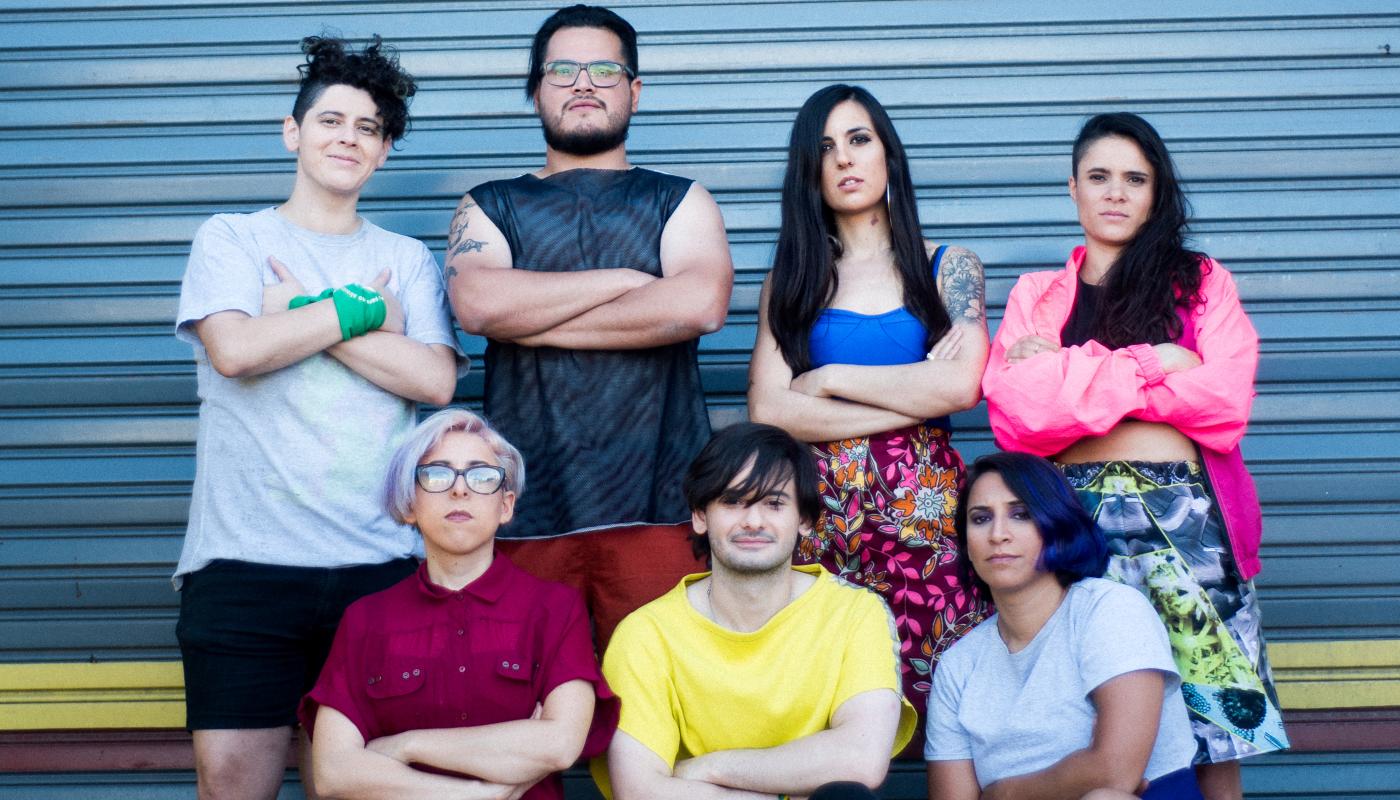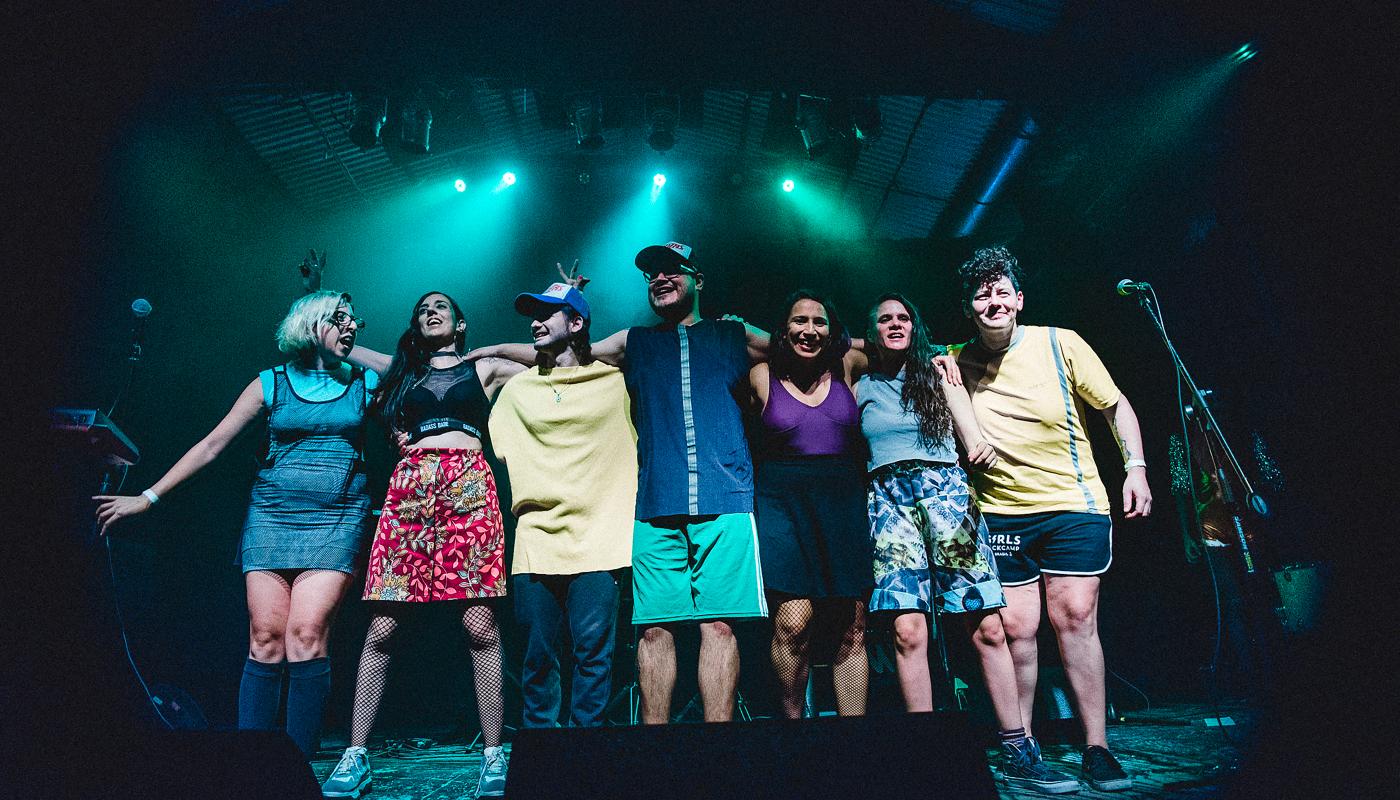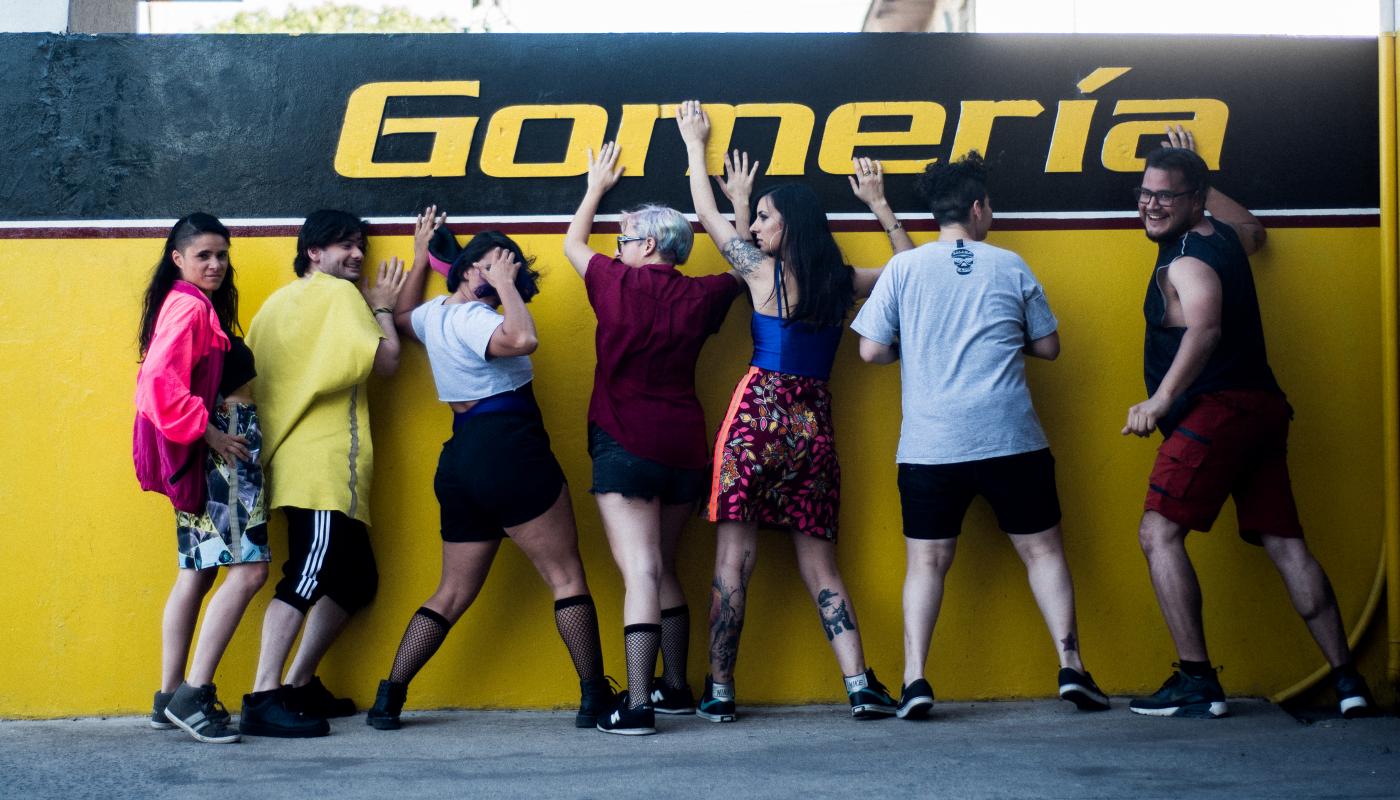 Cachitas Now!
La Plata
Season 6: 2022-2023
June 2023
With swooping hooks and party grooves the cumbia-grounded sound of this identity-inclusive LGBTQIA+ band buoyantly challenges societal norms, celebrates difference, and reclaims the love song for all.
Building belonging in La Plata, the university town outside Buenos Aires, and home to Argentina's hot indie scene, the exuberant Cachitas Now! first came together in 2011.
The seven members hail from all over Argentina, and a diversity of personal experiences, backgrounds, and musical tastes brings an authenticity to their unique party of sound that stretches from traditional Argentine cumbia, tango, and folk idioms to urban rhythms like trap and reggaeton.
Their lyrics call out social issues, push for women's empowerment, and reject sexual and gender stereotypes to tell everyday stories in a context of freedom and a search for healthy relationships. Their message is based on radical inclusion -- the certainty that there are multiple ways of connecting, that romantic love is for all, and that the hetero norm has to be overthrown along with the macho approach. And they do it all with the joy of a crowded dance floor.
Busting out of concerts and clubs, Cachitas Now! is gathering a growing community of artists and activists to animate public spaces with parties, festivals, carnivals and fairs. It's a commitment to shared daily struggles, and the rights of all people to decide who they are, where they can gather, who they can love.  
Cachitas Now! has released two studio albums: Cumbia Desgenerada (2016) and Chonga (2019) which was recognized with a nomination for "Best Tropical Album" at the Gardel 2020 Awards.
There's an idea in our culture that love is supposed to be painful. We want to change that.

cachitas now!
Melisa Lobos (Vocals)
Noelia Sinkunas (Synthesizer)
Tomás llancafil Williams (Vocals and Electric Guitar)
Melisa Montejano (Bass)
Guadalupe Mambrin (Octapad)
Jonás Gómez Dip (Güira)
Matías Rodríguez (Timbales)
U.S. DEBUT WITH CENTER STAGE
June 2023
TRAVELERS
9 on tour (7 musicians, sound engineer, U.S. company manager)
VENUES
Indoors or out: clubs, theaters, and festival stages. Excellent sound system and some backline required.
background
Queering Cumbia: How Cachitas Now! Creates a Transfixing, Transfeminist Cumbia Party
Cachitas Now! loved Argentina's local version of cumbia, the rolling, swaying rhythm propelling much of Latin America's most beloved dance music. What they were less enthusiastic about: the scene's macho ethos and focus on male performers. The young transfeminist band from La Plata determined to forge its own scene, with its own venues and parties. Using cumbia's built-in penchant for speaking to power from the margins, they address gender, sexuality, and identity and sing out about new ways we can relate to one another.
Though the message is serious, the band's tone is exuberant and life affirming. Their live show instantly starts the party, with rollicking beats and technically breathtaking musicianship. Led by a trans male guitarist and a female singer, Cachitas Now! melds swirling keyboard-driven cumbia, tango, Argentine folklore, and club-ready bass drops into a sound that feels as natural as the laughter and camaraderie of the young artists on stage.
"All the songs talk about different things but all are related to building new kinds of relationships. "There's an idea in our culture that love is supposed to be painful. It's in our songs and culture. We want to change that," explains Cachitas Now! keyboardist Noelia Sinkunas. "We don't want to suffer from love. We create this music to dance to, to try to give people a vision of a different way of loving each other."
U.S. Debut Tour in 2022-2023 with Center Stage Season 6
Cachitas Now! will bring this vision to the U.S. for the first time in 2022-2023 as part of Center Stage, the cultural exchange program that has connected performing artists from abroad with American communities since 2012. Five other music and dance ensembles from Argentina, Armenia, and Taiwan will also make independent tours with the program, promoting global ties and engaging with audiences on stage, off stage, and online. Center Stage is produced through a public-private partnership between the U.S. Department of State's Bureau of Educational and Cultural Affairs and the New England Foundation for the Arts. 
Gathering Points
Cachitas Now! started when some members of the group met in art school composition classes in La Plata, a university town outside of Buenos Aires at the center of Argentina's indie music scene. Despite different backgrounds and musical obsessions, from jazz and early 20th-century big bands to rock to merengue and bachata, they all shared a mad love for cumbia. To explore the music more, they founded a group and started to play out, but they encountered a music scene dominated by men and more traditional perspectives.
"The local scene was led by men, and we didn't feel comfortable," Noelia recalls. "We started to make our own spaces, our own shows and parties, our own movement, with the message that we wanted to bring to our fans. The fans really responded to our own version of cumbia, which we jokingly called 'degenerate cumbia.' That was the beginning of Cachitas, and the movement we have as friends and people. We want to bring a message to the world: We're part of the LGBTQ movement and we're fighting to make the world better."
They adapted the homegrown, Argentine iteration of cumbia to build this movement. "There are different types of cumbia around Latin America but we also have different types around our regions, in the north and south. Most members of our group come from the south," says multi-instrumentalist Jonás Gómez Dip. "In Buenos Aires, it's a bit different and more electronic. We mix it up, combining it with tango and other international sounds."
Cachitas Now! has a whole range of ways they've made cumbia their own. The band experiments with a rainbow of cumbia's shades, from hints of smoldering tango ("Tu Hermana") to keyboard-drenched, super tight harmonies. ("Cumbia Kitty") They may rap a few bars, add in a crackling vintage recording to the mix, or dig into a shifting rhythm with deep pockets ("Corazón").
Speaking up.
The multifaceted musical energy matches the urgency of the band's messages, a traditional part of cumbia in Argentina. "Cumbia has always been a channel in Argentina for social commentary and criticism. It's traditional to speak out," Dip notes. "During the financial crisis in 2001, cumbia conveyed messages of the poor and disenfranchised. It was music of social and economic protest. We do something similar around relationship issues and sexuality and gender." Songs like "Trampas" ("Traps") portray the snares of toxic relationships. "Chonga" reclaims a derogatory word for lesbians, riding an undulating groove that is one part old-school cumbia, one part Bad Bunnyesque Latin trap, and one part underground hyperpop anthem.
Songs celebrating female sexuality and defanging homophobia are timely for young Argentines. Gender and bodily autonomy issues have been a major rallying point for more than five years of grassroots protests, culminating in a groundbreaking women's health law in December 2020. Despite the pandemic, women and their allies took to the streets.
Stepping Out.
Cachitas Now! has organized a grassroots art movement of its own, holding a semi-regular street fair/party that unites artists and activists to collaborate, sell their handicrafts, and celebrate. "We wanted to relate our latest album to a party, make something a bit more than a concert, to integrate music and different media. The band is always trying to do everything, we wanted to expand that into a party," recounts Dip. "We called up our friends and set up a fair, as well as performances. We saw it as a way for entrepreneurs and artists to help each other. It was difficult to pull off but it was amazing."
This commitment to nurturing a community of creative people who share a common goal to transform the way we imagine ourselves and embrace our differences extends beyond national borders, too. Cachitas Now! has grown their circle beyond La Plata and Buenos Aires, tapping musicians in Mexico, Brazil, and the U.S. to collaborate. Now they're bringing that same inclusive spirit to their first American tour. "We're very excited about it. We want to know how artists live and work in other countries," Noelia reflects. "We love our culture and our music, and we want to learn from other artists. There's always something new to share and learn about people."
press
technical information
View and download production information as of August 2021 at the link below. A Technical Rider with these general conditions will be created for all Center Stage engagements.
downloadable photos, billing & credits
Minimum Billing
Cachitas Now!
On tour as part of Center Stage
www.CenterStageUS.org
Credit Line
The following credit is required on the title page in all printed performance programs. We appreciate its use wherever else it's practical: brochures, posters, ensemble-only promotional materials, press releases, advertisements, etc:
Cachitas Now! is part of Center Stage, a public diplomacy initiative of the U.S. Department of State's Bureau of Educational and Cultural Affairs with funding provided by the U.S. Government, administered by the New England Foundation for the Arts in cooperation with the U.S. Regional Arts Organizations. General management is provided by Lisa Booth Management, Inc.
Logo
Center Stage logo placement is encouraged. On web-based materials, please link from the Center Stage logo and/or written name to www.centerstageUS.org.
Assets
High-resolution promotional photos (photographer credit is in the file name), and several versions of the Center Stage logo are available at this link.