BCUC - Bantu Continua Uhuru Consciousness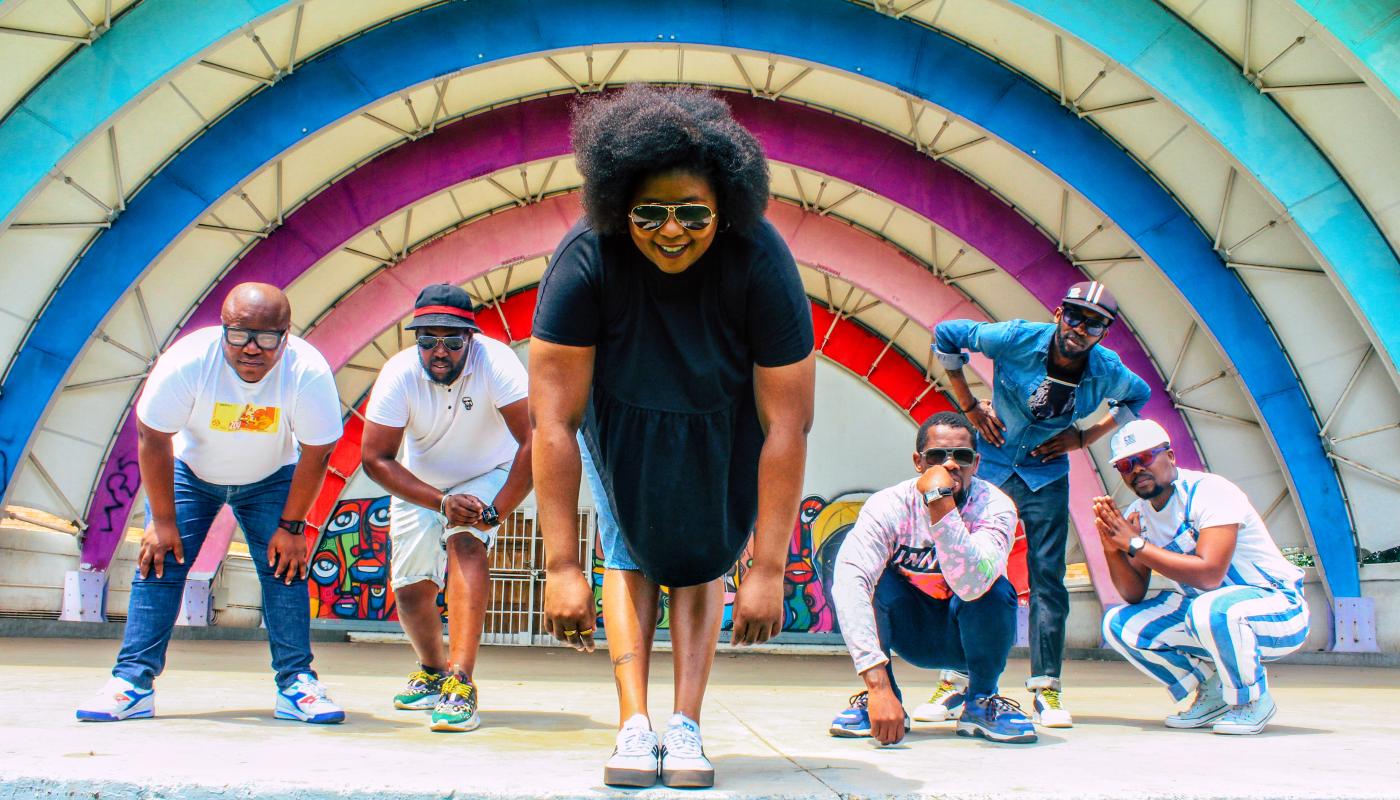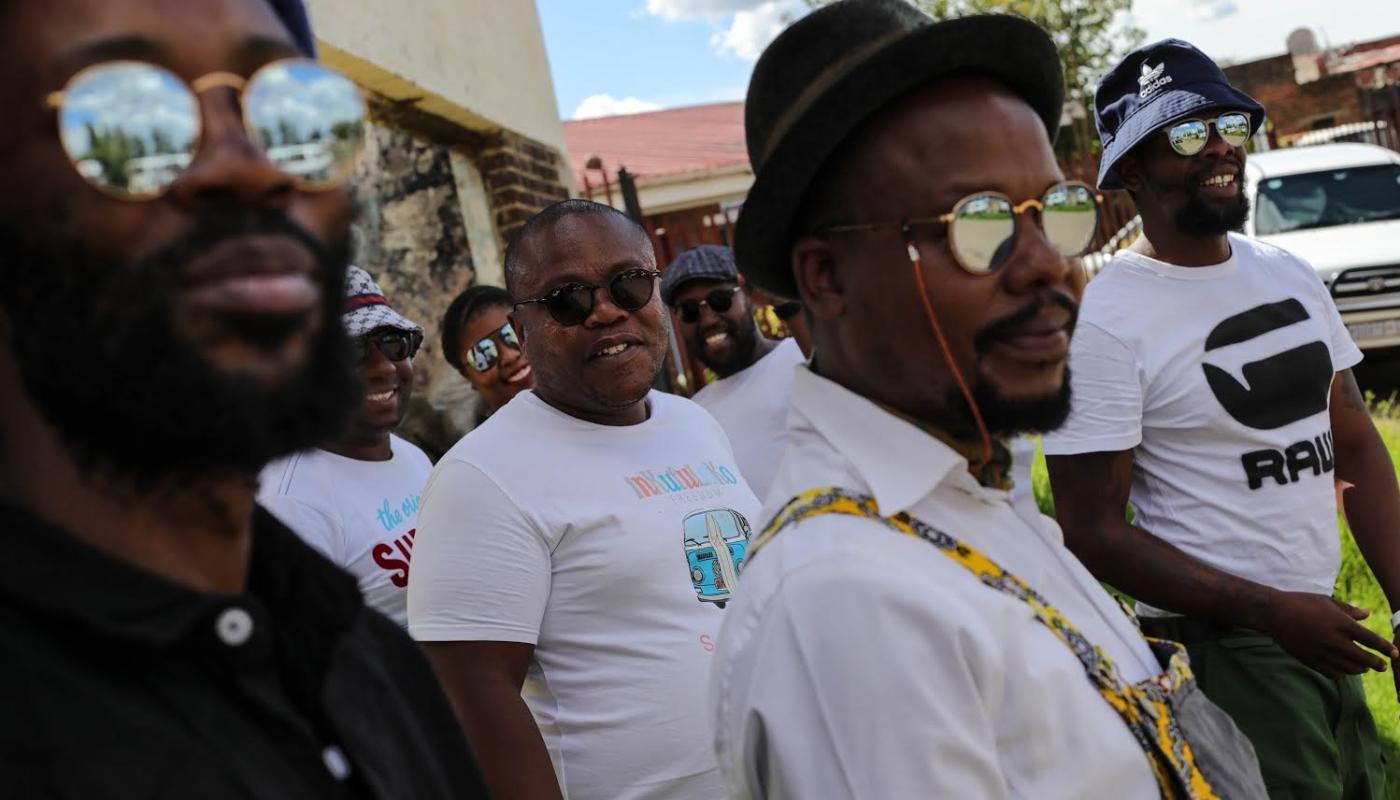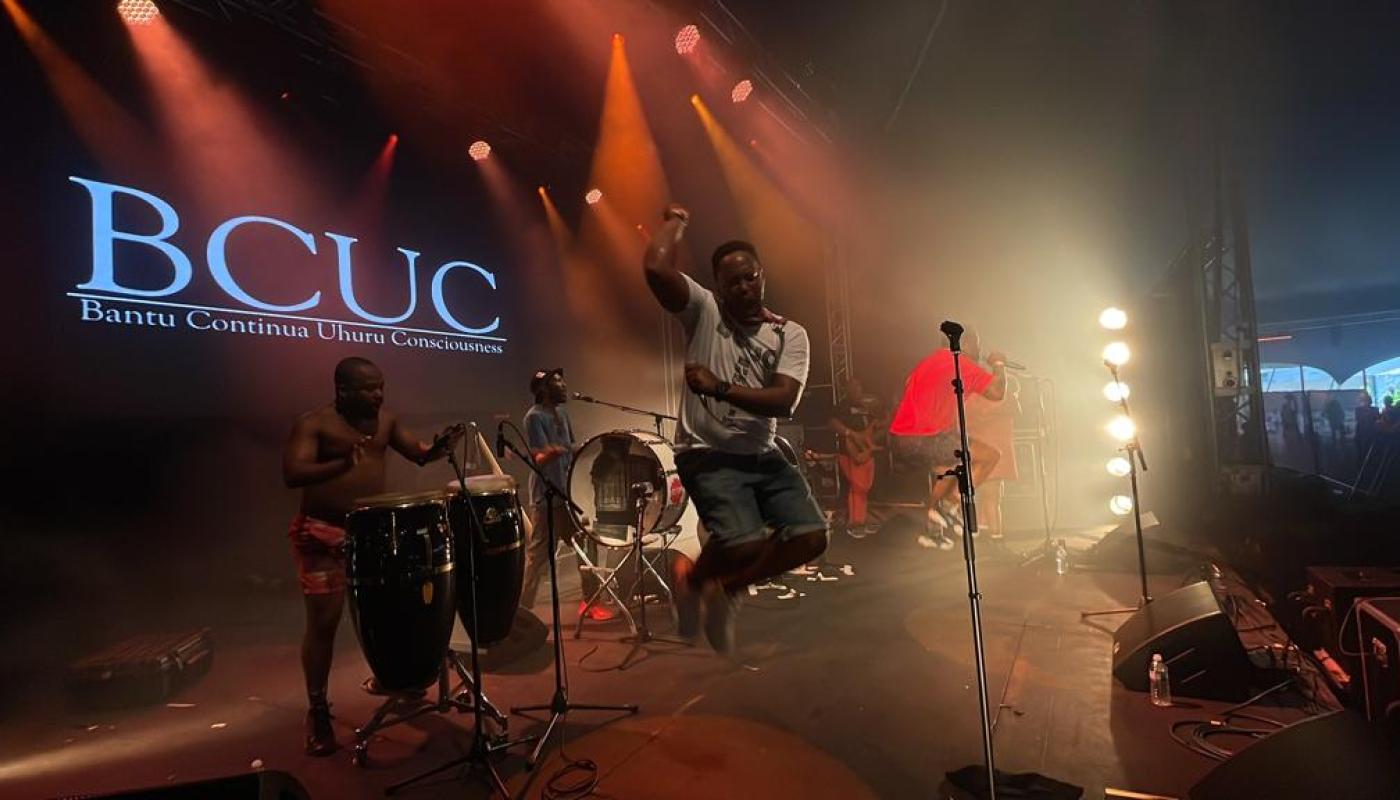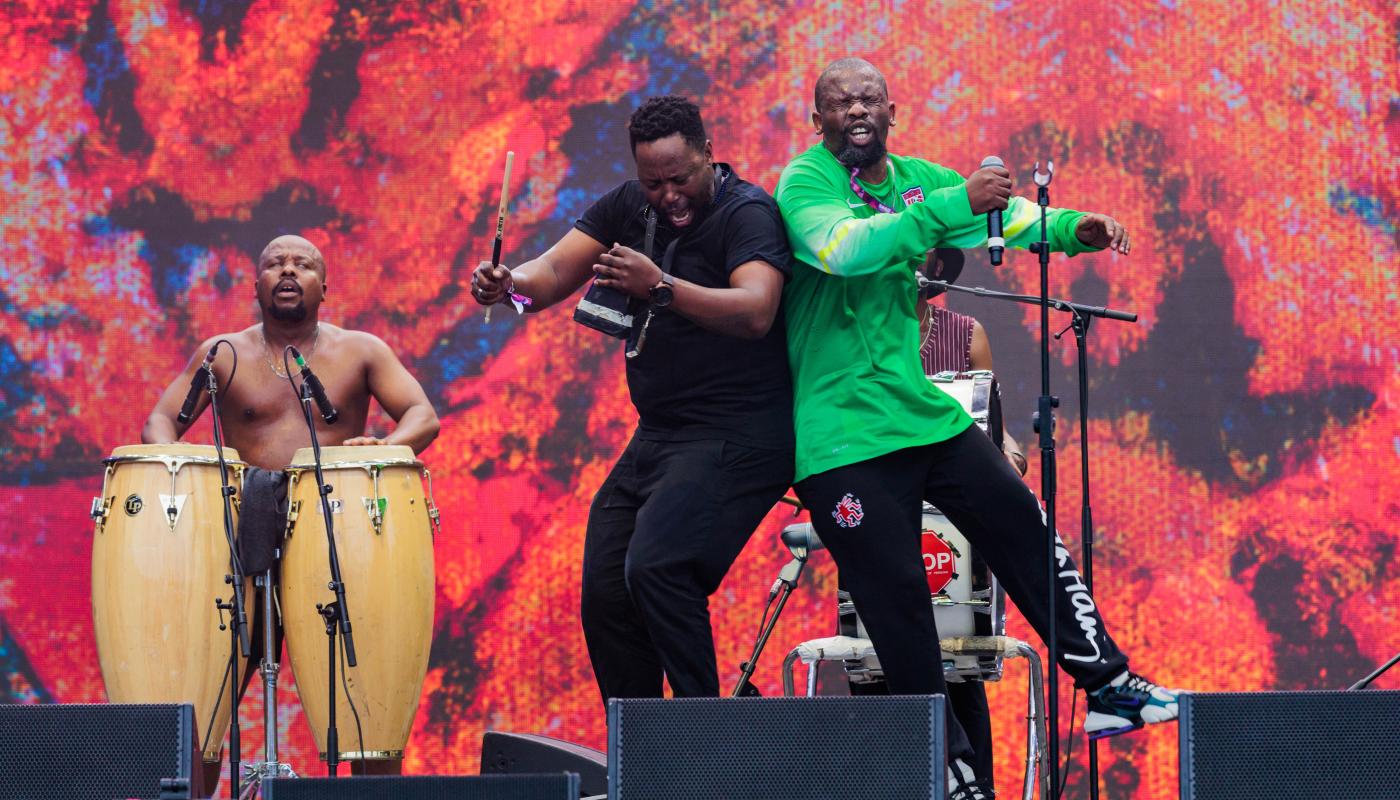 BCUC - Bantu Continua Uhuru Consciousness
Soweto
November 2023
Music for the people, by the people, with the people.
Rebellious, spiritual, and exhilarating, BCUC's live shows are transcendent rites of explosive sound. Following in the pulses of their ancestors, they awaken crowds to the power of a shared, fairer future. Their dancefloor Afro-futurism heals and commands in propulsive jams that rebalance bodies and souls.
Says lead singer Jovi: "Since 2003 we have wanted to be a band that would change the way people think about music from Africa. 18 years later we are still on the mission to use music as a vehicle to maneuver and negotiate the storms of human relations for the purpose of better understanding across colors, social issues and locations."
BCUC has released a trilogy of albums: Our Truth (2016), Emakhosini (2018) and The Healing (2019), capturing the power of their live show with its ebbs and flows and free form song cycles. With The Healing came dream collaborations with legendary Nigerian saxophonist Femi Kuti and American poet Saul Williams.
The band's July -November 2022 tour starts in South Africa and includes return appearances at WOMAD and Roskilde festivals with additional dates throughout the UK (including headlining Musicport Festival), in Azerbaijan, France, Germany, Spain, and the Netherlands. Previous gigs include Glastonbury UK (2019), GlobalFEST and Afro Punk Brooklyn USA (2019), Trans Musicales (2016), Paleo Festival in Switzerland (2019), Into the Great Wide Open in Holland (2011 & 2019), Flow Festival in Norway (2019), Sziget Festival in Hungary (2018 & 2019). 
BCUC bring punk-rock energy and hypnotic rhythms to social activism.
On Tour with Center Stage 
October-November 2023
Travelers
8 on tour (7 musicians, U.S. Company Manager)
The seven-piece collective: Jovi (lead singer, percussion), Kgomotso (vocals, percussion), Hloni (raps, ad libs, percussion), Luja (raps, backing vocals, marching drum), Cheex (congas), Skhumbuzo (bass drum) and Mosebetsi on the bass guitar.
Venues
Indoors or out: clubs, amphitheaters, concert halls, and festival stages. Excellent sound system and some backline required. Tech specs/rider forthcoming.
Background
BCUC: Hard-Hitting, Deep-Grooving Collective Turns Township-Inspired Percussion, Bass, and Vocals into Musical Prescriptions and Provocations
BCUC (Bantu Continua Uhuru Consciousness) started as a jam session outside a cultural center in Soweto, South Africa in 2003. Within a year, the group of highly musical seekers formed a steady band, one that has toured Africa and Europe, played with major African and African-American names like Femi Kuti and Saul Williams, and stormed their way onto playlists and into hearts.
But BCUC is music for the people, by the people, with the people –  music that celebrates local roots and the vibes of the wider world in equal measure.
The seven-piece band — three singers (Zithulele Joseph Zabani, Kgomotso Neo Mokone, Thabo Saul Ngoepe), a panoply of drums and percussion (Ngoepe, Letlhogonolo Atlarelang Maphunye, Ephraim Mahlangu, Daniel Mangel), and bass (Mosebetsi Jan Nzimande) — draws on the music of Soweto, a sea of songs heard at every moment, in every place. BCUC's songs are long by design, free-flowing rituals crafted to draw you in and shift your mindset. With hypnotic, never-tiring, intricate beats and vocal lines that trade trills and growls, they open you to questions, to new ideas, to necessary human connections.
"BCUC create a place the ancient tangles with hip-hop; where long song cycles never give way to the self-indulgence; where every moment serves the performance."—Diane Coetzer, Rolling Stone South Africa
Their lyrics are in Zulu, Sesotho, and Xhosa, underlining the band's multi-ethnic backgrounds and their intense, welcoming message: BCUC conjures connection across all barriers. They'll also make sure you dance. "Music is special and important. It has everything to do with the feeling, the intention. People don't have to understand the lyrics to feel the emotions we want to relate to them," explains Kgomotso Neo Mokone, BCUC singer. "And what we want to relate is that we should appreciate each other and value our lives. We should check in when people aren't strong. We're all humans and that makes us connected, regardless of gender, race, geography, We're all wanting the best. That fills us with hope."
U.S. Tour in 2023 with Center Stage Season 7
BCUC has played trendsetting American festivals like Afropunk and globalFEST, but has yet to tour the U.S. The group will finally get the chance in the Fall of 2023 as part of Center Stage, the cultural exchange program that has connected performing artists from abroad with American communities since 2012. Six other music, theater, and dance ensembles from South Africa, Ethiopia, and the Philippines will also make independent tours or hold in-depth residencies with the program, promoting global ties and engaging with audiences on stage, off stage, and online. Center Stage is produced through a public-private partnership between the U.S. Department of State's Bureau of Educational and Cultural Affairs and the New England Foundation for the Arts. 
Songs for Every Moment
In Soweto, any moment can spark a song. There are songs for worship and milestone events, for complaining about your spouse, for parties and funerals. Kgomotso says the band likes to joke that she can make up a song about anything, even a random piece of paper. It's a creative impulse that unites the 11 nations and languages that make up BCUC's home communities.
"Our sound is from the song of the people and there's song everywhere, especially in Soweto," she explains. "Song was integrated into politics pre-1994. Any occasion, there's a song for it."
BCUC harnesses this Soweto superpower to make songs that unpack and explore the deepest corners of a word or idea, such as with the track "Sikhulekile." A traditional respectful greeting and invitation in Zulu, the word embraces everything from a battlecry to an offer of affectionate hospitality. "In Zulu a word is an explanation of a concept, an idea, a way of being. That word was always layered, already had multiple meanings. We fleshed it out, we considered the situations it would be used in and wrote the song around them. Battles and weddings, meeting families," says Kgomotso. "It wasn't complicated to make a song. In fact, we had to pare it down. Our intention was to say we humbly enter into yourspace, we'll treat you with kindness and honor to do our healing work."
When not peeling away the layers of a culturally rich expression, BCUC often mines the gathering and places of their childhoods, sites that encouraged singers to tell stories and sing songs. They've taken inspiration from songs they remember in the speakeasies of Soweto, shebeens, that birthed a particular kind of song and performance. "Shebeens are the houses that sell alcohol in the township that host drinkers. Those songs you hear there are stories of elders talking about travels and where they've been. They often sing the songs they loved by groups like The Temptations and Miriam Makeba. We heard these songs growing up and we were inspired by the people in those spaces, those amazing singers."
Trance and Activism
BCUC is linked to a long tradition of experimental activist music that plumbs the soul while asking tough questions. Though the band's sound is not Afrobeat, the maverick musician-meets-philosopher Fela Kuti's spirit inspired BCUC profoundly. The political is encased in the cultural and the highly creative, turning blistering criticism of the status quo into unfettered, free-ranging dance anthems.
"Fela is a very important figure, an important example for us as artists. He's an important man to us and his legacy gives us validation that you can do whatever you want," recounts Kgomotso. "At the time we started we were trying to bring that approach to our local music. No one was doing long songs, more of a get in and get out pop track approach. Instead, it's about a journey, getting into it."
The band takes its time and builds its grooves to channel a traditional method of addressing people's inner struggles and problems, one the group picked up from local traditional healers. "We're trying to heal ourselves and the people, and you can't heal in three minutes. It takes time," Kgomotso says. "You have to get into the trance, and like traditional healers, need to take lots of time, lots of stomping and drums and feeling the earth."
Get the Poison Out
BCUC looks at their homeland and feels the frustration of many of their generation: A lot has changed in South Africa, but not nearly enough to get to what these young artists envision for their country. "Our songs talk about the things we notice and we grew up with. We want to be brave and talk about these things, the things we discuss at home among friends. We want you to think about these things, even as we're having fun. You can have a good time and dance but it doesn't take away from how we need to move forward and what we want as humans."
Bringing burning questions to a packed, hot dancefloor is therapeutic, BCUC insists. The trance-inducing grooves and chanting and wigged out forays into improvisation let us all let go and release into something new. "It's healing for us as artists to talk about these things. When we write and perform these songs, it's a therapy session," Kgomotso says. "You can't hold on to that hurt and frustration. It's toxic. Talking about it keeps it from poisoning you. It can improve you instead."
Press
Audio tracks
Downloadable Photos, Billing, & Credits
Minimum Billing
BCUC - Bantu Continua Uhuru Consciousness
On tour as part of Center Stage
www.CenterStageUS.org
Credit Line
The following credit is required on the title page in all printed performance programs. We appreciate its use wherever else it's practical: brochures, posters, ensemble-only promotional materials, press releases, advertisements, etc:
BCUC - Bantu Continua Uhuru Consciousness is part of Center Stage, a public diplomacy initiative of the U.S. Department of State's Bureau of Educational and Cultural Affairs with funding provided by the U.S. Government, administered by the New England Foundation for the Arts in cooperation with the U.S. Regional Arts Organizations. General management is provided by Lisa Booth Management, Inc.
Logo
Center Stage logo placement is encouraged. On web-based materials, please link from the Center Stage logo and/or written name to www.CenterStageUS.org.
Assets
High-resolution promotional photos (photographer credit is in the file name), and several versions of the Center Stage logo are available at this link.